How to buy a domain name for your website: a step-by-step guide - TechRadar
---
How to buy a domain name for your website: a step-by-step guide - TechRadar
Posted: 21 Apr 2021 12:01 PM PDT
A domain name is what people enter into their web browser in order to access a website. They're a much faster and intuitive alternative than having to remember an entire IP address and have become one of the most crucial branding elements of a site.
Domain names typically consist of their name, separated by a dot from the TLD (Top-level domain), such as .com or .xyz. Your choice of both of these elements will significantly impact how easily visitors can find, remember, and recommend your website to others.
With that in mind, there are currently over 350 million registered domains worldwide. This makes finding and buying the perfect domain name pretty challenging. What's more, not every domain registrar offers the same prices and conditions.
If you're planning to purchase a domain for your site, this article is for you. We'll show you how to buy a domain name from various registrars and web hosting providers, as well as showcase some domain name registration tips to keep in mind. 
How to buy a domain name in five steps
While the process of buying a domain name is relatively simple, it shouldn't be taken lightly. 
When put together properly, a domain should be catchy, give the target audience an idea of what the website offers, and entice them to visit it. 
We recommend following these steps to buy a domain name:
Determine the purpose of the website. From there, brainstorm a list of potential domain names that are relevant and ideally include a keyword of your website's niche.  
Pick a brandable name. From the list, select a domain name that sounds concise, memorable, and easy to spell and pronounce. It should be catchy enough that users can share it easily with others. Avoid long, complicated names and symbols.
Check the domain name's availability. Use a checker tool to see if it's on sale and which TLDs or domain extensions are available. The most popular TLD is .com, as most users are familiar with it. 
Choose a domain registrar or web hosting provider to buy the domain from. Make sure it offers basic features like DNS management and email forwarding. Also, compare the pricing, renewal rates, add-ons, and support to see which one offers the best value for money.
Register the domain name. Complete the payment and domain registration process. A domain name can be available for use between one to ten years, depending on your preferences. Finally, remember to check your email to verify the domain ownership.
After finalizing the domain purchase, start building the site. If you buy a domain name and web hosting plan from separate vendors, make sure to point the domain to your hosting account so that visitors can open the site correctly.
Now that you're familiar with the general steps, we'll explain how to buy a domain name from the top domain registrars and web hosting providers. 
How to register a domain name with Hostinger
Known for its fast and user-friendly web hosting, Hostinger also provides affordable domain registration services. This European company has .com domains starting from $8.99/year, which is one of the lowest prices offered on the market.
Hostinger offers alternative TLDs such as .online, .xyz, .tech, and .store, so there are more options to experiment with if the .com domain names are unavailable.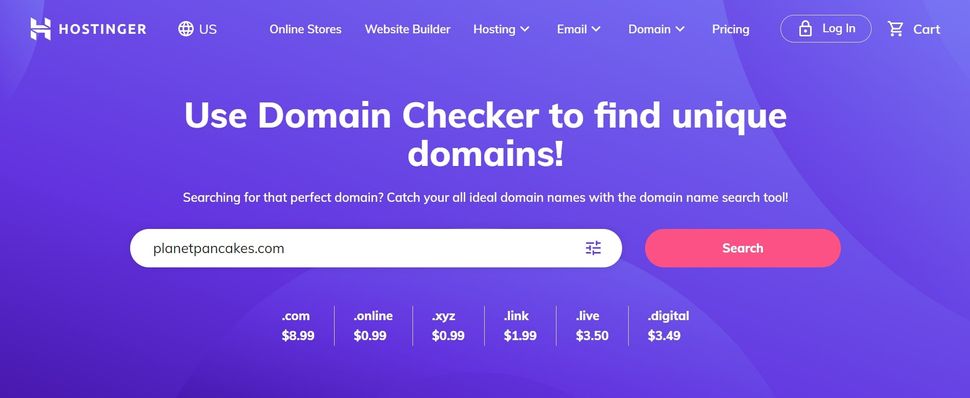 To buy a domain name with Hostinger, navigate to their domain checker page. Then enter your desired name on the field and press Search.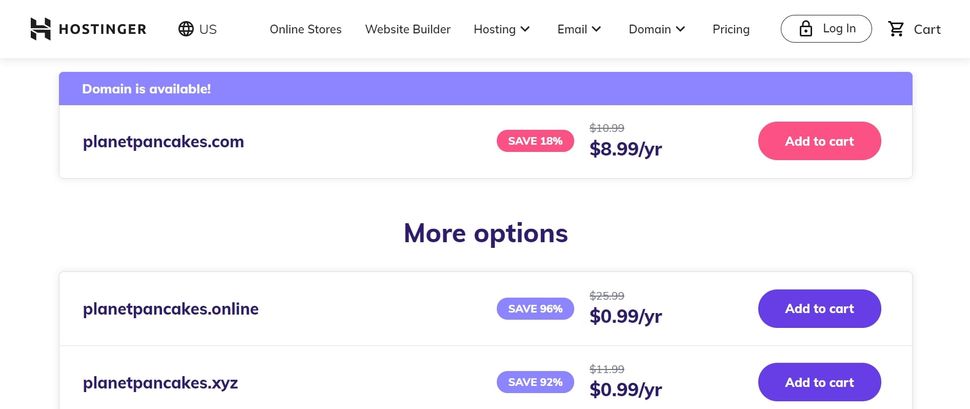 Below, the page will show whether the domain name is available, along with some alternative suggestions.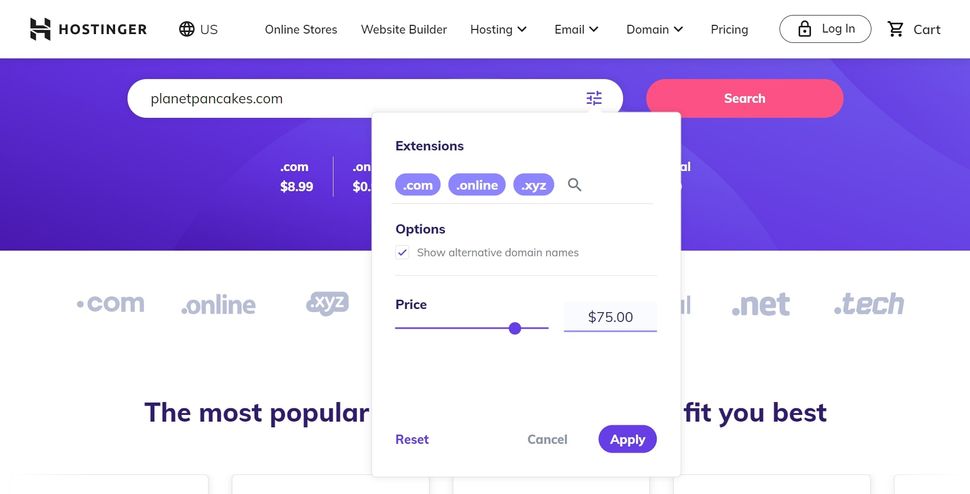 You can also use the Filter button on the search bar to customize the domain search results. Select which extensions to use and specify the maximum budget you're willing to spend.
After finding the right domain name, click Add to cart. 
Hostinger offers to bundle the item with a shared web hosting plan, ranging from $0.99/month to $3.99/month. Purchasing the higher-tier subscriptions will make the first year of domain name registration free of charge. 

Click Continue to cart or the shopping cart icon on the top right corner to proceed with payment. Here, it's also possible to change the domain registration period to up to three years. 
Hostinger provides several add-ons to choose from, including a $5/year domain privacy protection, a $1.99/month priority support, and a $9.99/month SEO toolkit. The privacy service is especially important, as it will hide your personal information from the public WHOIS database.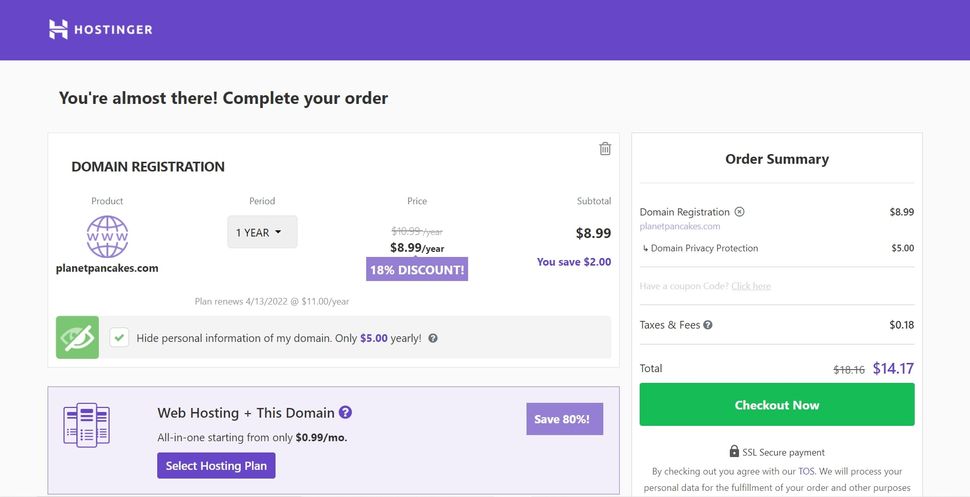 Press the Checkout Now button to finalize the payment and create a Hostinger account. Once that's done, the system will redirect you to the domain control panel to complete the domain registration process. 
The required contact details include your name, email address, physical address, and phone number. If the domain is for commercial purposes, insert the business name. Review the information and click Finish registration.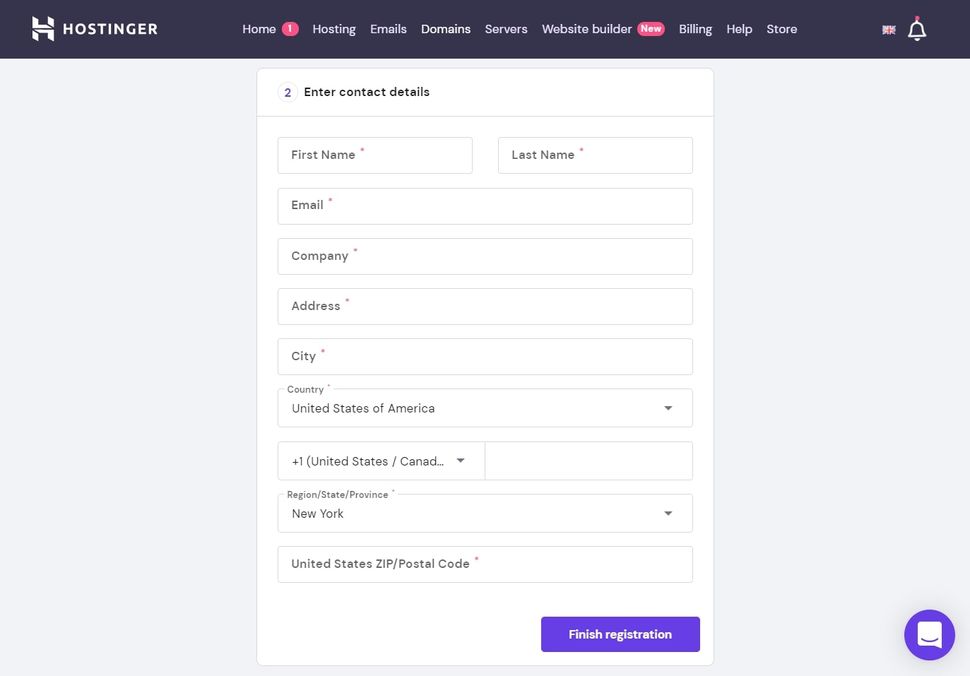 Once finished, Hostinger will send a message to your email address asking to verify the domain ownership through a link. The system will temporarily suspend the domain if it's not validated within 15 days, so it's best to complete this step immediately. 
And that's the domain registration process with Hostinger. After this, feel free to build a website using one of their web hosting plans. You can even make use of their Zyro site builder integration if you're looking for a more beginner-friendly option. 
How to register a domain name with Bluehost
Bluehost is a web hosting company based in the United States. Like Hostinger, it also offers a domain registration service. It even includes a free domain name for one year in its most affordable subscription, which costs $3.95/month.
Besides the generic TLDs, this hosting company has a wide array of alternative extensions for various niches – such as .ink, .photo, and .guru. While they're not as popular as .com, they can be an excellent touch to make your website stand out.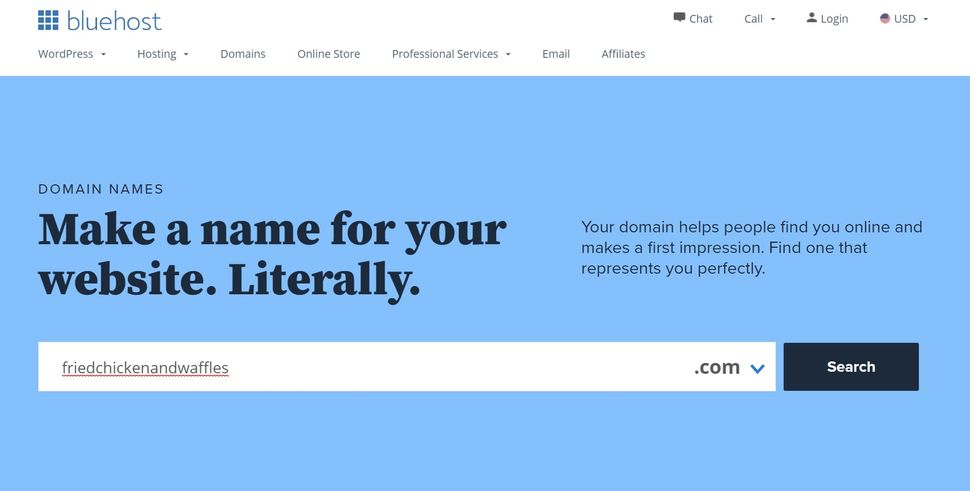 To get a domain name from Bluehost, open the Domains page on the site. Then insert a keyword paired with your desired domain name extension on the search bar.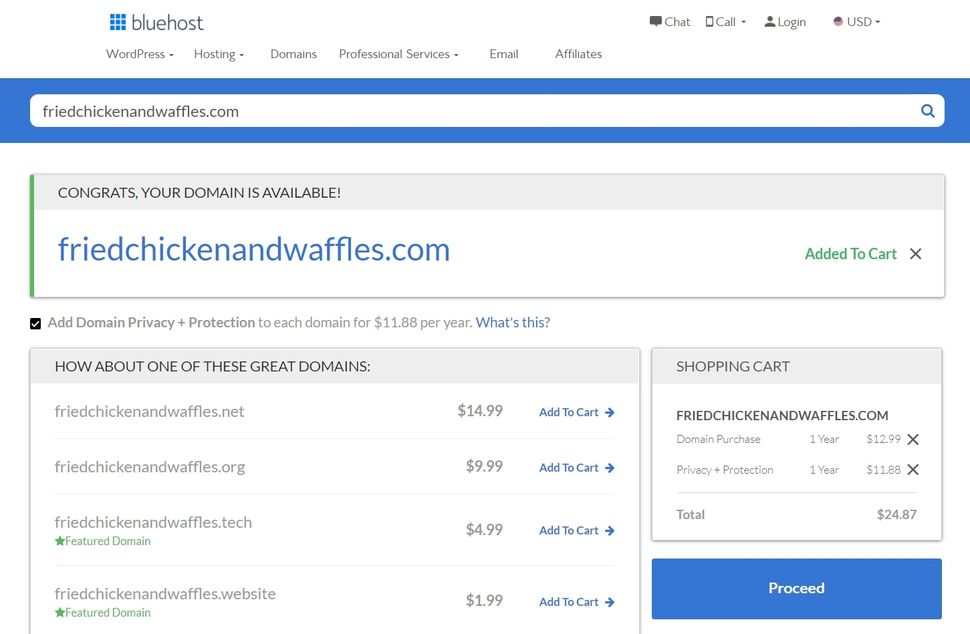 The page will reveal if the domain name is available. If not, choose one of the other options below. 
A .com extension costs $12.99/year, which is the average price. On the other hand, the privacy and protection service is $11.88/year.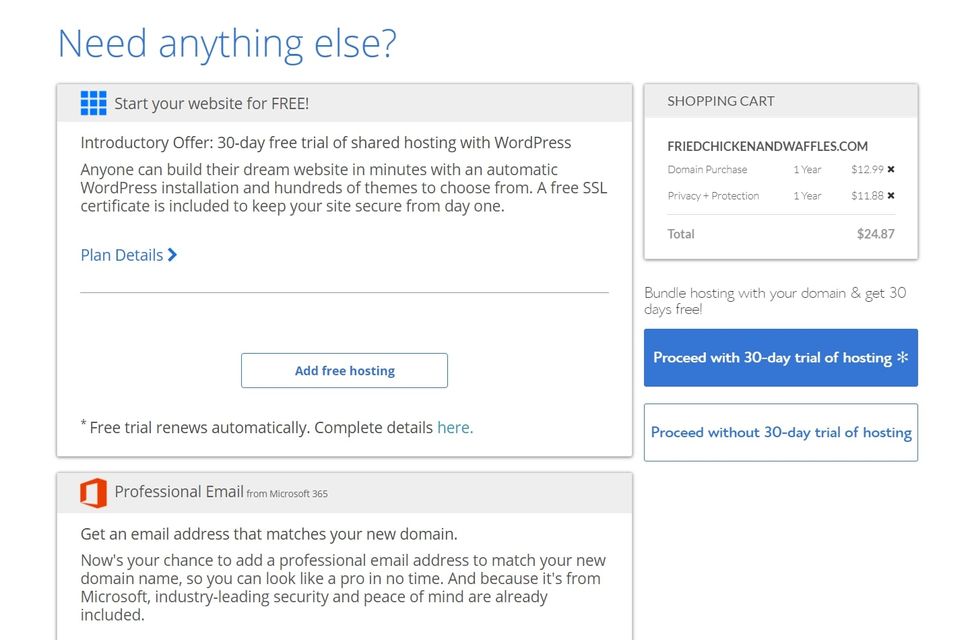 Click Proceed to start the checkout process. Bluehost will offer to bundle the domain name with a 30-day free trial for a shared web hosting service and a free SSL certificate. An email service plan with Microsoft 365 is also available, ranging between $2.99/month and $3.99/month.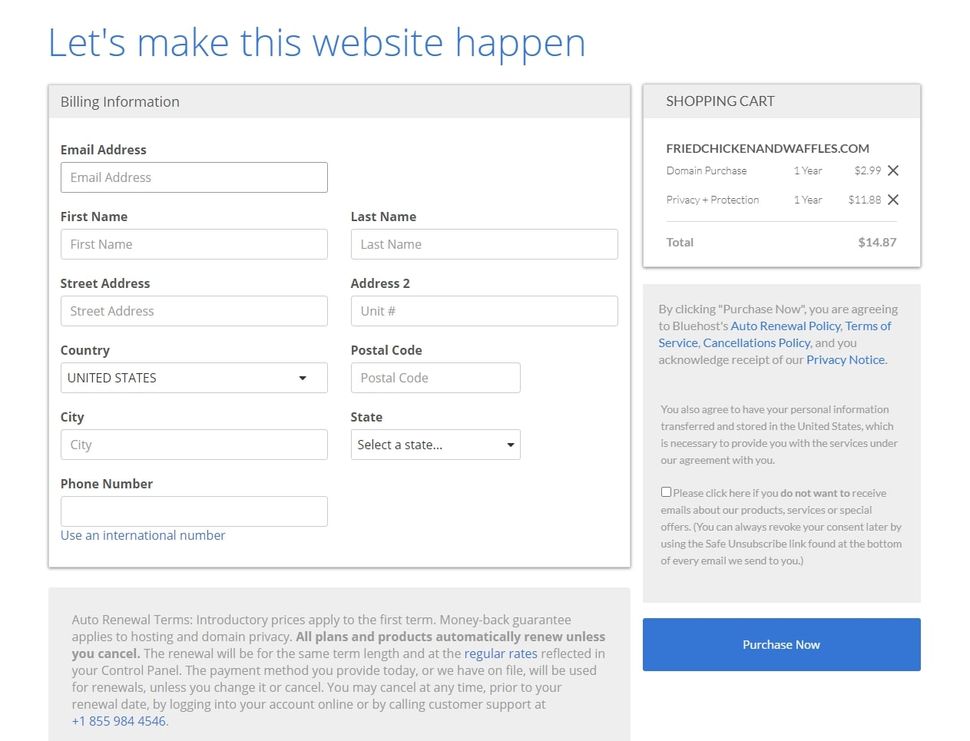 Press one of the Proceed buttons to complete the order. Fill in the billing information and choose a method to pay for the domain name registration fee. 
Once done, Bluehost will send a verification email to your inbox to validate the domain ownership. Click on the link, and the domain name should now be usable. 
Note that all Bluehost customers are subject to automatic renewals. However, it's possible to change this setting within 16 days of the expiration date. 
That said, we recommend enabling this feature anyway. If you forget to renew the terms, your website will be unavailable, and the domain can return for sale on the open market within a few weeks. 
How to register a domain name with HostGator
Next, we'll explain how to get a domain name on HostGator. Part of the same group as Bluehost, it offers a user-friendly drag-and-drop website builder and feature-rich web hosting services.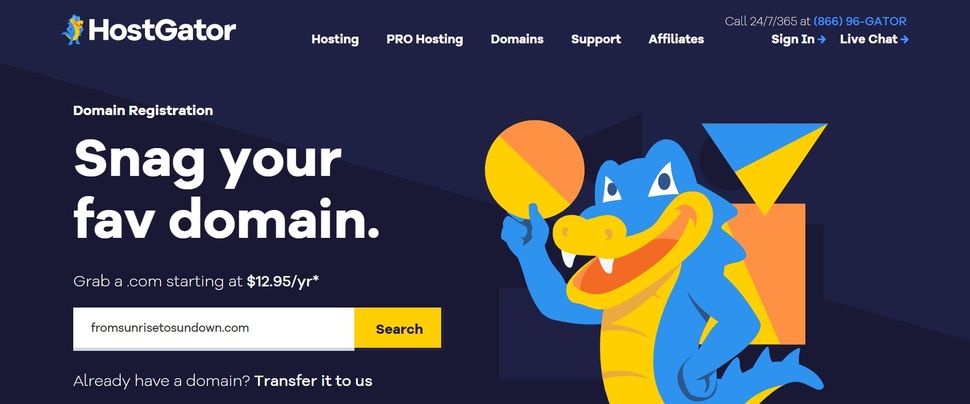 The first step to buying a domain name on HostGator is to open the Domains page on their website. Insert a domain name and on the search field and press the Enter key.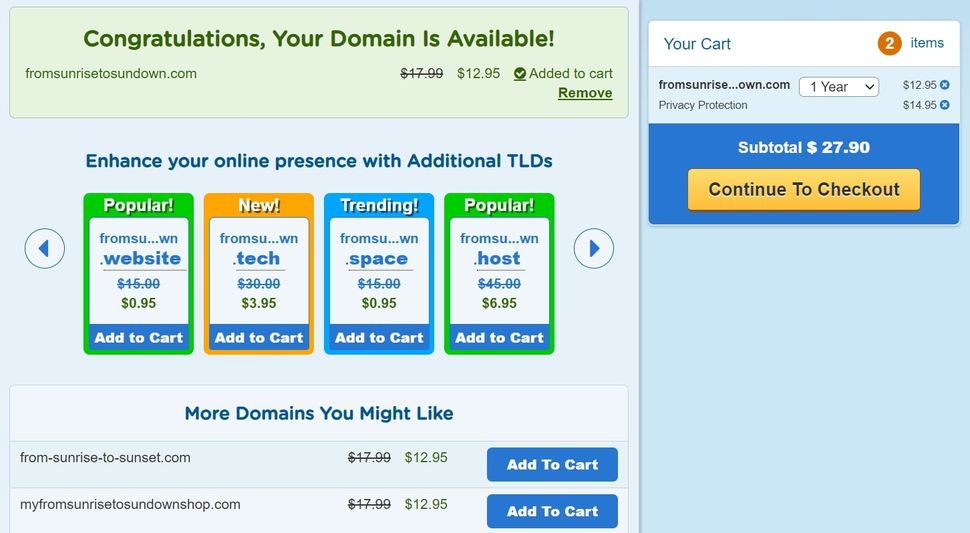 If the domain is unavailable, pick a recommended alternative with a different domain extension or name variation.
The cost for a .com domain at HostGator is similar to Bluehost, starting from $12.95/year. Bundling the item with a privacy and protection feature is also possible, costing $14.95/year. Pick between one, two, or a three-year registration period, then click Continue To Checkout.
Now, create a HostGator account and fill in your billing information. HostGator has two payment options – credit card and PayPal.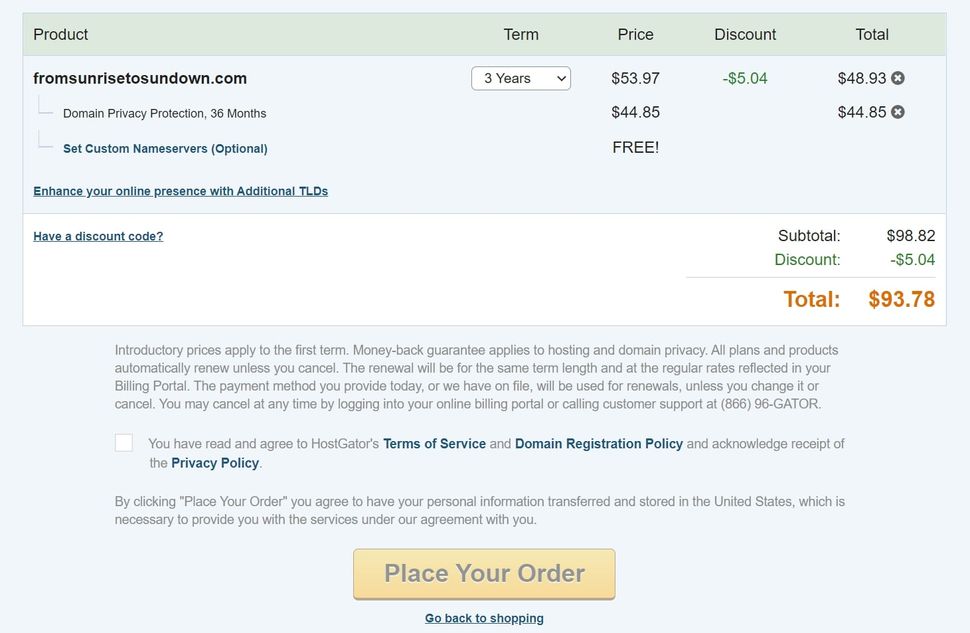 Before finalizing the purchase, HostGator will preview the order. Here, you can set custom nameservers to point the domain name to a third-party hosting account if desired. Click Place Your Order once everything looks right.
Finally, HostGator will send a domain ownership validation request to your registered email address. Remember to click on the link within 15 days to prevent the domain from temporary suspension.
Besides the steps above, HostGator also offers a domain name registration service via their support team. However, this alternative method is only applicable to certain TLDs.
How to register a domain name with Domain.com
Domain.com is a well-known domain registrar on the market, although it's worth mentioning that they also offer low-cost shared web hosting, a website builder, and design services. 
The list of TLDs on Domain.com is extensive, from generic extensions to newer niche-related ones like .yoga and .actor. The price for a .com domain name is also quite affordable, costing $9.99/year.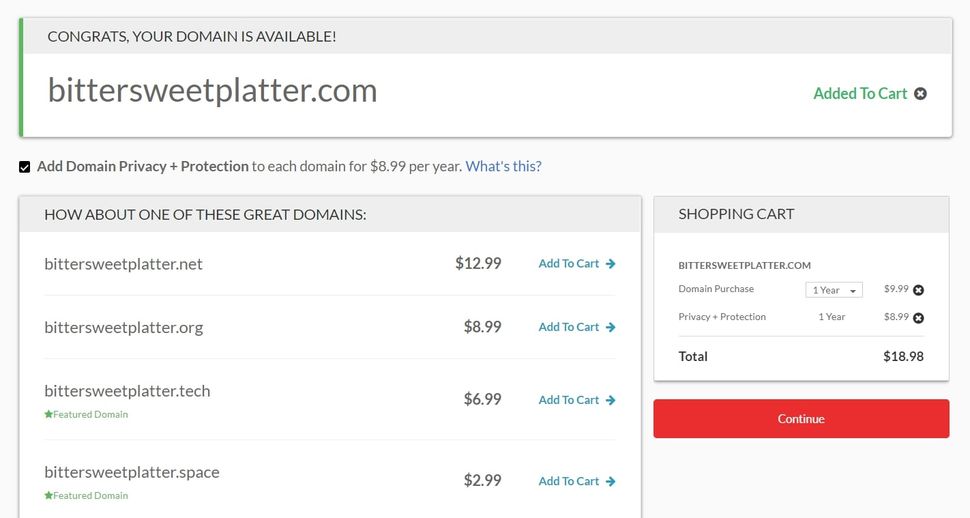 The steps to buying a domain from this registrar are straightforward. Simply insert a keyword with a domain extension on the homepage and the system will reveal its availability.
Feel free to extend the registration period to up to five years. On Domain.com, the privacy and protection feature is $8.99/year. If the order looks right, click Continue.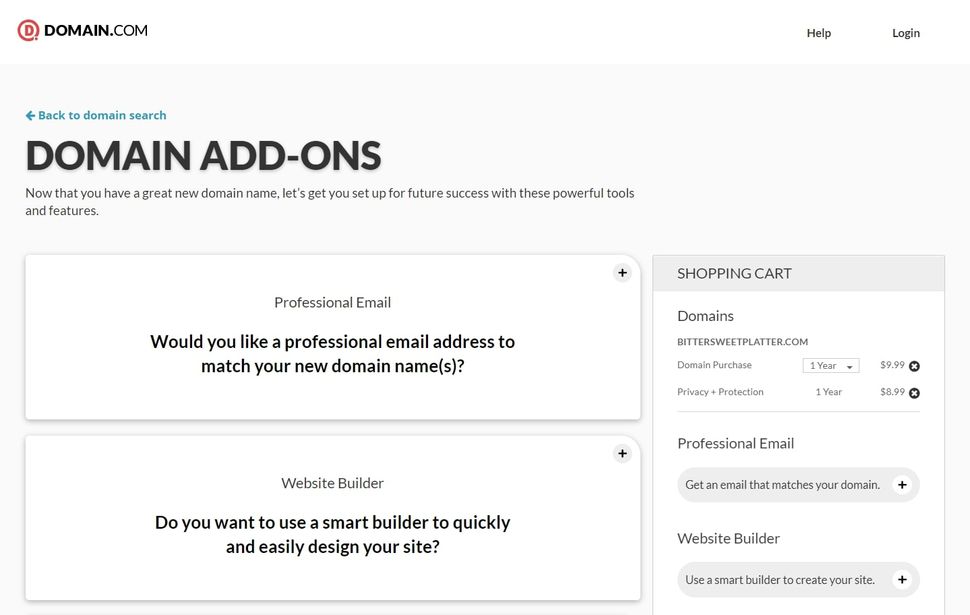 On the next page, Domain.com presents several extras to choose from, including a professional email plan, a website builder, shared web hosting, premium SSL certificates from Comodo, and malware protection.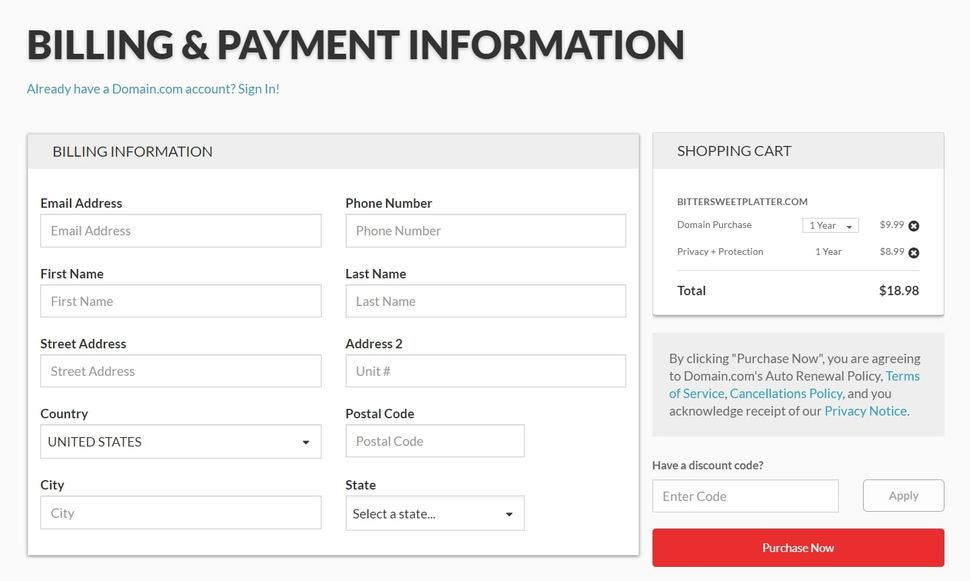 Select any of the Domain.com add-ons you want or skip to the next step – filling in the billing and payment details.  
Similar to previous vendors, Domain.com will send an email asking to validate the domain name ownership through a link. 
How to register a domain name with Wix
Wix is one of the most widely-used website builders, having powered over 200 million users worldwide. While it allows creating a website for free, you will need a premium plan to connect a custom domain name.
The price for a .com domain name is $12.95/year. Note that Wix's list of extensions is not as vast as other registrars, as it doesn't support such TLDs as .io, .tech, or .live. However, more generic options are available.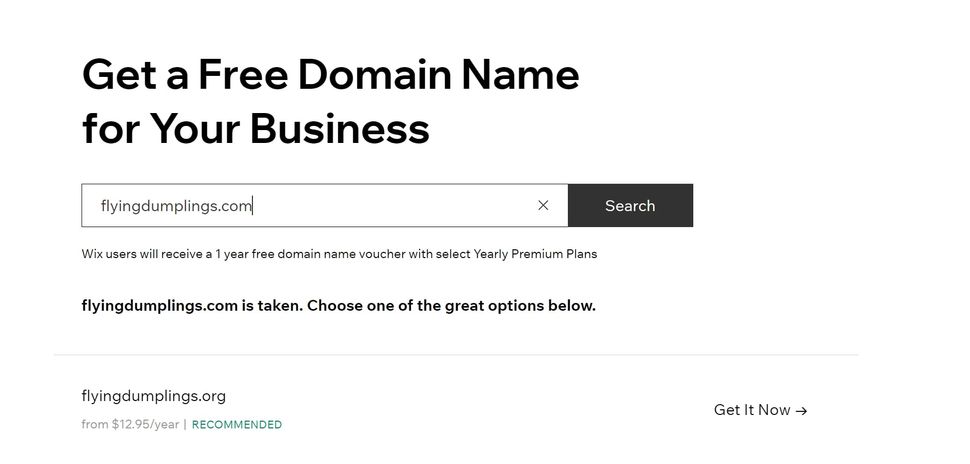 Navigate to Wix's domains page to begin the domain name search. Then, enter a term using a domain extension and press Search. If someone else has taken the name, it will suggest other options with different TLDs.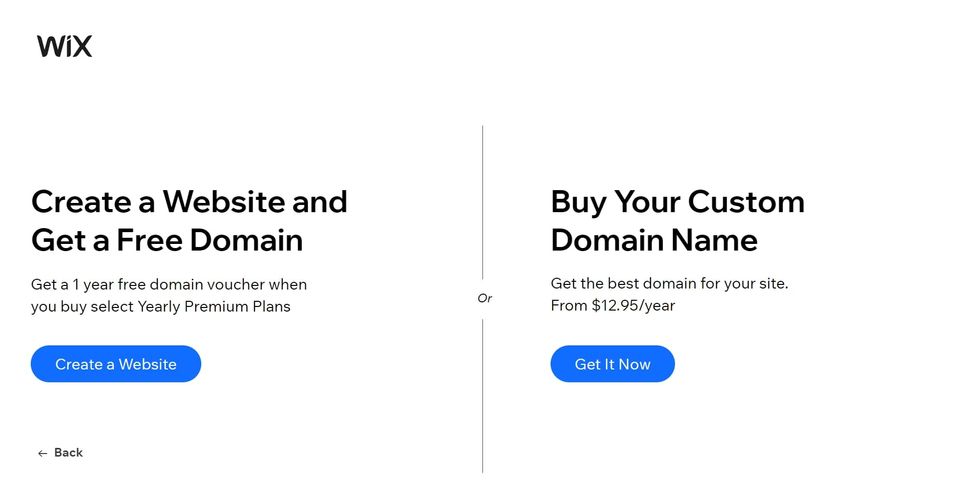 After finding a domain name you like, click Get It Now. The next step is to choose between getting a premium website builder plan or simply buying a domain name. The first option will make the domain registration fee free of charge. 
For illustration purposes, we will go with the latter route by clicking Get It Now. At this stage, you will have to sign up for a Wix account.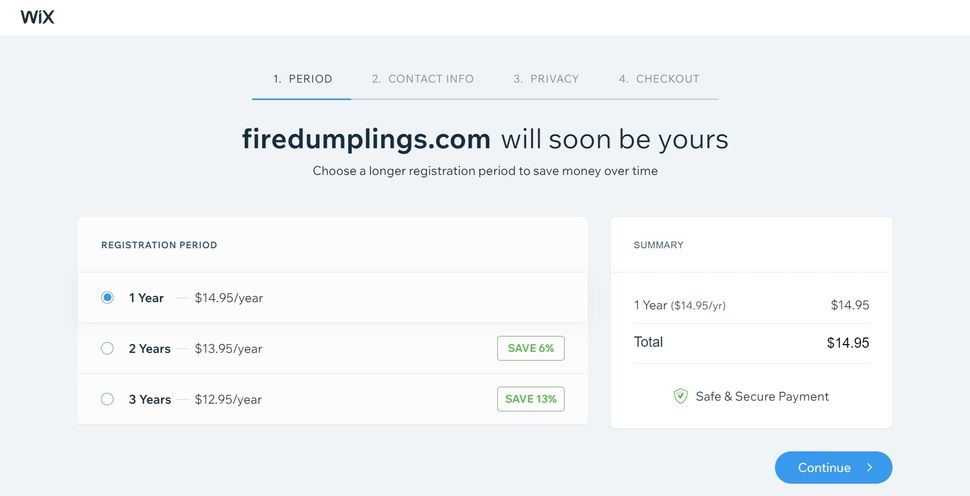 Now, pick whether to register the domain name for one, two, or three years. Wix offers a discount for longer registration periods.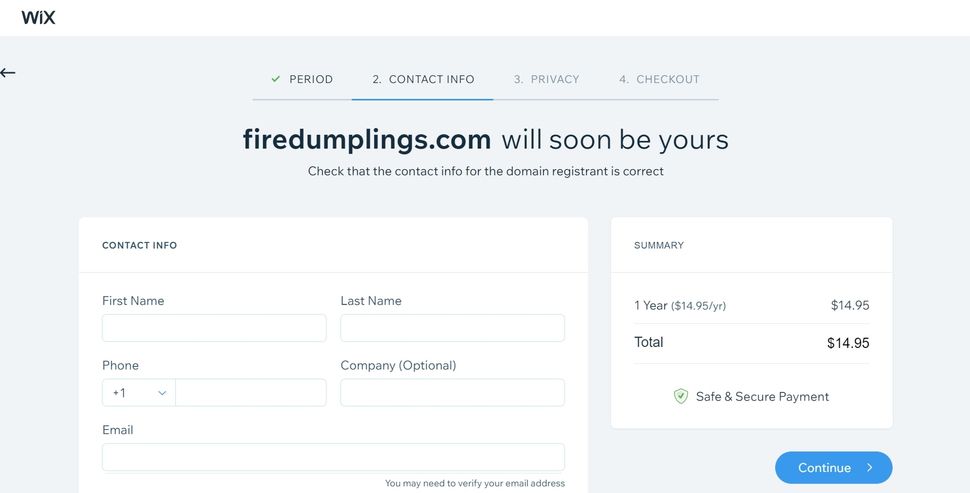 Then fill in the contact information, including your name, phone number, email, address, and postal code. 
If you're going to manage the domain and handle any tech-related issues it encounters, check the Tech Contact Info and Admin Contact Info boxes below. Otherwise, fill in the fields with the relevant contact details.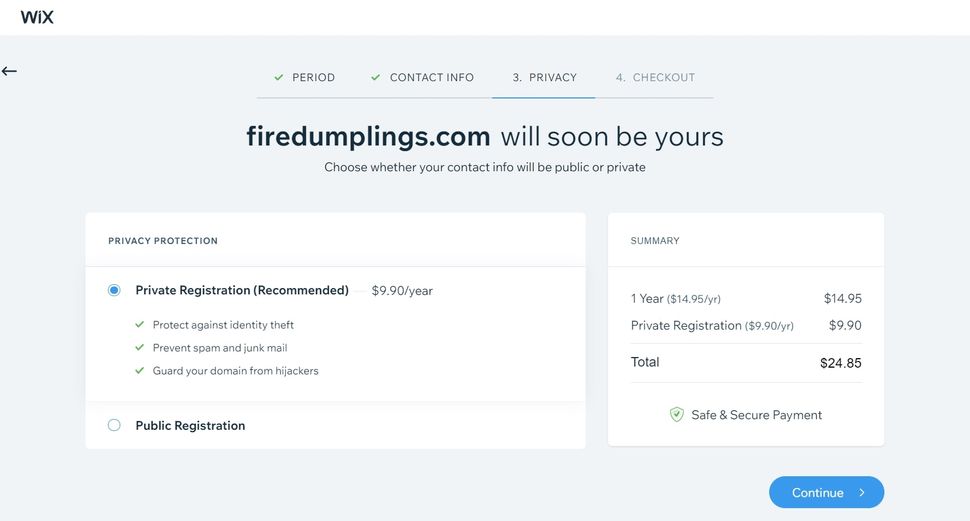 Next, choose whether to make your contact information private or public on the WHOIS database. The cost for a privacy feature on Wix is $9.99/year. 
Lastly, enter your credit card information and invoice details to finalize the purchase. Check your registered email address inbox, as Wix will send a message to confirm the domain's contact details.
How to register a domain name with GoDaddy
With over 20 million customers, GoDaddy is both a domain registrar and web hosting powerhouse. It has a wide array of domain extensions ranging from .com and .org to newer selections like .fun or .law. The company plans to add even more TLDs to its collection in the future.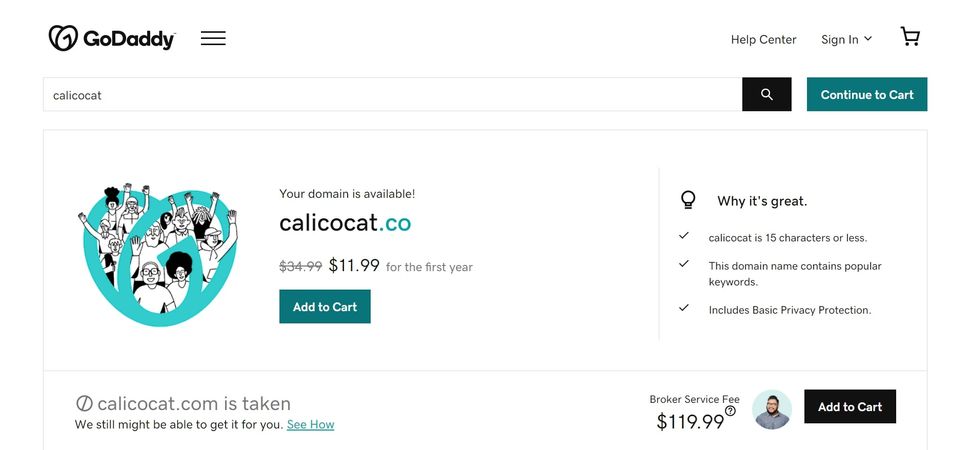 To buy a domain on GoDaddy, start with a domain name search on their homepage. The system will reveal whether the name is available for purchase using your desired extension.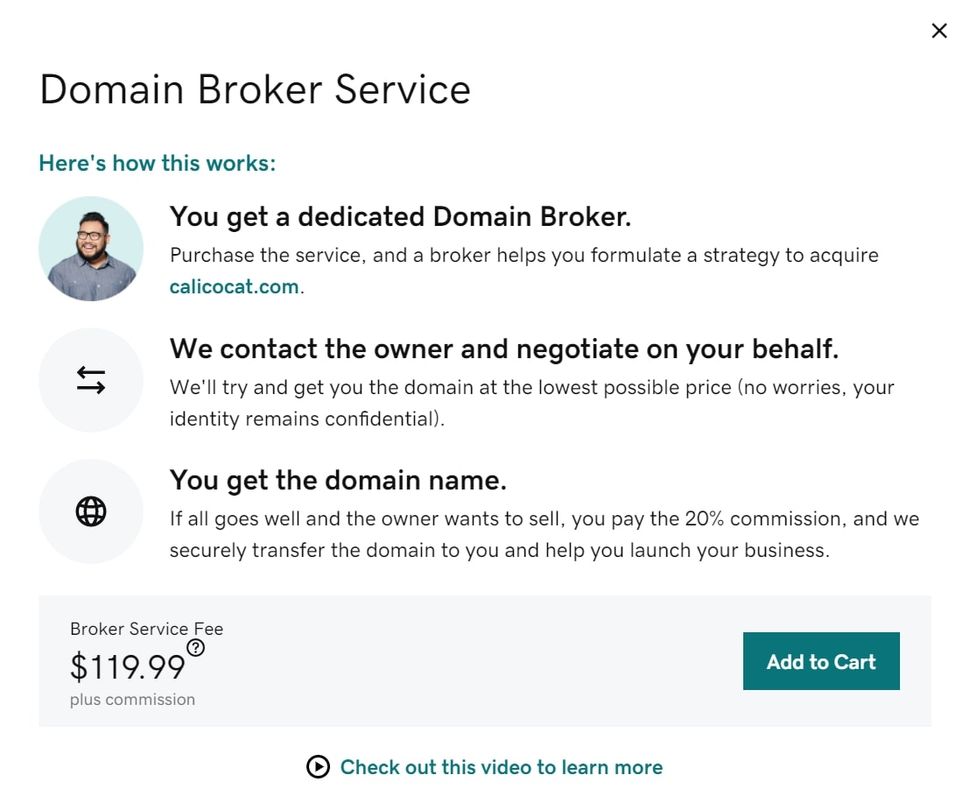 If the .com version is taken, GoDaddy offers a domain broker service, where a representative will negotiate with the owner to purchase the name for you. You will pay $119.99 and a 20% commission to hire the agent in addition to the domain registration fee.
Click Add to Cart on a domain name and continue to checkout. On the next page, GoDaddy will offer several add-ons to bundle the order with.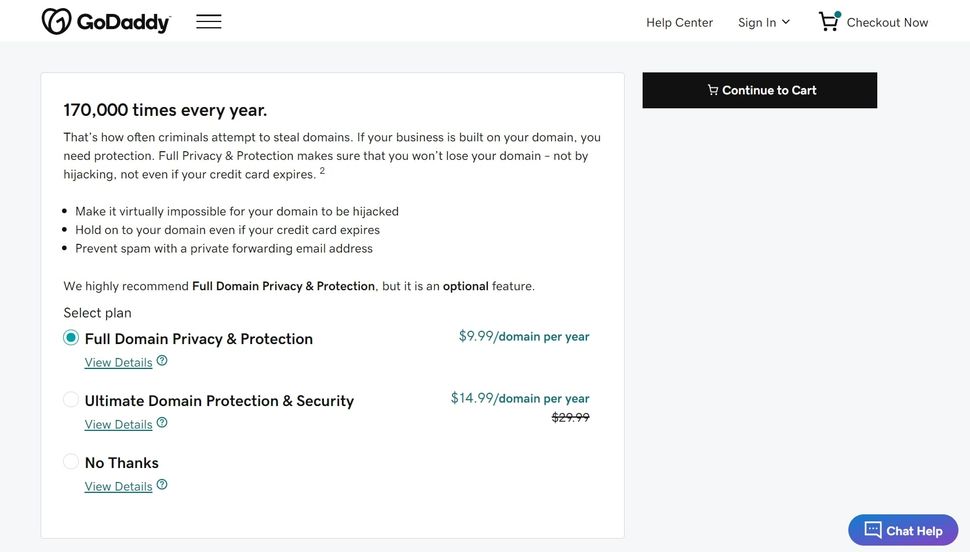 GoDaddy has two privacy and protection options – Full ($9.99/year) and Ultimate ($14.99/year). The first protects the domain from hijacking, malicious transfer, and loss of ownership due to billing failures.
On the other hand, the second offers malware detection and search engine blacklist monitoring features to uphold your domain security and reputation.
 Additionally, GoDaddy offers a custom business email plan with the domain. The pricing ranges between $1.99/month and $8.99/month.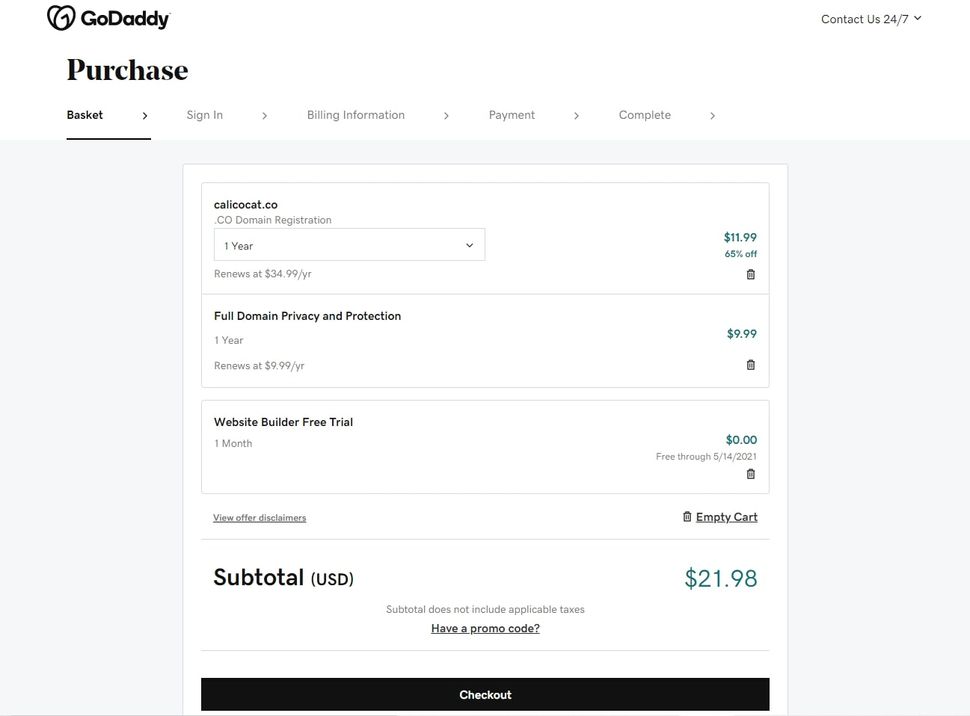 Choose any of the extras and press the Continue to Cart button. Then, a review of the purchase will appear, which also includes a free trial to GoDaddy's website builder for one month. It's also possible to change the registration period to up to five years.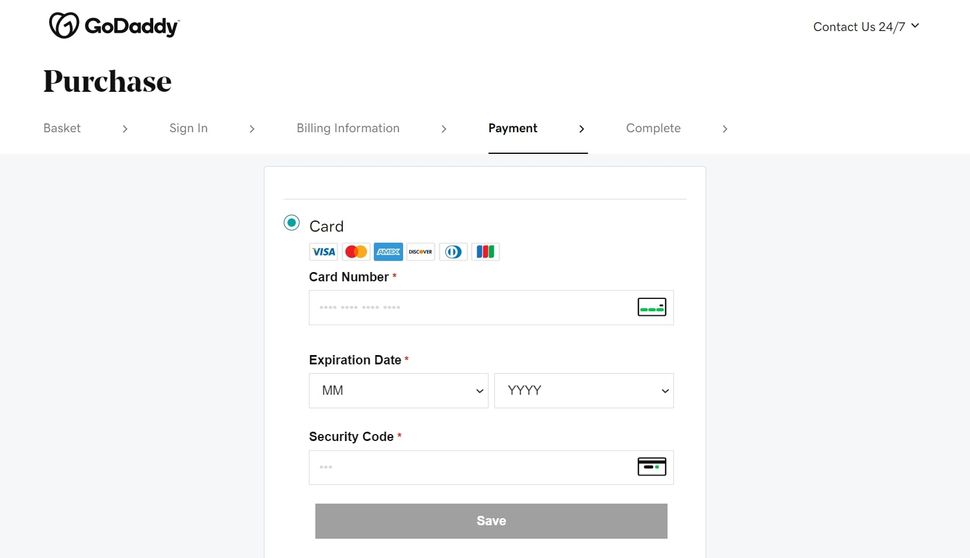 The next step is to create a GoDaddy account and fill in the billing information. There are three payment methods available – credit card, PayPal, and check. 
After completing the payment process, the domain name is yours. As with previous domain registrars and web hosts, GoDaddy will send an email with a link to validate the domain ownership. 
How to register a domain name with Namecheap
As the name suggests, this Namecheap offers great value for money. Its .com domains start from $8.88/year, which is a low price compared to the rest of the market.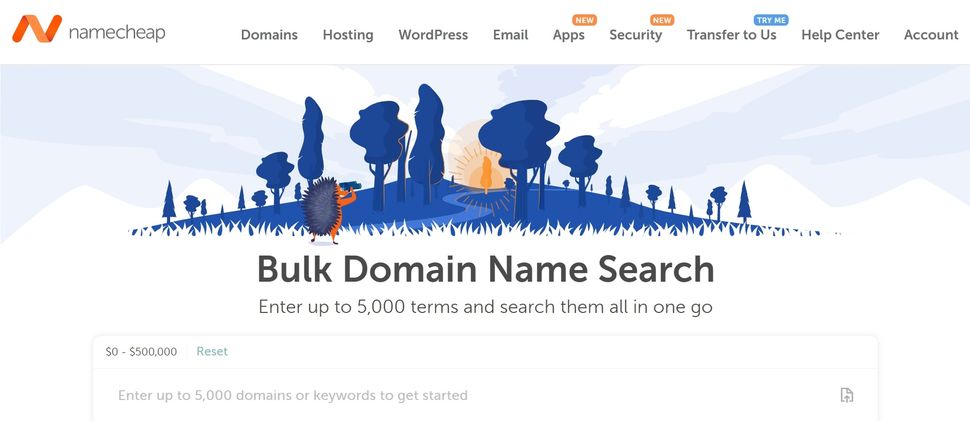 To buy a domain name on Namecheap, head over to the homepage and insert a name on the search field. Alternatively, head to the Bulk Domain Name Search tool and enter up to 5,000 keywords and find multiple domains at once.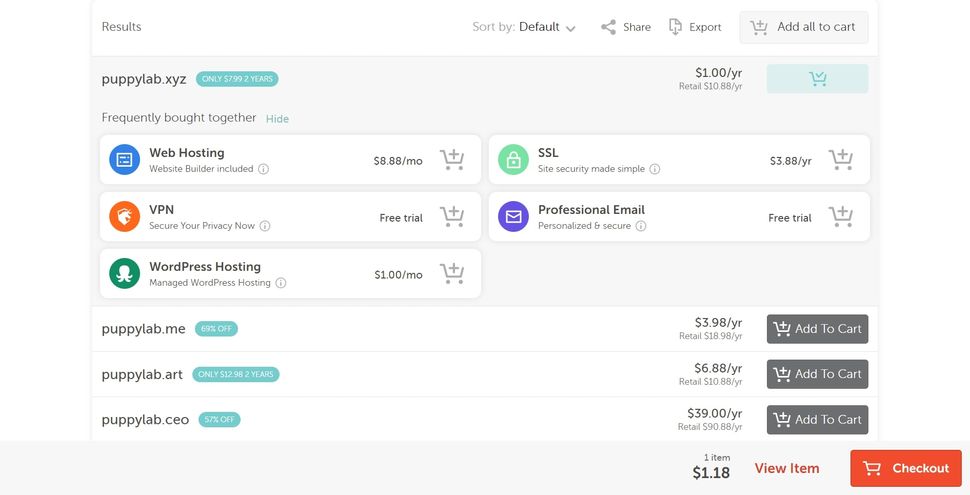 The site will redirect you to the search results page. Feel free to sort the available domains by cost, extension, or alphabetical order. Click Add to Cart on the name you want to register and the Checkout button on the bottom-right corner to continue with the payment process.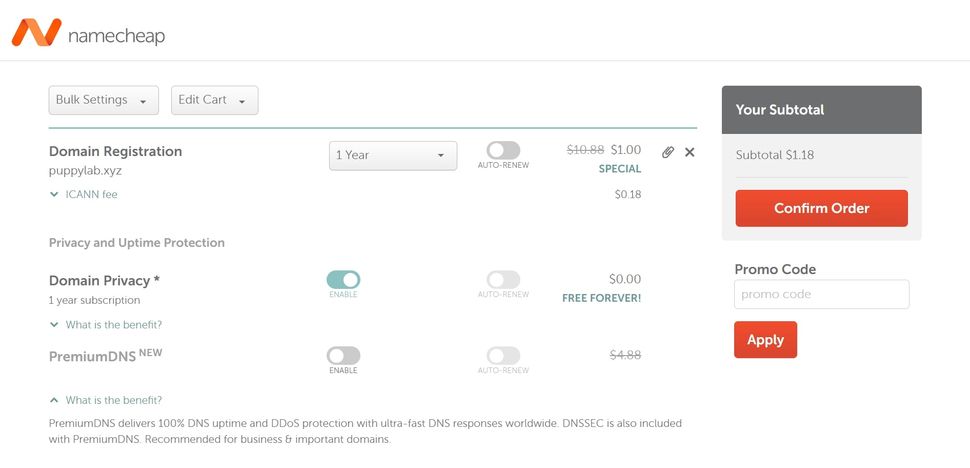 The page will preview the order and suggest several add-ons to add to the cart, including PremiumDNS for a performance and security boost. This domain registrar also provides a free privacy and protection feature.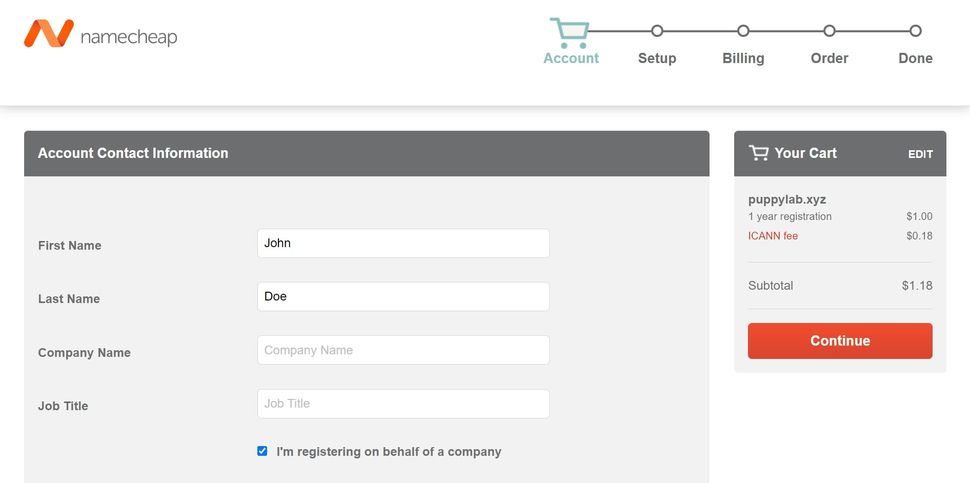 Confirm the order to move on to the next step – creating a Namecheap account. Insert your contact information, including your name, phone number, email, and physical address. Enter a company name and tick the I'm registering on behalf of a company box if applicable.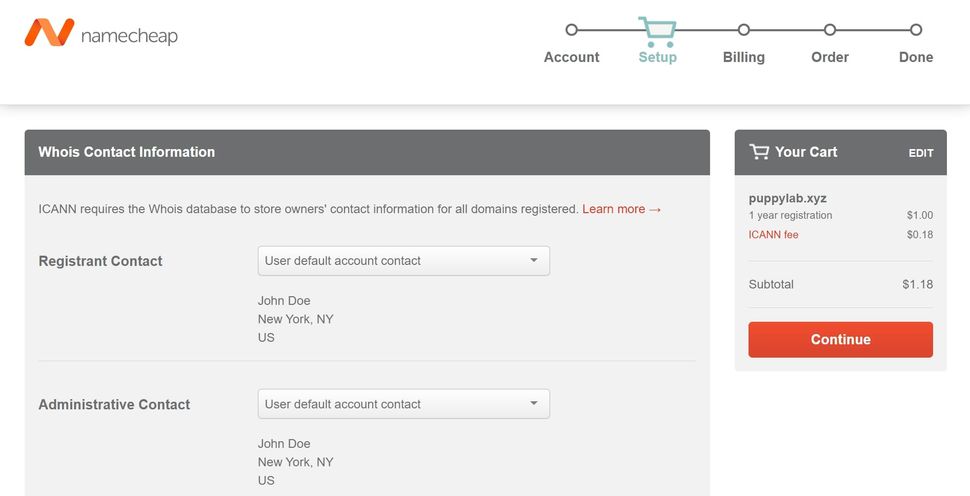 Press Continue to go to the Setup page. Here, specify the contact information for the domain's registrant, administrator, technical support, and billings. If you're responsible for all these things, select User default account contact. Otherwise, choose to Add new contact where appropriate.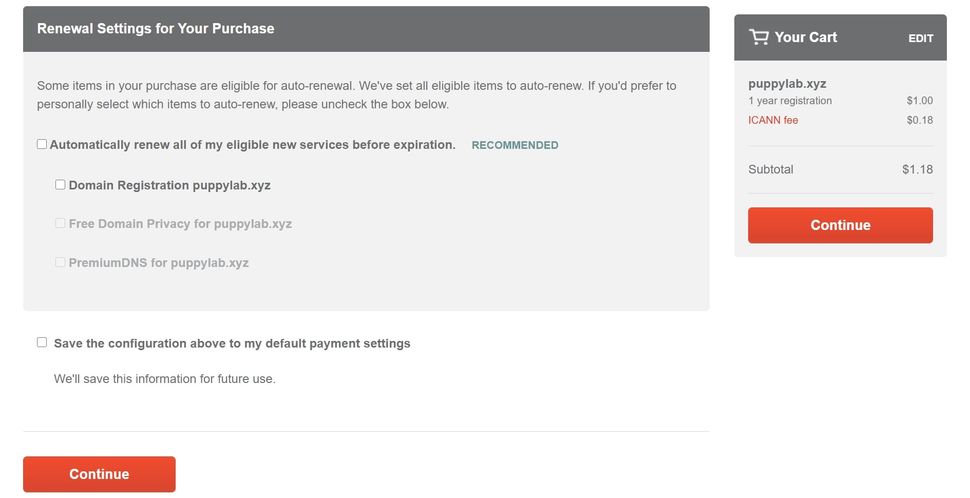 Click Continue to complete the payment process. Choose between using a credit card, PayPal, or Namecheap Account Funds. Also, feel free to enable automatic renewal for the domain registration.
Finally, review the order and finalize the payment. Once finished, check for a verification email in your inbox and click on the link to validate the domain ownership.
Tips when registering a domain name
Obtaining the right domain name from the start is important, especially if you're creating a business or personal brand website. Changing domains is not only expensive but also potentially damages search engine rankings and conversion rates.
With this in mind, here are some things to consider when buying a domain name: 
If the domain name is unavailable, use a name generator. Namelix is an excellent example of this. Insert the business name or website name, then choose a naming length and style. The tool will come up with some ideas based on your criteria.
Avoid hyphens and numbers. They can make the domain name difficult to share via word-of-mouth. 
Include rhyme, rhythm, or alliteration. These poetic devices can make the domain name easier to remember.
Check the trademark database. Steer clear from domain names that sound too similar to existing brands to avoid getting into legal trouble. 
Check for corresponding social media handles. To make your brand's online presence easier to discover, it's best to use the same name for all of your social profiles. 
If possible, buy the misspelled variations of the domain name. That way, you won't miss out on any potential traffic. For instance, Google owns gogle.com so that people who mistype their URL can use the search engine immediately. 
Think long-term. Make sure the domain name can support your brand now and in the future. Avoid trending terms to leave room for growth. 
Choose a reliable domain registrar. Check their terms of service and reputation before making the purchase. If you're new to domain name registration, it helps to pick a company with a responsive support team. 
Conclusion
We've shown you how to buy a domain name with different registrars and web hosting providers – from Hostinger, HostGator, to Domain.com. No matter which vendor you choose, make sure it offers the best service for your money. 
Domain names are a long-term investment, so take your time to brainstorm the perfect one for your website. Most importantly, the name should be concise, catchy, and relevant to your business so that it remains top-of-mind for your target audience. 
With the tips and tutorials explained above, you should be on your way to getting a great domain name. Best of luck.
Slavery worksheet used in Pittsford class came from online lesson source. So we bought the lesson - WHEC
Posted: 21 Apr 2021 06:07 PM PDT
The lesson plan on Colonial Life wasn't available to buy. 
We could not locate any worksheet or lesson plan that was remotely similar to the ones used in Pittsford and Webster. The company that produced them told us they changed the language. 
Educators I talked to agree—teachers are still sharing and using lesson plans purchased before the changes. 
The worksheet used in one fourth-grade classroom in Pittsford in January says slaves "agreed" to work. The one used in Webster talks about "jobs." 
Both districts say the source of the material was The Classroom Nook. 
In an email, the owner of The Classroom Nook, Rachael Parlett, told us "the pictured worksheet does not accurately reflect any material available from The Classroom Nook... the worksheet shown contains very old portions of a unit on colonial America." 
So I went online and through a website called Teachers Pay Teachers, I ordered The Classroom Nook lessons on the Civil War and Colonial Jobs.
The lesson plan on Colonial Life wasn't available to buy. 
Nothing in the material I went through matches the worksheets used in Pittsford and Webster. 
Brean: "It looks like there's this vast industry out there online where teachers can go and buy lesson plans. Is that true?"
Dr. Shaun Nelms, Supt. of East High, Dr. Ctr of Urban Education Success U of R: "Absolutely. There are sites everywhere where teachers can upload lessons to be sold, they can buy lessons."
Shaun Nelms wears a lot of hats. He's the superintendent of East High. He's also the director of the Center for Urban Education Success at U of R. He's developing a historically accurate and culturally responsive curriculum of American history before and after the 1964 uprising in Rochester and to goal is to get that curriculum in local schools.
"It's really designed to have people look at historical context and think about those contexts in ways that don't lead a kid or his teacher to a single path of inquiry. What are all the factors surrounding it?" Nelms said. "These kids will walk away 10 years from now not accepting the notion that people from the continent of Africa came here as voluntary workers and were treated well and placed in jobs."
Nelms is training 150 teachers now.  He says they'll start getting into schools over the course of the next year, and Pittsford is one of the districts included. 
Wednesday, the Pittsford school superintendent's office shared this information with us: 
Pittsford Central School District is deeply committed to the forward movement of equity and inclusion in our schools. PCSD, along with all Monroe County school districts, has made a public commitment to this work and have made many advances. To cause a systematic change, the goal must be to create changes at the organization's highest levels first as policies make a direct impact on accountability and culture. 
This past year, PCSD reviewed its policies to be sure they map back to the District's Mission, Vision and Values. The most sweeping policy that was created and approved by the Board of Education in the Educational Equity and Excellence Policy #3422. This policy has direct implications for the District's strategic initiative.
Along with a review of policy, the District's curriculum and instruction leaders have been writing new curriculum for our social studies program. It has always been PCSD's approach to develop its own curriculum and not purchase or rely upon pre-packaged products. We take great pride in reviewing best practices found across the country and relying on our content experts who have a shared ownership in the material that is presented in our classrooms. This includes partnering with BOCES and the University of Rochester Center for Urban Education Success to develop common units of study for 8th and 11th grade Social Studies classes that will focus on how race, class, and inequities have shaped Monroe County from 1964 to today. In addition, work will begin this summer on revisions to our K-5 social studies curriculum units around the themes of equity, diversity, civic-mindedness, and social justice.
Piloting of the new curriculum inquiry units is expected to begin this fall, while other practical and large undertakings in the area of equity include: 
A new Board of Education policy that requires the examination of diversity in any new textbook selection 
Teacher training (with regular, timely reinforcement) regarding how to teach and respond to racially sensitive texts
Two-year "Diversity Audit" that our K-12 librarians conducted at our nine school libraries
Equality in hiring policies and practices
Increasing access to challenging coursework, and decreasing disproportionally in student achievement and discipline
After the broadcast of our story, The Classroom Nook owner Rachael Parlett emailed with this new information: 
"While we discovered that this resource had been modified and used improperly after it was published, we deeply apologize for the tone it set. We have updated this resource a number of times since it was first published to ensure it honestly depicts this dark time in American history, but we have taken the additional step to remove it from our platform to further evaluate its accuracy. We also ask anyone holding these older or modified versions to remove them from their plans and going forward we ask them to ensure their proper use in the classroom.  Again, we absolutely apologize for the insensitive tone this has set."
Best Fortune Teller Websites for Free Online Fortune Telling | HeraldNet.com - The Daily Herald
Posted: 21 Apr 2021 01:30 AM PDT
A guide to fortune tellers, top fortune teller websites for accurate online fortune telling service, With growing uncertainty in everyone's daily life an increasing number of people are curious about their future. Many suffer a great deal of anxiety contemplating the various possibilities of future outcomes. In several cases, this leads to the daily activities of the individual being affected severely. In such situations, these individuals then look to online fortune tellers for some definite answers having nowhere else to go to satisfy their curiosity. Fortune tellers provide a prediction and insight about the future of a person. People look for some definite answers to satisfy their curiosity and anxiety about the uncertain tomorrow. Often the fortune teller readings give a boost of confidence to the concerned person. But not all online fortune tellers are genuine and some dupe you for money cashing in on the growing anxiety of people. This begs the question how can one judge which sites are genuine?
Click Here to visit the Top Rated Fortune Tellers Website
I am Kevin Darcy and I have tried out several sites of online fortune telling to identify the ones that are authentic and stand out. There are several fortune tellers online out there that are not worth your time and money but at the same time, some fortune telling sites exist that provide very accurate readings that are worth it. It takes a great deal of time and you need to try out several sites to be able to correctly judge whether a fortune telling website is genuine or not. I am going to list my top recommendations for online fortune telling and also provide you with some insights and to equip you with the capability to judge which online fortune tellers to invest in and rely on.
Top recommendations :
With some experience in this process of looking for genuine and authentic fortune tellers, I have identified sites with the most accurate readings and genuine results and have also identified certain parameters that one must check before investing their time and money in fortune tellers online. To help you overcome this dilemma here are some of my top recommendations.
Kasamba
Kasamba provides a deep glimpse into your future if you are looking for future tellers and fortune tellers. They offer fairly easy access to their services and you can connect with their expert psychics and fortune tellers through online chat or email. The company features a wide variety of fortune tellers and psychics from around the world. You can also go through their profile pages to learn more about their methods and decide on the option that is most suitable for you.
They feature a great team of people offering a wide variety of psychic specialties from which you can choose and includes fortune telling, rune castings, tarot fortune telling, aura readings, dream analysis, crystal readings, astrology, and more.
If you're looking for a fortune teller to provide you with some insights on your career and financial prospects, Kasamba is a suitable site to visit. Many of their fortune tellers and future tellers know and understand the issues revolving around work and finances and could make detailed suggestions and readings in this regard. When you are curious to know about your career direction or your financial future, their advice and expertise can be really beneficial for you.
Kasamba also provides a wide variety of price ranges to fit any budget. The psychic profiles show the ratings and reviews and the psychic's fee per minute. They offer free fortune telling readings for the first 3 minutes of every session. They also offer a refund if you are not completely satisfied with the advice and readings provided. New users get a discount of 70% which makes Kasamba a great site for novices who have never ventured into fortune telling before. These added advantages make Kasamba one of the most reliable and user friendly websites for online fortune telling.
To summarize all the benefits they offer:
They offer a wide variety of experts and you get the options of choosing from a tarot card reader, gypsy fortune teller, or a clairvoyant psychic.

Services offered include tarot readings, fortune telling, dream analysis, and career forecasts.

You get 3 free minutes with every new fortune teller you try.

First time users get a discount of 70%.
Click Here To Connect With Kasamba Best Fortune Tellers
Psychic Source
To get some idea of what your future fortune and prospects are, Psychic Source is a suitable place. They have an advantage of the ease of access as you can access the expertise of their wide variety of fortune tellers and future tellers via phone, video, or live chat. You will find guidance through a wide variety of methods including astrology, fortune telling cards, numerology, interpretation of dreams, tarot fortune telling , lost object readings, cartomancy, energy work, past life readings, and spiritual readings.
This site is especially helpful regarding love fortune telling. It's the best site to use for those looking out for love readings, so if you are curious to know if a special person may be on the brink of coming into your life or if a current relationship may reach a level of more seriousness, their fortune tellers can help you get definite answers to this.
Their site safeguards your private content and uses advanced software to protect online privacy and security. Invasion of privacy is something that is becoming quite common in this day and age and this is what makes this site reliable. Their future tellers and fortune tellers offer quite affordable services, especially for first time users. They have a low first time offer with an additional three minutes free with your first reading. They also offer complete satisfaction guarantee to top all of this. This makes them a unique site offering online fortune telling services with a great focus on customer satisfaction.
To summarize they offer the following benefits:
Online readings are available through call, chat, or video conference.

The best service for questions related to your love life, romance, and knowing your love fortune.

Variety of services available.

Over three hundred of the best psychics and fortune tellers in the world to choose from.

Every new client gets three free Minutes and a low introductory offer.
Click Here To Connect With Psychic Source Best Fortune Tellers
Keen Psychics:
In these times of uncertainty, a growing number of people are facing financial struggles. If you are looking for fortune telling and future telling and are on a budget, Keen can be the perfect place for you. You can reach out via phone or chat. They also have the facility of accessing their services on their mobile app so you can do it on the go.
They have more than 1,700 fortune tellers and future tellers ready to offer their expertise and advice to you. All their fortune tellers and future tellers are reviewed and rated by all their past users. Their fortune tellers and future tellers are well adept at a wide variety of methods and specialties which include cartomancy, spiritual readings, aura cleansing, dream interpretation, numerology, fortune telling cards, angel cards, tarot fortune telling, and astrology. They also offer the option of searching for the fortune teller that best suits you using the site's filtering tool to sort by the area you are interested in, access option, and cost involved. Using this filter tool helps immensely in finding the fortune teller that perfectly fits your needs and wants.
The fortune teller readings prepared for you are always kept absolutely private and confidential. This ensures the protection of privacy that is extremely essential in today's times. They are a trustworthy source for readings that are affordable and accurate. They are especially suggested for men and women looking for a great deal of introspection. They are ideal for you if you are a novice and have never used online fortune telling as they offer services that are relatively cheap and it doesn't put much pressure on your pocket. They also give a 100% satisfaction guarantee. They offer 10 minutes for approximately $1.99 and sometimes also give special offers with the first three minutes for free. These advantages make this site stand out in comparison to other sites for fortune telling.
To summarize they offer the following benefits:
You can choose from a wide variety of fortune telling methods which can be accessed via phone or chat.

They give accurate readings and insights into relationships, career, financial, and life issues.

Services offered are ensured to be private and confidential with your privacy safeguarded.

They give a satisfaction guarantee.
Click Here To Connect With Keen Best Fortune Tellers
Are online fortune teller readings as accurate as the readings provided by a fortune teller near me?
There are many who doubt the accuracy of fortune tellers and future tellers but at the same time, some swear by their readings and expertise. In movies and media, we have typically seen a gypsy fortune teller with talents out of this world and a trickster who poses as a fortune teller pretending to be able to read signs, or someone who makes use of people's desperation for love for the sole purpose of earning money.
In real life, you get a range of true fortune tellers and also those who make a fool out of you. The same goes for the huge number of online fortune tellers. The accuracy of predictions depends more on the genuineness of the fortune teller than whether the reading is done face to face or online. A genuine fortune teller would not see your circumstances as a factor in their readings so to them the quantity of money in your wallet would not matter a single bit. The added advantage of online fortune telling is that you have access to a large number of user reviews and ratings which may not be the case for the fortune teller near you. Thus, there is an added assurance of quality service and accurate readings that are reliable as well.
It is extremely important that you find a reliable and genuine fortune teller who makes you feel comfortable. Not everyone has access to fortune tellers near their place of living. Hence, online fortune tellers have the added advantage of being easily accessible. You can easily find a genuine fortune teller by seeing the client reviews and visiting the sites I have recommended. There is a high chance that you may be more relaxed and prefer the anonymity of an online fortune telling experience. And to add to it the online fortune telling experience is considerably safer for obvious reasons.
Visit the most accurate fortune telling website for free reading
A few important things to know before you go for online fortune telling
The most important thing would be to look at the fortune teller's user ratings and reviews. This would give you a fair idea of what to expect from a particular fortune teller. The previous user ratings provide an accurate tool for judging whether an online fortune teller is genuine or not. The best online fortune telling websites provide profiles of all their fortune tellers and so it is easily accessible. You can easily see whether previous clients have had a good experience with the fortune teller you have chosen. You should also select a fortune teller who specializes in the area you are curious about. This would enable you to select a suitable and reputable fortune teller. A reading about your love fortune would not be of much use to you if you are curious about your career prospects. So it is important to look out for these minute details which can improve your overall experience and satisfaction.
If you are curious about your future, a free fortune telling reading is most probably your most convenient and affordable alternative. The experience is low risk with complete anonymity and privacy protection and you also have the option to not follow the advice which would be hard to do in an in person fortune telling session. But given that they are free, most of them may not be very reliable or accurate and it would be a much better alternative to invest some bit of money in this for more accurate results that may be useful. It would be best to go forward with one of my recommendations as they are tried and tested.
How beneficial is fortune telling in finding love?
If you have had some bad luck with relationships it may have made you quite skeptical about finding true love in your life. But humans are curious creatures and you may be pondering the question of whether online love fortune telling can help you in this regard.
Some fortune tellers may have a deep insight and provide you with the name of your true love and also when you would be meeting that person. Some fortune tellers may also be able to tell you the physical characteristics and personality traits of your true love. They may even offer some guidance you could use to modify your behavior and improve your chances of finding love. In this way, they get you to your true love faster by speeding up the process and focusing on the areas that you may be lagging behind in. Fortune telling can have an impact on your romantic future in a various number of ways as it gives you an actual situational analysis and provides you with alternatives to work on to improve your prospects for romance and love in the future.
When you are more focused on your love life and curious about it, it is essential to check online reviews to ensure that you have your online fortune telling done by a fortune teller with expertise in romance. Reading the reviews and ratings are a must to make sure that the fortune teller you are investing is indeed worth it. The sites I have recommended provide the best services in this regard, especially Psychic Source.
Connect Here With The Best Online Fortune Tellers
How are fortune tellers able to make predictions about the future?
Fortune tellers use the same methodologies worldwide to use their talents and make predictions about the future. The methods used would be the same across all genuine fortune tellers, irrespective of the reading being offline or online. You just need the right individual to read your future which is considered to be pre decided and written at birth. A genuine fortune teller would be able to do this with ease.
Your fortune teller may be specializing in tasseography or reading tea leaves and may even work with cartomancy, using tarot cards or another type of fortune telling using cards to provide you with an explanation of your life. Depending on the fortune teller they may cast runes or read palms. Although it sounds like a stereotype of the gypsy fortune teller, your fortune teller may also use a crystal ball to get a deep insight into your future.
Fortune tellers are known to have various gifts and methods which they use to give you a detailed reading of your future. Here are some of these gifts which fortune tellers possess:
Clairvoyance : With this gift, they get the ability to see what others are unable to. It is the ability to gain insight and information about an object, person, event, or location that is distant in time or space. Such people are called clairvoyants. They can perceive or predict future events and may even see past events. They can perceive events happening outside the range of normal perception.

Clairaudience : This gift gives them the power to hear sounds from spirits in another dimension or realm. It is the ability to hear something that is not present to the ear but an objective reality. This could also pertain to being able to hear or listen to spirits of the dead that surround the living people.

Extrasensory perception : Also known commonly as the sixth sense. This gift gives them the ability to access information that cannot be received through vision, hearing, sensation, taste, or smell. With this, the person receives information through the mind. This gives them access to the intangible things around us that cannot be perceived by the physical senses. They may receive visions of the past or future from unknown sources.
These are phenomena that are hard to explain but genuine fortune tellers possess these powers. There are several fortune tellers out there who make their living out of presence. They pretend to possess such powers and dupe innocent and vulnerable people. A genuine fortune teller actually has access to such insights and always gives accurate and reliable readings.
An important thing to remember is that every fortune teller is unique and each one may use a different set of methods to get deep insights about your future. The method used by a particular fortune teller is the one they are especially good at and have a great deal of expertise in practicing that method. As listed above there is a wide variety of methods that can be used to get an in depth analysis of your future in the form of your fortune telling reading.
Connect Here With The Best Online Fortune Tellers
How expensive is online fortune telling?
As mentioned earlier in my recommendations, fortune telling sessions and readings can be availed for a wide range of prices. There also exist some sites that provide their customers with online psychic readings for free. Given that these are free fortune telling readings and sessions there is a high chance that the readings would be vague and very general. These readings would not provide you with much useful information and would not be of much use to you. It is highly unlikely that Facebook quizzes and other unreliable sources would provide you with much useful or reliable information about your future fortunes.
Online fortune telling is often priced lesser than face to face meetings and is much more affordable than face to face readings. So it requires comparatively lesser investment and is in some sense less risky than face to face meetings. In addition to being more affordable, you can access online fortune telling services anytime and irrespective of where you are, via phone or chat and so these online fortune telling services are much more easily accessible. Online fortune telling is especially beneficial for those people that are relatively new to fortune telling and do not possess much knowledge in this field.
If you are curious about your career, love life, friends, or life in general, you may want to consult a fortune teller online. With the wide variety of services, they offer including an online tarot reading, a palm reading, or any other methods, online fortune tellers can offer deep, helpful, and unique insights about your dreams, love, and future financial prospects. They come with advantages of ease of access, credibility ratings from past users, and the guarantee of safety and privacy. With the recommendations that I have provided, you can safely venture into online fortune telling and access the readings for your future prospects. Having been equipped with the several pointers that I have provided, now you can surely avail the best of services available online.
Social Security Glossary of Frequently Used Terms - AARP
Posted: 21 Apr 2021 01:56 PM PDT
Administrative law judge. A federally appointed, legally experienced official who presides over hearings and makes rulings on Social Security application and benefit decisions.
Appeal. A procedure for challenging an application or benefit decision by the Social Security Administration. If you disagree with a decision at one level, you can appeal it at the next. The appeals process has four successive steps:
Reconsideration by a Social Security official not involved in the initial decision
Hearing, generally with an administrative law judge
Appeals Council review
Federal court
Appeals Council. The Social Security Administration body that reviews appeals of rulings by administrative law judges.
Application for benefits. The form you must complete and sign to apply for Social Security benefits, Supplemental Security Income (SSI) or Medicare.
Authorized representative. A person you formally appoint to represent you in a Social Security benefit application or appeal. An authorized representative can attend meetings with Social Security officials, help you gather evidence to back your claim and access information in your Social Security file, among other things. Someone who is simply helping you fill out an application or other form need not be an authorized representative.
Auxiliary benefits. Benefits that go to a living wage earner's spouse and children based on the wage earner's earnings record. Also known as family benefits.
Average indexed monthly earnings (AIME). A dollar amount representing your average monthly income across your working life. It is derived by averaging up to 35 of your highest-earning years (adjusted for historical wage growth) and dividing the resulting figure by 12 to arrive at a monthly average. AIME is key to the Social Security benefit calculation.
Award letter. An official letter explaining the Social Security Administration's decision on your application for benefits. Also known as a decision notice.
Beneficiary. An individual who receives Social Security benefits.
Benefit verification letter. A document provided on request from Social Security that you can use as proof of your benefits, Supplemental Security Income or Medicare. Also known as a benefits letter, budget letter, proof-of-award letter or proof-of-income letter.
Blue Book. The Social Security Administration's online compendium of physical and mental conditions that meet the agency's definition of disability and the medical criteria that qualify someone with such a condition to receive disability benefits.
Break-even point. A calculation that can help you determine when to claim your retirement benefits, reflecting the fact that the later you begin collecting benefits, the higher your monthly payments. So, the sum total of payments you start receiving at full retirement age or later will eventually catch up with the sum of reduced monthly payments you can start getting earlier. The longer you expect to live past that break-even point, the more you could gain from delaying the start of your benefits.
Breadwinner. The individual upon whose lifetime earnings record a claim for benefits is made, including claims by spouses and other dependents. Also known as a wage earner, worker or number holder.
Child. A biological child, adopted child, stepchild or dependent grandchild who potentially qualifies for benefits based on a worker's earnings record.
Compassionate allowance. A Social Security initiative in which people with certain severe medical conditions are designated for fast-track consideration of applications for disability benefits.
Computation years. The years in which someone received earnings that are used to calculate a Social Security benefit. For retired workers, this will be their highest-paid 35 years. For disabled and deceased workers, the number of computation years could be lower, depending on the age at which they became disabled or died.
Consultative examination. A special medical examination or test that the government requests and pays for when additional information is needed to process a claim for disability benefits.
Contribution and benefit base. Also known as maximum taxable earnings, this is the amount of a person's yearly gross income that is subject to Social Security taxes, and the maximum amount of earnings that can be counted in the Social Security benefit calculation. The figure is adjusted annually based on national wage trends; in 2021 it is $142,800.
Cost-of-living adjustment (COLA). Annual change to Social Security benefits so that they keep pace with inflation. In years with little or no inflation, there may be no Social Security COLA, although this is rare.
Covered employment. Work in which you and an employer are required to pay into Social Security via payroll tax contributions. Most jobs in the U.S. economy are covered employment.
CPI-W. A consumer price index for urban wage earners and clerical workers compiled by the federal government and used to calculate annual Social Security cost-of-living-adjustments.
Death benefit. Sometimes called a "lump-sum death payment," a one-time payment of $255 to the spouse or, in some cases, child of a Social Security–covered worker who dies. The survivor must file for the lump-sum death benefit within two years of the worker's death.
Decision notice. An official letter explaining the Social Security Administration's decision on your application for benefits. Also known as an award letter or denial letter, depending on the result.
Deemed filing. A rule holding that if you are eligible for both your own retirement benefit and a spousal benefit when you file for Social Security, you are automatically deemed to be filing for both. You will receive the higher of the two benefits.
Delayed retirement credits. A boost to your retirement benefit that Social Security applies for every month between full retirement age and age 70 that you put off claiming your benefits. The credits increase your eventual benefit by 2/3 of 1 percent for each month you delay filing, which adds up to 8 percent per year.
Dependent. A family member, such as a spouse, child or grandchild, who may qualify for Social Security benefits based on a worker's earnings record.
Disability. An illness or injury that is severe enough to prevent an individual from working for at least a year or is likely to result in their death. The Social Security Administration applies this standard in determining whether someone qualifies for disability benefits.
Disability benefits. Monthly payments to an individual whose physical or mental condition meets Social Security's definition of disability. The Social Security Administration operates two such benefit programs, Social Security Disability Insurance (SSDI) and Supplemental Security Income (SSI).
Disability Determination Service (DDS). A state agency that works closely with the Social Security Administration to review applications for disability benefits.
Disability review.  A periodic medical evaluation of someone receiving disability benefits to confirm that they still qualify as disabled. A beneficiary whose condition is considered likely or possible to improve will generally get an initial review six to 18 months after becoming disabled, with follow-ups every three years thereafter.
Divorced-spouse benefit. Also called an ex-spousal benefit, a type of Social Security benefit paid to a wage earner's former husband or wife. The benefit can be up to 50 percent of the wage earner's primary insurance amount. The couple must have been married for at least 10 years for a divorced spouse to claim this benefit.
Divorced widow(er). Also called a "surviving divorced spouse," the living former spouse of a deceased worker who paid into Social Security. A divorced widow(er) may be able to collect survivor benefits on the late ex-spouse's earnings record, if the marriage lasted at least 10 years.
Dual entitlement. When you're entitled to benefits on more than one earnings record — for example, your own retirement payment and a spouse's benefit. Dual entitlement does not mean you collect the sum of both benefits. Social Security will pay only the higher amount, although it might draw from both earnings records to do so.
Consumer Alert: Are auto insurers exposing your private information? We have answers. - WHEC
Posted: 21 Apr 2021 05:32 PM PDT
The first viewer who contacted me about the issue was James Wesley. He told me, "I don't have anything with Liberty Mutual nor have I asked Liberty Mutual for a policy quote." But Wesley got a Liberty Mutual bill for an auto policy he didn't buy.
"There's a very easy solution to correct this," said Ken Mollins, an attorney representing a Liberty Mutual identity theft victim. "Liberty, don't give out someone's private information. Insist that people have their driver's license number when they apply."
So of course I wanted to know if insurers fixed the problem. The best way to tell was to try to buy auto insurance using insurers' online sales sites. On Liberty Mutual's website, I used my own name and address. But I purposely used the wrong birthday, email and phone number. I wanted to test whether the website would autofill my information with only my name and address, information publicly available.
And Voila! The system auto-filled the year, make and model of my vehicles, the drivers in my household and their ages, as well as insurance my current auto insurance and the coverage amount.
In the final step, it asked for my Social Security and driver's license numbers. But it did not autofill that information, and in an online chat with an agent, I was told I couldn't buy the policy without my driver's license and social security numbers, which is good.
So then I tested Progressive. And again, the site auto-filled my vehicles, and drivers in my household, but it would not let me buy a policy without first typing in my driver's license number.
So then I tried GEICO. I used my name and address, but used a fake birthday, phone number and email. So with just my name and address, the site's autofill software filled in the information about my vehicles, the drivers in my household and surprisingly, my Vehicle Identification Number. When I got to the page to type in my driver's license number, GEICO's autofill software filled in the blanks using my old Texas driver's license number. While it only displayed part of the number, when I clicked next to confirm the number was mine, shockingly, it allowed me to go to the page in which I could purchase a policy.  If I were a thief, that purchase, likely with a stolen credit card, would have given me access to the drivers' license number.
And GEICO admits as much in this letter to victims. It reads, fraudsters got "unauthorized access to your driver's license number through the online sales system on our website." The letter says GEICO fixed the problem, and the letter is dated April 9. So why did GEICO's online sales system autofill all my information on April 15, six days after the dated letter claimed the problem had been fixed?      
I reached out to GEICO, and a spokesman told me "our cybersecurity team constantly remains vigilant and worked with our application development teams to implement updates to our system to prevent personal information like drivers' license numbers from falling into the wrong hands."  
I repeatedly told the spokesman that the site's autofill software had filled in my private information allowing me to buy a policy without proof of identity, and this occurred after the company claimed to have fixed the problem. Exactly when did GEICO's application development teams update the system?
The GEICO spokesman did not directly answer that question writing, "We have successfully implemented the appropriate fixes to our system to prevent driver's license numbers from being fraudulently obtained.  Additionally, we alerted the Department of Financial Services upon detecting this fraudulent activity had occurred."
I immediately reported the issue to the Department of Financial Services, and when I checked the site two days later, it did not autofill my driver's license number.
I asked the Department of Financial Services what it is doing to address the problem, and it said it could not comment on an ongoing investigation.
If you get a bill for auto insurance you did not buy, you need to take the following steps:
Call the fraud departments of each insurer. 
Progressive - 877-238-5194 (option 2).
GEICO - 1-800-824-5404 ext. 3313.
Liberty Mutual 1-617-357-9500.
Call the DMV's Insurance Services Bureau at 1-518-474-0700 to make sure it has the right auto insurance listed because the DMV may now believe you've changed your insurance.
Check your credit with all three agencies – Transunion, Equifax, and Experian, here.
Freeze your credit with all three. We know your identity is now compromised. The freeze assures us that thieves can't open new lines of credit in your name.
Report this crime to the New York State Department of Financial Services here.