Top 5 dog business ideas - Business MattersBusiness Matters
---
Top 5 dog business ideas - Business MattersBusiness Matters
Posted: 13 Jan 2020 08:48 AM PST
Pet ownership is increasing day by day, particularly dog. More and more, people are adopting dog as their pet.
Seeing this as a huge opportunity, many people are getting interested to build business related to dog products and service, which in sweet term called 'Petpreneurs'.
In countries like USA, UK, Asian Countries, dog related business are growing day by day. People are ready to invest for their dog.
By looking in the current dog market, you will find products from food, medicine to cosmetic products as well. The market has grown. Big to small and even new start-up are trying their best to cover the market.
There is still scope for you to become 'Petpreneur'.
Here, I will be discussing top 5 Dog Business Ideas that you can start today.
Top 5 Dog Business Ideas-
Dog Product Supplier
You can be the dog food product supplier along with the medicine, cosmetic product supplier under one roof in your city or in your area.
You can scale this online and cover a much big area. The profit margin is good in this business, you can earn good amount of money even selling less quantity. But, only you need is some investment to start your business.
Make sure that there are enough dog owners in your city or area before investing, or you might fail to run the business.
Dog Training Business
Dog Training Business is the 2nd best business you can start in this industry. To start this, you need no investment all you need is your knowledge and know how to handle dog. This is the best business I think without any investment in this list of top 5 dog business ideas.
You can either train dog or their owners how to train their dog.
You can start it in both indoor and outdoor. You can even give home service, where you don't need any place.
It is a easy to start business. Slowly, you can arrange a team of trainer and can operate in a big area.
Dog Grooming Business
The Dog Grooming Business is good for western countries, mainly USA, UK, where people spend billion of money on their pet. The people are quite worried about their pet there.
Dog hairs get long from time to time, and its need trimming and grooming.
Pet hairs can be a source of allergy to house member, and long hairs get easily torn.
Dog Daycare Business
Some of the dog owner's don't have get anyone to look after their pet, when they are out of station. They need someone to look after their pet.
You can start this as part-time business from your home. All you need is to know how to handle dog, and give them proper food at right time.
Dog Accessory and clothing
You can start a manufacturing company for dog accessories and clothing. Americans spend more than $30 billion on their pets. You can also open a dog food business side by side and sell products like best dog food for german shepherd and others.
To start this business, you need skilled workers, ideas, follow new trend of clothes. Don't compromise on quality.
You can scale your company by selling your products in ecommerce.
Student entrepreneurs pitch business ideas - Medicine Hat News
Posted: 11 Jan 2020 12:53 PM PST
By JEREMY APPEL on January 11, 2020.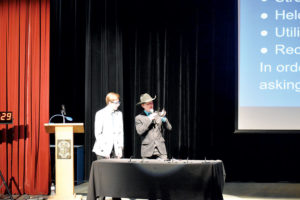 Eagle Butte students Eli Lavoie-Pierzchala and Clayton Lehr pitch their business proposal of hooks made from horseshoes at Medicine Hat College on Friday.--SUBMITTED PHOTO
jappel@medicinehatnews.com@MHNJeremyAppel
Students from Medicine Hat public and Prairie Rose schools pitched their business ideas to a panel of judges at Medicine Hat College on Friday, the culmination of a semester-long project.
At the end of the day, three awards were given out – best pitch, entrepreneurial spirit and, as voted on, students' choice.
MHC entrepreneur outreach co-ordinator Christie Wilson has been visiting participating schools – Eagle Butte, Medicine Hat High, Foremost and Bow Island's Senator Gershaw – to work with students to improve their initial business proposals.
"Each week, I go out and work with the students, and it takes a lot of work and commitment from the teachers, division and students to work their way through Business Model Canvas to the point where they can share their business venture idea," said Wilson. "That's what today is all about."
She describes Business Model Canvas as a more fluid approach to developing a business idea, as opposed to tying students to a formal business plan.
"It's very much about being creative and iterating, rather than being stuck to a big plan," Wilson said. "It's easy to use in a group."
She describes the process as a "journey" with "lots of ups and downs."
Clayton Lehr, a Grade 12 Eagle Butte student, has been working on his business for the past few years – Rough Tough Hooks, which are made from horseshoes.
He pitched the coat and hat hooks as a recycling initiative.
"The horseshoes get used on horses' feet for so long, and then eventually get taken off and just thrown out. It doesn't do any good, so we take these horseshoes and make them into something that can be used for them," said Lehr. "You take one product and you upcycle it into another."
Although he started working on the business well before he took the class at Eagle Butte, Lehr says Wilson helped him take the business to the next level.
"I used to sell like five hooks a year and now I can sell 50-80," he said. "They showed me the way to sell the product and price it so people are still interested in it."
Foremost's Brynne Ellert was selling Alberta beef dog treats made from cattle on her family ranch.
"It's all grass-fed, non-GMO and really good for the dog," she said.
Ellert said she had "no idea how to pitch a business" prior to taking the entrepreneurship class.
She said the class taught her to differentiate her product from others on the market.
"Before I didn't push it as local or grass-fed. I'm really pushing that now, but before it was just dog treats," said Ellert.
Leave a Reply
You must be logged in to post a comment.