---
Five things to know today - Cincinnati Business Courier - Cincinnati Business Courier
Posted: 01 Oct 2019 04:28 AM PDT
[unable to retrieve full-text content]
Five things to know today - Cincinnati Business Courier
Cincinnati Business Courier
Stocks and sterling fall on global economic gloom and Brexit fears – business live - The Guardian
Posted: 02 Oct 2019 02:34 AM PDT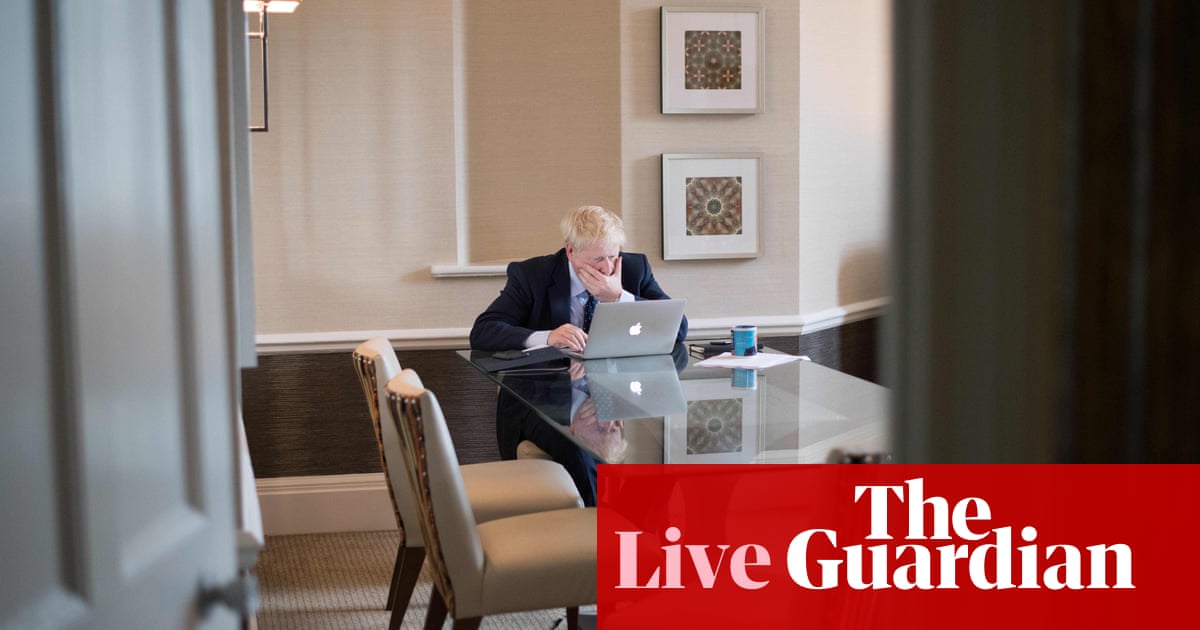 Equities are in full retreat this morning, with European stock exchanges shedding 1% or more. Markets have been hit by yesterday's US manufacturing shock, poor UK construction figures this morning and fears that Boris Johnson's Brexit offer will not lead to an agreement with the EU.
The FTSE 100 index in London is the worst-performing market, down 1.65% or 121 points at 7238.41. Sterling has slid nearly 0.6% to $1.2233.
Chris Beauchamp, chief market analyst at online trading firm IG, says:
The risk-off atmosphere created by yesterday's US ISM [manufacturing] miss continues to hang over markets. European equities have turned firmly lower in early trading, on the very reasonable assumption that, if things are that bad for the US, then they must be even worse for Europe.

And right on cue, German GDP forecasts have been downgraded. Following the theme, it is clear that a tough outlook for Germany makes things even worse for southern Europe's moribund economies, with or without another half-hearted dose of QE from the ECB. We are rapidly moving away from the realms of what central banks can do, but governments refuse to pick up the slack. How long equities can remain immune in such an environment remains to be seen.
Mark Robinson, chief executive of public sector procurement firm Scape Group, says it is concerning that construction activity is falling steeply at the start of autumn.
We are seeing the biggest decline in new work, new orders and employment levels for a decade, when we were in the middle of a financial crisis. The parallels between now and then cannot be ignored. We are facing significant economic upheaval with no end to the uncertainty in sight and the construction sector is responding accordingly, with both public and private sector clients exercising caution.

Civil engineering work, which represents essential road and rail projects that keep our local communities moving and our economies growing, are grinding to a halt and even big ticket items like HS2 are being called into question.

We desperately need clarity from the government on their legislative programme and detail on whether the EU is going to accept Boris' proposed deal. Provide us with this clarity and businesses will finally be able to make decisions on projects that have been paused and pushed to the side. We shouldn't hold our breathe and hope for an immediate Brexit bounce, but we can be mildly optimistic that there will be an up-tick in activity.
The UK construction survey also showed that companies' input prices rose strongly, as the weaker pound pushed up the cost of fuel and imported materials, such as tiles from Spain.
Hayes of IHS Markit warned of a long slump in Britain's construction industry.
Low confidence has subsequently caused construction order books to fall substantially. Panellists reported another sharp drop in demand in September that was one of the strongest in the post-crisis era.

Forward-looking indicators suggest that businesses are bracing themselves for a protracted construction slump, with input purchasing and employment both falling at rates unsurpassed since 2010.

Overall, the performance of the UK economy once again hinges on the service sector showing a marked degree of resilience to offset the weakness seen in construction and manufacturing.
Noble Francis, economics director at the Construction Products Association and honorary Professor at the Bartlett School of Construction of Project Management at UCL in London, tweeted:
IHS Markit/CIPS, which compiled the UK construction survey, said Brexit uncertainty was to blame for the latest decline in activity.
Joe Hayes, economist at IHS Markit, said
The UK construction sector remained mired in a downturn at the end of the third quarter, according to the latest PMI data. Activity is being pulled down at its second-fastest clip for over a decade as firms are buffeted by client hesitancy, heightened Brexit uncertainty and a weak outlook for the UK economy.

The commercial sector was a notable casualty in September, with building activity here falling at the fastest rate since April 2009, highlighting the damaging effects of project delays and belt-tightening.
The pound has also fallen further, sinking 0.5% against the dollar to $1.2241. Against the euro, it is 0.3% lower, at €1.1223.
Markets fear that Boris Johnson's proposal to replace the Irish border "backstop" will not secure a Brexit agreement with the EU.
Neil Jones, head of European hedge fund sales at Japanese bank Mizuho, told Reuters:
I don't sense an agreement between the two sides. We'll see a lower sterling [going forward].
The FTSE 100 index has tumbled more than 100 points to 7252.44, a 1.47% decline, as traders worry about the worsening economic outlook around the globe.
Jobs in the construction sector are being cut at the fastest pace since December 2010. The downturn has spread across all areas, with commercial construction the worst-performing.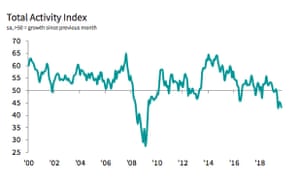 The UK's construction industry is shrinking at a faster pace, according to the latest PMI survey. The headline reading fell to 43.3 in September from 45 in August.
IHS Markit/CIPS, who compile the monthly survey, said:
Building activity fell at the second-fastest rate since April 2009, only narrowly outpaced by June's decline. A historically steep drop in new orders was also registered, while firms trimmed employment at the fastest rate since the end of 2010 due to unfavourable demand, client hesitancy and low confidence.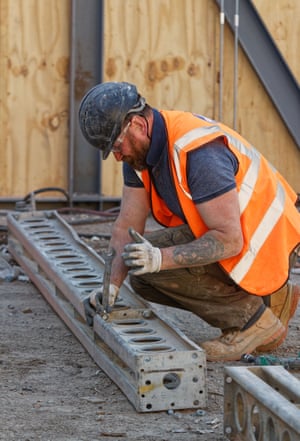 Adding to the economic gloom sparked by yesterday's dismal manufacturing numbers in the US and elsewhere, Germany's leading economic institutes have slashed their growth forecasts.
Germany, Europe's biggest economy, is now seen growing 0.5% this year and 1.1% next, compared with April estimates of 0.8% and 1.8%. The institutes are predicting a recovery to 1.4% growth in 2021.
The institutes said:
An economic crisis with a pronounced underutilisation of the German economy is ... not in sight, although the cyclical downside risks are currently high.
The revisions feed into the German government's own growth projections. There are mounting concerns that Germany's slowdown, driven by a recession in its export-reliant manufacturing sector, will affect the rest of Europe.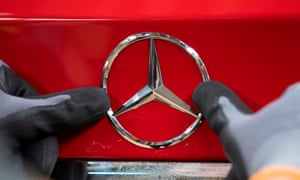 Analysts at Daiwa say:
In the currency market, after a modest bounce yesterday afternoon, sterling is weakening again (close to 0.89/€) ahead of Boris Johnson's speech to the Conservative Party conference which, amid the jingoism, will see him preach to the converted about his imminent Brexit proposals.

It remains to be seen, however, how much (honest) detail about those plans – extraordinarily, the first he'll have made since the referendum more than three years ago – will actually be made available today. However, the substance reported in the press suggests proposals that have minimal chance of being agreed by the EU, and seem designed principally to allow Johnson to blame the Europeans for any failure to reach a deal before the end of October. Of course, our baseline forecast is still that the Article 50 deadline will be extended we still expect.
Shares are also being hammered by rising global economic gloom, after yesterday's US manufacturing shock and poor factory surveys in the UK and the rest of Europe.
UK's FTSE 100 down 1.2%
Germany's Dax down 0.9%
France's CAC down 1%
Spain's Ibex down 0.8%
Malcolm Barr, economist at JPMorgan Chase, is sceptical that Boris Johnson's Brexit offer will be well received in Brussels.
Although the UK has moved towards the EU position a little, we doubt the EU will regard it as viable basis upon which to begin a detailed negotiation at this stage. As we wrote yesterday, expect acrimony to ensue. According to some media reports, the UK is set to withdraw from the talks if the EU do not respond positively to the proposal outlined today.