---
They Just Wanted to Have Fun—and Created a Business That's on Track for $2 Million This Year - Forbes
Posted: 28 Sep 2019 12:02 PM PDT
Chris Meade used to wake up on Monday mornings dreading his job as an account executive for a rideshare service in New York City. 
"I was cold-calling nonstop," says Meade. "I was tired of the daily grind of going to work, commuting from Bushwick, Brooklyn to Chelsea."
Meade could have resigned himself to the situation but instead decided to do something about it and become his own boss. One night Meade, now 26, got together with his brother, Gregory, 25, and their childhood friend Mike Delpapa, 25, to brainstorm a product they could invent together. That was a little over two years ago.
"We sat up all night," Meade recalls. One thing all three shared was a passion for sports. When they noticed the volleyball highlights on ESPN, they started feeling inspired. 
Suddenly, they hit on their idea a four-way volleyball game that merged traditional volleyball with the ball game four square. By dividing the court into four quadrants, rather than in half, they envisioned a game that would be "insane," in a good way, says Meade.
Even better, when they typed the idea into a search engine, they found no one was offering something similar. Soon they were off and running in turning their idea into a product. 
That game is basis for their company CROSSNET, which they started in Sept. 2017. The profitable firm is on track to hit $2 million in revenue this year, with a holiday "stretch goal" of $2.5 million, according to Meade. 
Meade has now left the nine-to-five behind. He lives in Miami, where he skateboards to a co-working space when he needs to get things done. Delpapa works from Connecticut, where he lives, and Gregory is in the midst of a three-month trip to Vietnam and living as a digital nomad.
CROSSNET is among the growing number of nonemployer businesses—those with no employees except the owners—that are breaking $1 million a year. The three founders split profits evenly and together own 100% of the company, with no outside investors.
The number of these firms that are reaching $1 million to $2.49 million a year in revenue was 36,984 in 2017, up 2% from 36,161 in 2016, according to data from the U.S. Census Bureau. That tally increased by 38% from 26,744 in 2011. Most non-employer firms are solo businesses, but some are partnerships and family businesses, like CROSSNET.
So how did these three founders build a successful company with only a few years' of work experience and limited resources? Here are the strategies they used:
Find a way to fit a startup into your life. Most people can't quit their day jobs to start a business and work on it full-time. Meade and his co-founders were among them, so they started the business on the side. Meade, for instance, would work at his full-time job from 9 to 5:30 or 6 p.m., do some work on the subway back to Brooklyn and then work in the evening until 11 pm or midnight every night for about eight months. " I came home every single night and worked on this bad boy," says Meade.  
That's not easy to do, day after day, but they were committed. Meade says that some of the motivation he and his brother have comes from the experience of losing their father seven years ago. "We've always had the drive and hunger to make things better," says Meade. 
Meade was finally able to quit his job by January 1, 2018–and then it was full speed ahead.
Create a prototype. To make sure their idea was marketable before they invested a lot of money, the partners bought a couple of volleyball nets from Walmart and set up a very rough prototype. "We made up a set of rules: Every man for himself in a free for all," Meade recalls. Each person would try to eliminate everyone else. 
After testing their idea among themselves, they found a manufacturer in China on the giant ecommerce marketplace Alibaba to make a real prototype, which cost them $250. They also patented and trademarked the idea.
Make the most of online advertising. To measure interest in the marketplace, the trio began advertising the product on Facebook, Instagram and Twitter, taking pre-orders for the product through a simple e-commerce site they set up. "We got some good interest right away," says Meade.
Running ads there not only allowed them to gauge customers' interest, but also to conduct experiments that guided them on decisions like pricing.
Seeing that the game was moving quickly when they advertised it for a $100 retail price, the founders raised the price to $150. "Customers were just as receptive," Meade says. 
Don't try to do every task yourself. One common thread among million-dollar, nonemployer businesses is that when the founders need help with tasks they don't have the time or expertise to handle, they don't try to do it all themselves. They turn to freelancers and contractors, found through their networks or on freelance platforms.
CROSSNET took the same approach, saving many hours of time for the founders to focus on bigger-picture tasks. Often, these folks revealed multiple talents. One example: "The guy who created the box for our product also created a pamphlet for it," says Meade
Look for multiple places to sell your wares. CROSSNET's founders didn't rely on ecommerce alone as a sales channel. Meade began reaching out to stores, too, finding that the sales skills he'd picked up at his job came in handy. One of the first chains he approached was Scheels, a sporting goods chain in the Midwest. When Meade sent an email to the buyer, he was pleasantly surprised to get a response.
The buyer picked up the product in two stores. Soon they heard back from him. "It sold out overnight," the buyer told Meade. "I don't know what happened." 
The retailer ultimately decided to carry it in 22 stores nationwide, providing an opportunity for rapid growth to the fledgling game startup.
Know when to outsource. After the deal with Scheels, Meade could have simply soldiered on as the company's main sales rep, trying to win each retail account on his own. However, when Spreetail, the distributor for Razor Scooters, got interested in carrying CROSSNET, the trio realized that teaming up would speed the growth of the company, even though there are costs associated with using a distributor. Spreetail is an official Amazon, Target and Walmart distributor, which opened the door to major new sales channels for the young company.
That advantage keeps growing. Soon, for instance, CROSSNET will be sold in Macy's as a result of this relationship. 
"They have a full ecommerce team there," says Meade. "They're able to fulfill orders almost the same day. We're able to offer free shipping for our product. Normally costs $20 to ship. We've seen our sales go up really, really nicely."
CROSSNET has also branched out to selling to schools and teams that want to teach volleyball. It has already sold its nets to 1,500 schools. 
Invest in yourself. Many would-be entrepreneurs never bring their ideas to fruition because they are reluctant to risk any of their own money on their ideas.
The founders of CROSSNET didn't have millions of dollars to spare but they were willing to self-finance the business using savings from their jobs. "You have to have the faith and confidence to take that risk," says Meade.
Still, they paced themselves. During the early months, they only invested about $2,000 in product development but otherwise kept spending down.
"Always spend within your means," advises Meade. "It took us 12 months to develop the product." 
The trio put more cash into the business gradually, as orders rolled in, but still took a measured approach to spending. "We didn't stack up on inventory or things we didn't need," says Meade. 
Ultimately, Meade estimates that startups costs were about $25,000, but because the founders spent the money so slowly, they never exhausted their personal resources.
Build a brain trust. Looking back at the growth of the business, Meade says one of the most valuable strategies the co-founders used was turning to their personal and professional network for answers when they needed to tackle an unfamiliar task.
"There are lot of learning curves," says Meade. "My suggestion to other entrepreneurs would be to reach out to friends or other entrepreneurs who are in the same boat as you or have gotten past that step. I have a lot of friends who have been able to mentor me. People love telling their story if they've had success with it."
Diversify your revenue streams. Meade doesn't bring in all of his income from CROSSNET. He has also bought a warehouse in Connecticut that handles shipping for about 15 different businesses. That company, Shiposaur, brings in six-figure revenue, according to Meade. One of Meade's friends runs daily operations so it doesn't take much of his time. This business, though smaller, gives Meade added income as he and his partners grow CROSSNET. Shiposaur currently rents out space to CROSSNET, but the game company will be moving on Oct. 1. CROSSNET has expanded so quickly it needs more space, he says.
Managing all of this takes focus but to Meade, it's worth it. He and his brother were able to help their mother relocate to Miami, where she found a job in the hotel industry. She enthusiastically promotes CROSSNET on Facebook and, as a ride share driver, to her passengers. "My mom is stoked," says Meade. He and his co-founders were also in a position to donate to hurricane relief when Miami was hit two years ago.
On a professional level, Meade's change of career has been fulfilling, too. When Meade talks to his friends, he finds, "Everyone is so unhappy with their 9 to five day jobs. They're regretting Monday." 
Meade was once among them but has learned from his own experience that it's very possible to turn things around. Today, Meade looks forward to the start of the week. "I'm eager to go back to working on my businesses," he says. That's a great place to be.
You Say Your Business Has Purpose? What Does That Mean? - Forbes
Posted: 28 Sep 2019 06:00 AM PDT
They aren't very popular anymore, but I grew up in the golden age of jingles (probably because I watched WAY too much TV as a kid). At any given time, I've got a million of them floating in my head.
And I love great copy even if it isn't accompanied by a catchy ditty. One that long ago stuck with me was the centerpiece of a radio ad for the Verbal Advantage self-improvement system which admonished listeners, "People judge you by the words you use."
Indeed, I believe that words matter. Unfortunately, the intersection of business management and societal impact where I've spent much of the last 20 years is littered with jargon that has obfuscated rather than clarified (here's just a sampling of the CSR glossaries out there). Often two people slinging around phrases like "corporate social responsibility", "sustainability", "cause marketing" and "shared value" may be using the same words but mean very different things.
Such is certainly the case for the word "purpose." Hoping for some clarity I recently devoured the review copy I was sent of "The Purpose Advantage" by Jeff Fromm.  In this short, handsomely laid out book, Fromm provides a useful definition of purpose, examples of how a purpose-centric orientation can help companies achieve great things and even a step-by-step workshop designed to help firms define their purpose and run with it.
According to Fromm, purpose as it applies to companies has three important aspects. It is:
Foundational. "A clearly defined and long-term strategy that affects every part of the business…that connects with consumers' values and passions, attracting and retaining high-quality talent, spurring creativity and driving growth."
Based in Action. More than just a declaration, purpose requires brands to "make meaningful change, not just launch a new ad campaign."
Societal. Purpose "is concerned with the well-being of others, the planet and our future."  It's about "missions for preserving the environment or fighting for social justice, the kind of purposes that make the world a better place."
I agree with Fromm in setting the bar high for what it means to put purpose at the core of how one manages a company (I've winced at so many sloppy, uninspiring purpose statements over the years). Unfortunately, the bar is so high that today purpose-run companies are largely an aspirational concept.  
Fromm cites Bombas, Patagonia and Seventh Generation as very advanced, but very few new or established companies come close to being permeated with purpose from head to toe. A growing number ranging from B Corp start-ups to corporate behemoths like Unilever are striving to get there. And in another terrific section of the book, Fromm shows how the effort can be highly worthwhile in building successful, long-lasting enterprises.
Adapting an adage I've long admired, perhaps we should say that, "Purpose is a journey, not a destination." I recommend "The Purpose Advantage" for leaders seeking guidance on setting out on this challenging, but worthwhile odyssey.
This Overlooked Audience Can Transform A Business Author's Career - Forbes
Posted: 28 Sep 2019 07:00 AM PDT
It's easy to assume that everyone sees the world how we do.
Actually, the American way is really, really weird.
Consider the people who first came here from Europe and established the culture that still defines us. We are descended from a self-selected population of self-promoters, fanatical go-getters, and entrepreneurs.
The Puritans were disciples of a new religion whose fire-and-brimstone preachers got so worked up that they fled the government of their mother country to establish what they saw as a perfect planned community. Add to that tobacco growers, beaver trappers, gold rushers, cattle rustlers, and bootleggers, and you've got the blueprint for America.
Self-promotion is literally part of our DNA.
China has, historically, been the complete opposite. Since its Warring States period, it has been a single entity ruled by one central power. Its dominant philosophical traditions—Confucianism, Taoism, Buddhism—all emphasize group harmony. And Communism, the dominant political ideology of the past almost-century, isn't exactly known for its emphasis on individualism.
So you'd think.
Over the past twenty years, the ruling Party has been introducing a form of market economics to combat the poverty that long plagued the country.
Their calculation has worked, and then some.
Chinese exports grew 954% between 1970 and 2010. Per capita household income has increased more than 400% over the past decade alone. Chinese consumers spend $73 billion on luxury goods every year. China now has fewer people living below the poverty line than in the United States. And it has the second highest number of billionaires in the world.
These are miraculous results. At the same time, any change of this scale and speed is certain to bring along with it insecurity and confusion.
For example, it has become clear to many Chinese people trying to survive and thrive in the new economy that it is essential to figure out aspects of "making it" that Americans have taken for granted since its earliest days. For the first time in its history, countless Chinese people are trying to learn once-alien skills like self-promotion, building a fanbase, positive self-talk, and so on. They often don't know how. And that's terrifying.
Despite all the excitement about the rapid change in China, many people are still struggling to develop the skills they know they need to truly benefit from it. And they still look to America for answers.
As a result of this dynamic, business authors have an unparalleled opportunity. Right now, there is a nation of 1.7 billion people who want to learn everything you know, simply because you're an American.
At the same time, this dynamic won't last forever. In fact, it may not even last for much longer.
A Historical Parallel
Consider Japan immediately after the Second World War. Like China, Japan was a collectivist society. Like China, it experienced immense cultural shifts over a very short period. And like China it had an intense need to reverse a turn toward poverty and hunger among a large percentage of its population.
It solved its problem in a similar way to what China is doing now. In the 1950s, 1960s, and 1970s its companies—with the support of its government—became obsessed with learning everything they could from American business. They hired American consultants. They studied American management practices. They dissected American marketing and branding.
They devoured American business books.
Then, in the 1980s, something changed. They stopped looking to America. Why? Because they had learned everything we knew and started to do it better than us. At that point, we were the ones who started trying to figure out how to catch up with them.
China isn't there yet. Chinese entrepreneurs and businesspeople still don't, as a whole, have the soft skills required to get where they really need to go and they know it. But this won't last forever. Whoever wants to benefit from this seismic shift needs to find a way to get in fast.
If, after reading this, you're convinced that getting into China is important, it may still seem daunting. After all, China is a long way away. And the people there speak and read a very different (and very difficult) language.
However, distance and translation are surmountable challenges. If you do your homework and reach out to the people of this rising power, they will open their arms to you. With a little bit of research, faith, and willingness to step outside of your cultural boundaries, a whole new world of readers can be yours.
Get my list of 5 unconventional business books that will change your life>>>
Former college towns left to adapt to business loss - ABC News
Posted: 28 Sep 2019 06:41 AM PDT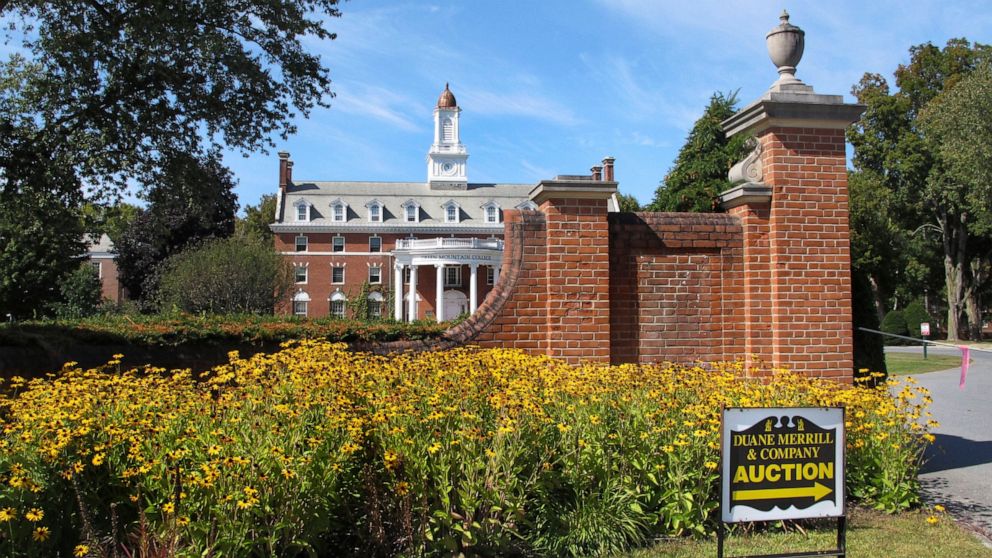 As colleges and universities come alive this fall, some campuses sit closed and empty after succumbing to a recent wave of fewer students and financial challenges.
Now communities that long hosted those historic institutions and relied on them for an economic boost — and their very identity — are left to adapt to the vacancy and wondering what comes next.
In Poultney, Vermont, population 3,300, Green Mountain College had occupied a prominent spot at the end of the main street for 185 years. That changed in the spring, when the environmentally minded liberal arts school closed after commencement, citing a drop in enrollment and financial challenges.
The closure "literally changed the entire town of Poultney," said Mel Kingsley, who runs Mel's Place Hair Salon, several blocks from campus, and got 30% of her business from students.
"The town came alive every time the students came back, and you can feel the difference," she said.
Besides the day-to-day loss of students and school employees, communities also lose the graduates who stick around.
Sophia Vincenza Milkowski, of New York City, graduated two years ago and stayed in Poultney because she liked it so much.
"We're still trying to figure out what Poultney even is now without it there," she said during a break from work at a taco restaurant.
"We're all feeling its absence," she said, "whether we were a part of the college or not."
Across the country, 71 private nonprofit colleges and universities have closed since 1995, including schools that announced they would shutter in June 2020, according to the National Association of Independent Colleges and Universities.
Just 12 independent institutions have opened in that period, while 29 have merged, the association said.
Schools have grappled with a shift toward more career-oriented training and a decline in the number of college-age students. Now towns are left dealing with the fallout.
In Bristol, Virginia, the campus of the former Virginia Intermont College has stood vacant on the edge of the small city for more than four years.
"When you lose a significant number of people that's coming into your downtown area on a daily basis, that does hurt the local surrounding businesses by virtue of students not spending cash and buying food or goods that they would have normally bought when they were here in town," said Randy Eads, the city's manager and attorney. "So that has had an impact on some of the local businesses, which in turn has an impact on city revenue."
Hiwassee College closed in the spring in rural, mostly white Madisonville, Tennessee. Not only will the community be losing one of its largest employers, but also "one small but important window into a larger, more diverse world," wrote Roland King, former spokesman for the National Association of Independent Colleges and Universities, in a newspaper editorial.
In urban areas, some private colleges that have closed have been taken over by larger institutions, or developers.
This month, the Newbury College campus in the Boston area sold for $34 million to investors in senior care housing and medical office-related projects.
The city council in Denver have approved a general vision for the redevelopment of the former Colorado Heights University in Denver into mixed uses, including housing with new public gathering spaces.
New fits for shuttered college campuses in smaller cities could be harder to find, leaving those communities in limbo.
There is hope in Bristol, where a Chinese businessman and his company, U.S. Magis International Education Center, bought the shuttered Virginia Intermont campus and want to open the Virginia Business College next fall.
In Vermont, besides Green Mountain College, the shuttered Southern Vermont College is also up for sale, and the College of St. Joseph in Rutland is trying to reinvent itself into a professional training and education center after it lost its accreditation last spring.
There's interest in the Green Mountain College campus but no deals have been signed, said Robert Allen, the last serving president of the school.
Down the street, the customer count is down at Bob Williams' hardware store, where students would buy fans and desk lamps and college maintenance workers would sometimes be in several times a day.
"We're anxiously looking forward to having something take over," Williams said.
As Amazon floods the market with Alexa devices, the business model is getting fresh scrutiny - CNBC
Posted: 28 Sep 2019 06:00 AM PDT
Following the runaway success of the original Echo device, Amazon has launched a dizzying number of new Alexa-powered products to get its gadgets in more living rooms and kitchens.
The company continued with that approach this week, announcing over a dozen new voice-controlled products, including wireless earbuds and smart glasses that can interact with Alexa.
Amazon has found a massive audience for its portfolio of Echos, giving the company a clear early lead in the burgeoning voice assistant space. But some investors and analysts are starting to question the financial strategy behind Alexa and whether there's a profitable business model emerging for the devices and underlying technology.
"Amazon has successfully shipped millions of devices to millions of customers — but to what end?" said Andrew Murphy, managing partner at Loup Ventures, which invests in start-ups and publishes research on consumer technology. Murphy said he owns Amazon shares personally, though the firm does not.
After the last Christmas holiday season, Amazon said it had sold over 100 million Alexa-powered gadgets, and a report soon after from Consumer Intelligence Research Partners showed Amazon with 70% control of the U.S. smart speaker market. Unlike Apple, which commanded only 6% of the market at the time, Amazon isn't aiming to make money off device sales but sees them as a means for getting customers into the Amazon universe, where presumably they'll spend in other ways.
Amazon Echo Frames
Todd Haselton | CNBC
That helps explain why you can get the small Echo Dot for $50 and a number of products for under $100, while an Apple HomePod, powered by Siri, will run you $300. Amazon's devices are consistently best-sellers in the electronics category of its website, but the company doesn't disclose how much revenue they produce.
Dave Limp, the head of Amazon's hardware business, told CNBC in an interview on Wednesday that the goal is to make money when "customers use the products, not just when they buy them," echoing an earlier interview where he said that people who own the devices buy more digital items like music and audiobook subscriptions.
Murphy said the approach so far has been a "head-scratcher" because shopping by voice remains difficult. His firm recently ran a test that showed Alexa lagging far behind the Google Assistant in answering commerce-related queries, and underperforming Apple's Siri in overall performance.
"We can envision Alexa as a seamless e-commerce platform, but the reality is that it's just not there yet," Murphy said.
App store model
Ben Schachter, an analyst at Macquarie Research, said that Amazon's longer-term focus may be in building an app store model where it takes a cut of each transaction. The app store equivalent for Alexa is called skills and includes over 100,000 services, like guided meditation, oral quizzes, exercise offerings and comedy shows from third-party developers.
Schachter didn't provide an estimate for how big the skills business could eventually become, but he noted that the traditional app market exceeds $100 billion globally.
"We don't think Amazon intends to make significant money from hardware sales directly, but rather from increasing touchpoints to the overall ecosystem and app store-like models," Schachter wrote in a note on Thursday.
In a statement to CNBC, Amazon said, "Our focus is on building the best possible experience for our customers, and the rest will take care of itself."
For now, the company is focused on making Alexa even more ubiquitous. In addition to the wireless earbuds and smart glasses introduced this week, Amazon also showcased a ring that can talk to Alexa and announced a partnership to bring its voice assistant to millions of General Motors vehicles.
D.A. Davidson's Tom Forte, one of the most bullish analysts on Amazon, said the market is still vastly undervaluing the potential for Alexa. It's already become the leading voice technology for connected devices, and shopping from the gadgets is still in its very early days, he said.
"We, the consumers, are all lab rats in Amazon's lab as it tries to figure out how to best monetize Alexa," Forte said.
Amazon has the luxury of a forgiving investor base that's been trained to expect low profit margins. Even with the rapid growth of its highly profitable Amazon Web Services unit, the company's operating margin in the latest quarter was below 5%, compared to 24% for Alphabet and 21% for Apple. So breaking even For Amazon would hardly pull down its overall earnings.
"Investors give Amazon more freedom to experiment with unprofitable businesses than perhaps any other big tech company," Murphy said.