---
Brexit recession fears ease as UK returns to growth in July - business live - The Guardian
Posted: 09 Sep 2019 02:21 AM PDT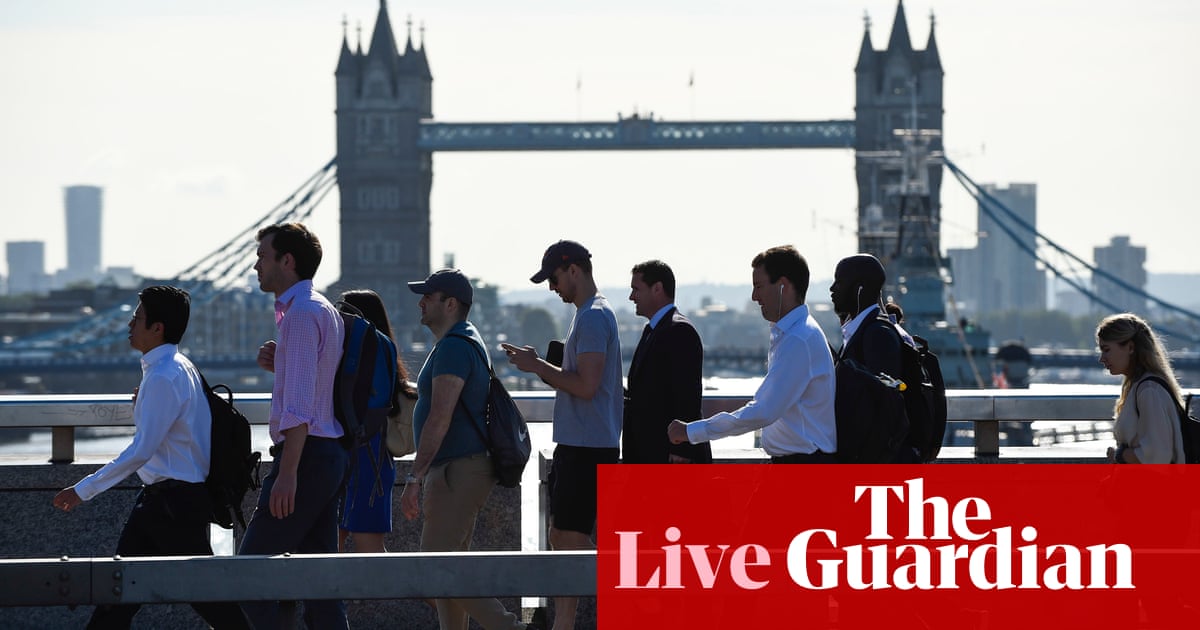 New vClarus Decision Engine Accelerates the Journey to the Cloud: Good News for Business - Valdosta Daily Times
Posted: 09 Sep 2019 01:05 AM PDT
LONDON--(BUSINESS WIRE)--Sep 9, 2019--
vClarus, Bell Integration's end-to-end data migration platform, has new and improved features which reduce the period of time between starting a migration, and completing a migration. This is important because the moment a migration to the cloud starts, you're in two places, and that's costing twice. We therefore greatly accelerate the timeline to get that migration in place.
This press release features multimedia. View the full release here: https://www.businesswire.com/news/home/20190909005058/en/
New vClarus decision engine accelerates the journey to the cloud: good news for business (Photo: Business Wire)
One of the major challenges faced by ALL IT departments during migration/transformation programmes is the requirement to provide ad hoc and milestone business progress reports, along with evidence to support governance and assurance to the business that the programme is on track and under control; vClarus enables you to do this.
We understand the business workflows between applications, not just the technical dependencies, and it's only by understanding the end-to-end that we're able to have a successful and low-risk migration.
Of interest: a renowned UK retailer told us their key criteria when it comes to choosing where to host their production platforms, is:
Minimising the risk and the disruption caused through to the migration – No. 1 concern;
Reduction in cost;
Improvement of service.
Historically, it was concerns over security that prevented organisations moving their systems into the cloud. That's changing and organisations are more accepting now of what the cloud can offer and the extra security that can be brought to play. What is now the main inhibitor for cloud migration is the journey, the migration itself.
The Solution
What's crucial to understand is how items are going to be migrated and where they're going to go.
Secondly, it's about understanding how things should be moved. Within vClarus, we understand the migration strategies and ask: is it about re hosting? is it about putting your applications somewhere safer? is it about transformation? or is it about modernisation?
Guided by vClarus decision engine, we will map out every aspect of your project and establish key migration milestones – including the What (expected outcomes), Where (your target environment), How (migration strategy and methods) and When (the schedule) and then accelerate your journey to the cloud.
About Bell Integration
Bell Integration is at the forefront of helping companies drive down operating costs and improve their ability to engage with their own customers, either by supporting the growth of their channels to market, or by aiding their responsiveness and service quality, since 1996.
We continue to grow, and currently have over 450 permanent staff employed at our offices in London, Portsmouth, Wokingham, Stevenage, Hyderabad, Singapore and within many of our customers' sites.
Today, our work centres on the four cornerstones of IT delivery – TRANSACT, TRANSFORM, RUN and RECYCLE. A full-service offering, cradle to grave. Our business is proud to have won a collection of awards and accolades, including listings in The Sunday Times HSBC International Track 200 and The Sunday Times Hiscox Tech Track 100. It has also featured regularly in The Business Magazine's Solent 250 and Southern Tech 100, and founder and chairman, Alastair Bell, is well known for his entrepreneurial spirit and business acumen.
View source version on businesswire.com:https://www.businesswire.com/news/home/20190909005058/en/
CONTACT: Media Liaison:
Finola Sloyan
+44 (0)7876 128468Strategy & Innovation Director, CTO Office: 
Eugene O'Sullivan
Eeosullivan@bell-integration.com
KEYWORD: UNITED KINGDOM EUROPE
INDUSTRY KEYWORD: DATA MANAGEMENT SECURITY TECHNOLOGY SOFTWARE NETWORKS
SOURCE: Bell Integration
Copyright Business Wire 2019.
PUB: 09/09/2019 04:05 AM/DISC: 09/09/2019 04:05 AM
http://www.businesswire.com/news/home/20190909005058/en
West Hartford Business Buzz: September 9, 2019 - http://www.we-ha.com
Posted: 08 Sep 2019 09:04 PM PDT
A round-up of openings, closings, and other news about West Hartford businesses.
By Ronni Newton
We-Ha.com is now 5 years old!
After a "soft-opening" period during the summer of 2014, where I was writing stories and populating the website and social media accounts with content, we officially launched We-Ha.com the day after Labor Day in 2014.
Since then, the site has been visited nearly 2 million times, and we have had about 8.9 million page views!
Thank you to all of our readers and supporters who appreciate the coverage of the community – business, police, community events and meetings, town government, schools, real estate, local sports, and more – that We-Ha.com has been providing and will continue to provide in the future.
The weather was beautiful this past weekend, and Saturday in particular was a whirlwind of events to cover that included a political tennis match, the Noah Webster House Real Ale Harvest Fest (story to come), and the 20th Annual Mayor's Charity Ball.
Thankfully we had a relaxing day on Sunday, and took Millie for her first real hike – a short walk on the Metacomet Trail toward Rattlesnake Mountain. Even though she's extraordinarily energetic, she's still not even 4 months old and can't walk too far, but we are hoping that she will enjoy hiking as much as we do!
Ted went to the grocery store on Sunday afternoon, and he came home with mums. He's trying to convince me to embrace fall. The mums are pretty, but I'm not sure I am there yet.
Business news didn't really slow down much this summer, but now that it's September, things are picking up even more. Look for plenty of exciting news to come.
If you have tips about businesses opening or closing, or doing something worth sharing, please provide that information in the comments or email Ronni Newton at [email protected].
Here's this week's Buzz:
Freshii

– a fast and fresh, mostly take-out food operation – opens Monday at 11 a.m. at 54 LaSalle Rd., in the former Engel & Voelkers real estate office. I stopped by to take a photo late Friday, and had the chance to meet owner/manager Frank Williams who along with his wife, Sue, purchased the franchise for West Hartford. I also got to taste a few of the dishes that they were making as samples for staff training! The Khao San burrito with steak (included brown ride, spinach, almonds, edamame, mushrooms, carrots, cabbage, and a spicy peanut and lemongrass sauce) was full of flavor, and very filling. The Smokehouse burrito (brown ride, aged cheddar, black beans, red onions  tomatoes, corn, and a spicy yogurt sauce) was also delicious. Freshii, which launched in 2005 now has more than 300 locations in 20 countries. Williams said he's very excited to be part of the West Hartford Center community. "West Hartford is lacking in quick, healthy food options," he said, and Freshii will fill that niche with affordable, to-go food. According to

Freshii's website

, the menu is "constantly evolving. In fact, every 90 days we roll out a new item that incorporates the latest health and food trends. Our Lead Nutritionist is forever testing and tasting ways to make these trends as nutrient-dense, accessible and crave-worthy as possible." According to the website, there are seven different menu categories: "bowls, burritos, salads, wraps, soups, smoothies & juices – and each one is full of innovation. We don't say Eat. Energize for nothing."

There's some more exciting retail news for the Center! I was contacted by West Hartford resident and jewelry designer Nancy Samuels-Cowan last week, and she told me that she plans to open Mosaic Sun, a unique jewelry store that will offer handmade jewelry as well as small gifts and Judaica, in the former Beadoir/Toy Dog Gifts location at 968R Farmington Ave. (in the courtyard in the Brace Road parking lot across from Barb's Pizza). Samuels-Cowan plans to open in mid-October, ad she said the store will be an improved and expanded version of Negev Sun, a business she began 14 years ago that features jewelry from Israel as well as her own designs. "More than 30 of Negev Sun's designs have been featured in Robert Redford's Sundance Catalog and more recently in Soft Surroundings stores across the nation," Samuels-Cowan said. The curated jewelry selection will include "artisan, mixed metals, chunky, and minimal styles" from materials that include sterling silver, brass, gold-filled, bronze, vermeil, pewter, and more. There will also be a "design your own jewelry" section for customers to create their own unique necklaces, earrings, bracelets, key rings, etc. from a stock of pendants, charms, chains, etc. "I feel like there are limited creative outlets for adults and I am very excited to offer this feature which will allow my customers the opportunity to be part of the design process," Samuels-Cowan said. Exact hours have not been set, but Samuels-Cowan said she plans to have the store open Tuesday through Sunday with extended hours until 9 p.m. on Thursday nights. See more photos of her designs, and a photo of Samuels-Cowan below.
There's a sign – actually a few signs – on the former East-West Grille building at 526 New Park Ave. indicating that India Grill is "coming soon." It appears that there will be a patio for outdoor dining, but from what I could see when I peeked in the window, otherwise it doesn't look like there have been any changes to the interior of the iconic building that was

constructed in 1940 and in the past housed the Yankee Flyer Diner and 

Webster's Barbecue Cafe

. I have not been able to get in touch with the owner of India Grill to find out more details, but have been told that he is formerly an owner of Taste of India on South Main Street near the intersection with Sedgwick and Park roads. East-West Grille, which served Laotian/Thai food, closed at the end of 2018, but owner

Manola Sidara's food truck is still in existence.

BK&CO (983 Farmington Ave.) has expanded their "Shoe Salon," just in time for fall, the owners said, to be sure that their clients are not only well-dressed but also well-heeled. "It's a beautiful new space that showcases our expanded line of footwear and gives our clients the opportunity to finish their look with the perfect shoe or boot," said co-owner Karen Herbert. The footwear business has been successful, and Herbert and co-owner Barbara Karsky have responded to the demand by devoting more square footage and expanding their brands to include Eileen Fisher, L'Artiste, Lines of Denmark, Reiker, Sofft, Børn and Naot, with styles that include animal print and floral booties, plaid tie-ups, bright and chunky sneakers, as well as embroidered and bejeweled styles . "We have grown that segment of our business steadily over the past 3 years since moving to Farmington Avenue, with sales increasing 53 percent this year," said Karsky. Herbert attributes their success to combing the market for footwear that's both on-trend and well-made, with special attention given to comfort. "We try on every shoe we consider before placing an order because we believe our clients appreciates a fabulous shoe or boot that's also comfortable." BK&CO will host a "try-on" event from Wednesday, Sept. 11 through Sunday, Sept. 15, with a chance to win a $150 gift certificate for those who try on any shoe or boot. Check the BK&CO website for upcoming trunk shoes and special events, or call 860-232-6225.
We first reported on the plans for V-Mart to open an Asian grocery store at 567-571 New Park Ave. several years ago, and work was moving forward but then stalled completely last year. I recently learned, through publishing the real estate sales, that the building has been sold, and reached out to Economic Development Specialist Kristen Gorski who confirmed that V-Mart will not actually be opening in the space. One of the business owners recently passed away, and they plan to just maintain the locations that are already open in Rhode Island. More to come about the new owner's plans, but in the meantime there is going to be an auction of some of the fixtures and other property, including refrigeration. Check out GAbid.com or call 800-328-5920 for more details.
The Gastro Park project continues to move forward. The Town Plan and Zoning Commission has approved the site plan, but still pending is approval of a sewer easement. Updates to come!
Congratulations to West Hartford resident Heather Atkins, who has been hired as a financial advisor at Johnson Brunetti Retirement & Investment Specialists. "Heather is a valuable addition to our team of financial advisors by bringing a strong track record of strategic counseling, outstanding customer service and community engagement," said Johnson Brunetti Managing Partner Joel Johnson, CFP. A graduate of Ohio State University, Atkins previously worked as a financial advisor for Libertas Wealth Management Group in Upper Arlington, OH, for five years.
Congratulations to three West Hartford residents who are members of the law firm Pullman & Comley and have been included in the 2020 Edition of "The Best Lawyers in America" list: Eliot B. Gersten (Commercial Litigation), Alan S. Parker (Trusts and Estates), and Richard C. Robinson (Litigation-Construction). According to a news release, "Lawyers on The Best Lawyers in America list are divided by geographic region and practice areas. They are reviewed by their peers on the basis of professional expertise, and undergo an authentication process to make sure they are in current practice and in good standing. For the 2020 Edition of The Best Lawyers in America, 8.3 million votes were analyzed, which resulted in recognition of approximately 5% of lawyers in private practice in the United States."
According to information received from a reader, Mike, longtime barber at Degra's on Park Road, will be opening his own barbershop, Mike's Barber Shop, at 12 North Main St. as of the beginning of October. More information to come!
Congrats to the Seniors Job Bank on its 40th anniversary! (My mother-in-law was actually its first executive director when the organization was founded.) Click here for more information about an upcoming celebration/fundraiser.
Best of West Hartford voting is live! Click here to vote for your favorite business in a variety of categories!
ICYMI, Pokéworks is now open in The Corbin Collection. Click here for the complete story.
The most recent Experience We-Ha podcasts focus on the real estate market in West Hartford and changes at Luna Pizza.
Remember, if you have any business news to share, add it in the comments section below or email Ronni Newton at [email protected].
Like what you see here? Click here to subscribe to We-Ha's newsletter so you'll always be in the know about what's happening in West Hartford!

Mid-Hudson Valley business calendar: Starting Sept. 9, 2019 | Local News - The Daily Freeman
Posted: 08 Sep 2019 06:50 AM PDT
SEPT. 9: YUP meet-up, Rail Explorers, 70 High St., Phoenicia. Check-in at 4:15 p.m.; rail bike rides 4:30-6:30 p.m., followed by bonfire, s'mores and networking. Cost: $20 per person. Preregistration required at bit.ly/2ZPztfK.
SEPT. 12: Ulster County Regional Chamber of Commerce breakfast, 7:30-9 a.m., Best Western Plus hotel, 503 Washington Ave., Kingston. Speakers: Candidates for Kingston mayor; questions will be taken from audience. Cost: $25 for chamber members in advance, $30 for members at the door, $35 for others. Register at (845) 338-5100 or bit.ly/2Kv7qJ4.
SEPT. 14: Ribbon cutting and open house, noon, Foxhall Deli, 100 Foxhall Ave., Kingston.
SEPT. 16: Ribbon cutting, 2 p.m., Lawrence O'Toole Realty, 76 Mill Hill Road (Route 212), Woodstock.
SEPT. 17: "Savvy Social Security Planning" workshop, 6:30 p.m., Ulster Savings Bank, 180 Schwenk Drive, Kingston. Session will last 60 to 90 minutes. Admission is free, but preregistration required at bit.ly/2Ulgc0y (use workshop promo code UFS091719) or (845) 338-6322, ext. 3352.
SEPT. 18: Ulster County Regional Chamber of Commerce "Buy Local Expo," noon to 5 p.m., Diamond Mills Hotel & Conference Center, 25 S. Partition St., Saugerties. Booth and sponsorship information at bit.ly/2X80juS.
SEPT. 21: Ribbon cutting, 2 p.m., Simpson-Hammerl Funeral Home, 411 Albany Ave., Kingston.
SEPT. 23: Ribbon cutting (for 50th anniversary), 2 p.m., Van Deusen House Antiques, 59 Main St., Hurley.
SEPT. 24: Ribbon cutting, noon, CareMount Medical, 264 Main St., New Paltz.
SEPT. 24: Ulster County Regional Chamber of Commerce mixer, 5-7 p.m., Hudson River Maritime Museum, 50 Rondout Landing, Kingston. Includes complimentary refreshments and rides on museum's new solar-powered boat, Solaris. Admission is free for chamber members and prospective members. Must be 21 or older to attend. Reservations required at (845) 338-5100 or bit.ly/2Z0Yq4t.
OCT. 2: "Women Empowering Women to Grow their Businesses," 5-7:30 p.m., The Chateau, 240 Boulevard (Route 32), Kingston. Sponsored by Ulster County Regional Chamber of Commerce and Key4Women, Panel discussion at 5:30 p.m., followed by cocktails and networking. Keynote speaker: Barb Smith, director of Key4Women. Panel: Beth Bengtson, founder of nonprofit "Women Working for Women"; Mindy Kole, associate dean of Business Studies, SUNY Ulster; Suzanne Holt, executive director, Ulster County Office of Economic Development; and Maria Cabrera, business owner, Maria Cabrera Alterations & Tailoring. Admission is free. Register by Sept. 25 at bit.ly/2Uj2L1g. 
OCT. 17: Ulster County Regional Chamber of Commerce mixer, 5-7 p.m., Begnal Motors, 129 Route 28, town of Ulster. Admission is free for chamber members and prospective members. Registration required at bit.ly/34eVq7n or (845) 338-5100.
OCT. 24: Ulster County Regional Chamber of Commerce Business Recognition Awards Dinner, 5:30-9 p.m., Diamond Mills Hotel & Tavern, 25 S. Partition St., Saugerties. Cocktails at 5:30 p.m., dinner and awards at 6:30 p.m. Cost: $125 per person. Register at bit.ly/34kSW7J or (845) 338-5100.
OCT. 24: Think Dutchess Business Excellence Awards, 5:30-9 p.m., The Grandview, 176 Rinaldi Blvd., Poughkeepsie. Keynote speaker: Jeff Havens. Cost: $135 per person or $1,200 for table of 10. For tickets, go to bit.ly/2Uln3Hc. Information about award winners at bit.ly/2UkYVEG.
The business calendar appears in the Freeman each Monday. Items may be submitted by email to news@freemanonline.com and should include the time, date, location and brief description of the event, as well as the cost to attend (if any) and registration information.