This Entrepreneur Ditched Her Brick And Mortar Business To Thrive Online - Forbes
---
This Entrepreneur Ditched Her Brick And Mortar Business To Thrive Online - Forbes
Posted: 01 Aug 2019 02:12 PM PDT
When it comes to helping actors develop, Jen Rudolph was always inspired by the film Field of Dreams. She held the movie's "If you build it they will come" mantra close to her heart. "I wanted to be the sanctuary where actors could nurture their careers," she explains. "I wanted to create a world where actors could come from all over and experience community, joy and something extraordinary."
For 11 years her company, The Actor's Green Room (AGR), offered casting director workshops, scene study classes, and all kinds of holistic programs from her loft-sized classroom in New York City. AGR gave actors all kinds of tools to help them grow.
Not too long ago, the vision of her company began to shift. She thought about her active and engaged Facebook group, The Green Lounge, which had thousands of members. "I knew there were so many more people I wanted to help. They were eager for the AGR experience," says Rudolph who dreamed of extending her reach.
At the end of June when Rudolph's lease ended, she knew it was time to go all in on her vision. On her Field of Dreams. "I was so scared to let go of my brick and mortar classroom, but I knew I had to if I wanted to go for it," shares Rudolph. "I wanted to break down the barriers and all the walls. I wanted to go online where there are no limits, no boundaries, where I could offer opportunities to everyone everywhere and create community like never before."
As Rudolph sees it every actor deserves the chance to grow, learn, meet and work with industry professionals around the world from New York to Los Angeles to Atlanta to Europe and beyond. So many times she heard people say "I can't make the workshop because I live more than five hours away" or "I can't find a babysitter." or "My job got in the way." Adds Rudolph, "This always tugged at my heart."
So the AGR moved its brick and mortar classroom online. (With the exception of some speciality on-camera and scene study classes.) "I wanted to take away all the stress, all the schlepping and give worldwide access to everyone. I wanted to get rid of barriers and move beyond the physical realm of an office. I wanted to invite actors from all over the world to my Field of Dreams which was only possible online," says Rudolph. "Everyone deserves a real shot to pursue their dreams. I wanted to create a playing field and level it." She points to the scene in Field of Dreams where Kevin Costner is playing catch. As the camera pans out all the cars are lined up for miles. "I cry every time," she shares. "That was what I wanted. And now I've created it."
Jeryl Brunner: What are some of the offerings you provide now through AGR?
Jen Rudolph: We are starting with online interactive workshops with casting directors, agents, and managers from all different markets. If you are a member of AGR Accelerator you are able to audit every single class for free in our members-only group within 24 hours that the class airs. And you can register for classes a la carte for a nominal fee. We also have a ton of content available that educates professionals on the pillars of becoming a CEO of your own business (provided by top business coach Jordan Ancel). We also offer holistic content provided by Natalie Roy. She is the founder of Activated Actor, the co-founder of C.R.E.A.T.E., an author, meditation teacher and actress.
Brunner: How can you get acting feedback from a teacher when they are not physically in the same room? How do they experience the nuances of acting?
Rudolph: You get tons of feedback. The class begins with our host who welcomes 14 to 16 students and explains how the class will run. The host live streams the class into our AGR Accelerator Private Facebook Group for members to watch. The industry guest comes on screen, gives a brief introduction and opens up the floor for a question and answer session from the students. Then each student reads a scene and gets feedback and adjustments. Casting directors love the intimacy and laid back nature of the class and working from home. Being able to unwind makes them even more present at the end of a long day. They say that it's almost like watching self-tapes. The actors love it too. They feel relaxed and sometimes go to each other's houses to make it even more fun and enjoy community.
Brunner: Can you talk about your 2% Signature System course?
Rudolph: My 2% Signature System is the culmination of everything I have been teaching over the years. I trademarked a system of six modules. When learned and implemented they help you crack your individual code and become part of the 2% who get called in and booked. The 6 modules are: 1) Mindset Mastery 2) Identity and Relevance 3) Perfect Pitch and Packaging 4) Meet the Buyers 5) Feedback Assessment where we ask why are you not flying off the shelves? 6) Agent and Manger Acquisition and Mastery.
I believe my system helps you dial in on your messaging and optimizes everything from soup to nuts. Especially if you want to get off the hamster wheel and shave years off your trajectory of breaking in to the business. All the guesswork is removed. Also, the time gap between where you are and where you want to be is collapsed exponentially. I teach my offerings in a group format. Of course you get to work with me and my team. But the high frequency community is a game changer. It is so powerful to be connected to a community who holds you to your vision. They take a stand for you.
Brunner: What gave you the courage to move forward and take this big leap in your business?
Rudolph: One thing I learned in the past five months is that I could not do this alone. I was stalled and stuck. I couldn't see beyond where I was. I reached out for help and support. Now I understand that we achieve more with support than we can alone. I am so grateful to my dear friend, Lauren Hunter, who talked me out of walking away from my business or giving my power away because I was depleted. She reflected back to me that maybe there was another way. She reminded me who I was when I had forgotten. We all need that.
From there, I hired Alex Moscow, my amazing business coach, and joined the Congruent Coach Collective which has become a family to me. They help me personally and professionally every day. I lean and learn from them. I am so grateful to the incredible team at AGR and to my AGR Accelerator mentors Natalie Roy and Jordan Ancel. They are not only my dear friends but are powerhouses who have created extraordinary content on Accelerator. Jeff Mitchell and Clyde Baldo helped me thrive and become the kind of person I am today. I am also grateful to Genevieve, my incredible co-parent. And August, my beautiful son, inspires me to be my best. I also have friends and family who believe in me. I am blessed.
Skype for Business Online Service Ending in 2 Years - Redmondmag.com
Posted: 30 Jul 2019 05:01 PM PDT
Skype for Business Online Service Ending in 2 Years
Microsoft announced on Tuesday that it's planning to end its Skype for Business Online service on July 31, 2021, and it is encouraging customers to use the Microsoft Teams service instead.
New Office 365 customers will get directed toward Microsoft Teams starting on Sept. 1, 2019, the announcement added. Just the Skype for Business Online service will be getting axed. Users of Microsoft's Skype for Business Server product and the consumer Skype service aren't affected, the announcement assured.
The Skype for Business Server version of the product will be sticking around because Microsoft acknowledged that many of its customers still "need to continue to use Skype for Business Server for some users or geographies due to their requirements," according to a FAQ document on the transition, dated July 30.
Update 8/1: Microsoft plans to hold a 1.5-hour public Web presentation on how to migrate to Teams. The online event, called "Demystifying Skype for Business to Microsoft Teams Migration," is scheduled for Monday, August 26 at 9:00 a.m. Pacific Time (12 noon Eastern Time). Details here.
2 Years Advance Notice
Skype for Business Online, introduced in 2014, is Microsoft's unified communications service, providing presence, voice-over-IP, messaging and videoconferencing capabilities. The service is part of some Office 365 subscriptions.
Under Microsoft's Modern Lifecycle Policy, Microsoft is only required to give its Office 365 customers a 12-month advance notice that a service is getting discontinued if no successor product is available. However, Microsoft considers Teams to be good enough now for organizations to make the switch.
"Over the last two years, we've worked closely with customers to refine Teams, and we now feel we're at the point that we can confidently recommend it as an upgrade to all Skype for Business Online customers," stated James Skay, a senior product marketing manager in Microsoft's Intelligent Communications Product Marketing Group, in Microsoft's announcement.
Essentially, organizations using Skype for Business Online have two years to move to Teams. The two years is better than the 12 months advance notice Microsoft allots for itself, according to Jim Gaynor, research vice president for infrastructure and collaboration at Directions on Microsoft, a Kirkland, Wash.-based independent consultancy.
"To look on the 'brighter side': Microsoft is giving two years notice (rather than the 12 months they promise to give before shutting down an Office 365 service), and the timing allows customers with calendar-year budgets to get any migration projects into the CY2020 budget," Gaynor said, via e-mail. "In a worst case scenario, they can have project planning discovery in the CY2020 budget; then have actual migration in their CY2021 budget for a 1H 2021 implementation."
IT departments should get busy with their migration plans, though, according to Dux Raymond Sy, chief marketing officer at AvePoint, a Microsoft partner that specializes in data migrations.
"While the 2021 deadline sounds far away, the transition can take longer than anticipated, so it's critical for IT teams to get started," Sy said, in a released statement. "Based on our own experience with this transition, I recommend a phased approach: 1. Gain executive buy-in and highlight the value of Microsoft Teams. 2. Incent early adopters to adopt Teams Only mode to experience streamlined communication and collaboration. 3. Encourage Microsoft Teams users to share quick wins and best practices with the rest of the organization."
Teams Only is the migration goal. It's also one of the "coexistence modes" that can be set by IT pros in the Microsoft Teams Admin Center when making the transition from Skype for Business. Organizations running Teams and Skype for Business together can't just disable Skype for Business, but will need to use the Teams Only mode to make the transition, according to Microsoft's FAQ.
Another coexistence mode is "Islands," which lets organizations using Teams and Skype for Business simultaneously. There's also a "Skype for Business Online" mode, but it'll be good for just a couple of years. These coexistence modes are outlined in this Microsoft document.
The End Foretold
Microsoft had previously indicated back in 2017 that the Microsoft Teams client would eventually replace the Skype for Business Online client. It's now clear that it's not just the client that's going away, but the whole Skype for Business Online service. That notion contradicts what Microsoft had published in 2017, when it indicated that the Skype for Business Online service would continue to be supported.
Back in 2018, though, Microsoft had declared that Teams could serve as a Skype for Business replacement.
Organizations using Skype for Business Online shouldn't be shocked by its ending, according to a Tuesday announcement by Microsoft's Shelly Avery:
We knew this was coming, we have been preparing for this for the past year, now we know the official date. We hope this does not come as a shock to you as MS Teams has taken center stage for Intelligent Communication and Modern Collaboration and Microsoft as an organization is not going to support Skype for Business (SfB) online for the long term. All of our investments and feature enhancements have been in Teams and Teams will continue to receive these investments for the future.
Avery added that "Teams actually has more features" than Skype for Business. She suggested that organizations can contact their Microsoft account team to get help on transitioning to Teams. They can contact technical specialists and customer success managers specialized on Microsoft Teams, as well as a FastTrack Program manager. However, to use partners affiliated with FastTrack, an organization needs to have purchased 150 or more Office 365 "seats."  
Microsoft's main resources for planning Teams transitions can be found at this Microsoft Web page.
Is 2 Years Long Enough?
Larger organizations could have trouble making the two-year transition to Teams.
"For large enterprise customers that were heavily invested in non-vanilla SfB Online deployments, the transition still looks a bit rough," Gaynor said. He added that the some of the Skype for Business Server users he's spoken with have been trying to avoid using Teams, largely because of organizational control issues.
"Most of our customers that I've spoken to are still largely using SfB Server on-premises," he said. "Only a few have been wholeheartedly embracing Teams. Most have some small adoption of hosted services (like Audio Conferencing) or hybrid deployments, and a handful have been trying to actively avoid adopting Teams. For a certain kind of customer that needs or wants a command/control approach to IT service, I think Teams (like Slack) represents a big challenge -- because it's not a discrete 'single task' tool and bleeds across several services (like SharePoint, OneDrive, Exchange, Groups, Yammer, just to name a few)."
Moreover, many organizations may be preoccupied with having to upgrade 2008-branded Windows or SQL Server installations. That point was made by a reader of a Twitter announcement by Anne Michels, a Microsoft Teams product marketing manager.
"Anne, that's a too early date," wrote Karl Wester-Ebbinghaus, a Microsoft Certified IT Professional, regarding the two years advance notice. "Many companies will be still busy with Server 2008R2/2012(R2) migrations."
The question of feature parity between the two services was brought up by a reader of another Microsoft Twitter post announcing the news. The features aren't all carried over in Teams. A guide that points out those differences can be found in this July-updated table maintained by Microsoft Most Valuable Professional Luca Vitali.
Microsoft also announced a few forthcoming capabilities. It's adding a Dynamic E911 feature for Microsoft Teams Phone System users, expected by year's end, that will route emergency calls to government call centers. It's adding a short chat retention period by year's end, which will permit storage for as little as one day before deletion. A new "Teams and Skype Consumer Interop" capability will be coming in 1Q 2020 to support phone calls and chats between those services. Contact Center and Compliance Recording capabilities will be getting support from Microsoft's partners as some point, as well.
Kurt Mackie is senior news producer for the 1105 Enterprise Computing Group.

7 Tips On How To Master The Art of Online Local Business Promotion - NuWire Investor
Posted: 01 Aug 2019 08:36 AM PDT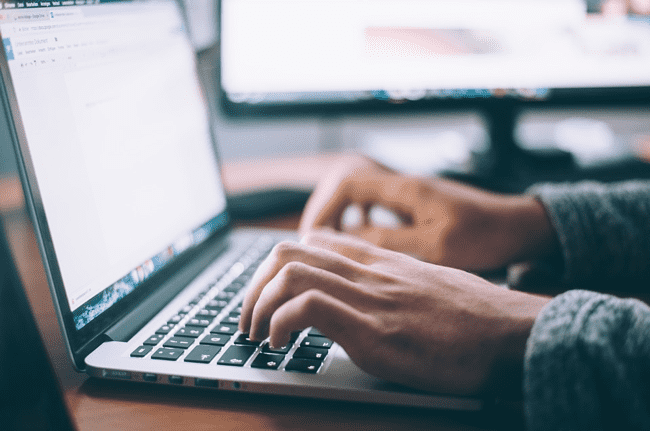 Just getting started with a small business? This is an exciting time! But it's also a challenging one. There's so much to do – not least regarding local online promotion.
Local promotion is a bigger challenge than ever in 2019, yet it also offers more benefits than ever before. Most – if not all – of your customers are now online, and it's important that you find a way of reaching them in a more appealing way than your competitors.
As long as you do the right things and spot the right trends, you can totally spread the word to more of the right people.
If you want to be front and centre in your local area, join us as we take a look at 7 tips on how to master the art of online local business promotion.
Carry Out Local SEO Keyword Research
Local SEO is key if you want to rank higher on Google and reach the right people. The good news is that you don't have to completely overhaul your existing keyword strategy because local SEO is simply a matter of localising what you already have.
For example, let's say I run a real estate agent in Manhattan. One of my current keywords might be "best real estate agent 2019". To localise that, I'd simply change it to "real estate agent in Manhattan."
Once you've got your keywords, you need to add them to your content and your metadata. Make sure your meta descriptions are compelling as it's often these that convince a user to click on your website.

Example of a meta description optimised for local SEO
Add Your Business To Google My Business
Adding your business to Google My Business is really simple. All you have to do is head over there and follow the instructions.
It's important that you do this because, once your business is on Google My Business, it will show up on Google Maps.
It will also show up in search results when customers type in something like this:
"Best plumber near me."
In other words, claiming your Google My Business will optimise your local search optimisation, so that you become more visible. Indeed, 82% of smartphone shoppers carry out 'near me' searches.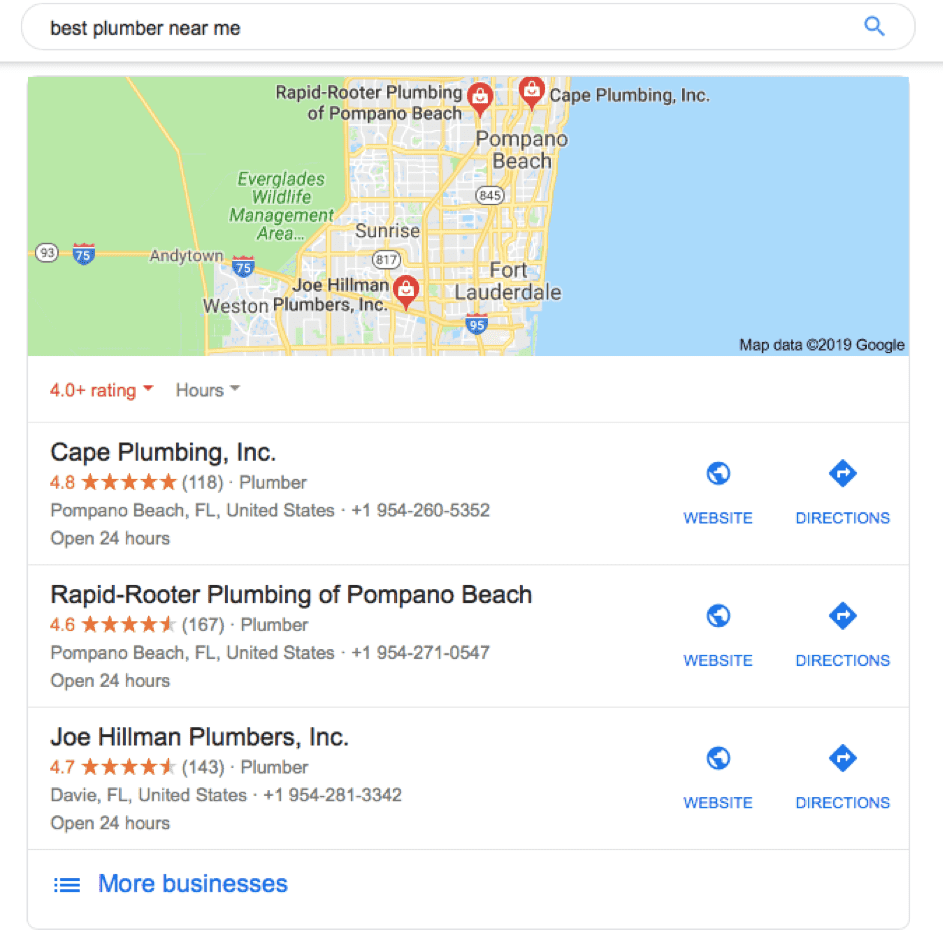 Build Local Links
Link building is all about getting other authoritative websites that people (and Google) trusts to link out to you. Normally, you would carry out a guest blogging campaign, which is when you write a guest blog for another website and include a link to your website. The link will drive more traffic to your website, and it will also pass on link juice.
When it comes to local links, the process is much the same. Your focus should be on producing quality content for your own website and other websites. When you produce quality content for your own website, people will start to link out to it organically.
To make sure your links are local, you can go here for 100+ local citation sites by county. You can also use Google to find more local leads by typing in any of these:
[location] business directory
[location] directory
[location] business listings
And if you think it's going to take up too much of your time, you can always outsource your local link building campaigns.
Optimise Your Website For Mobile
Most local online searches are carried out on mobile devices, which means that optimising your website for mobile devices is a must marketing technique.
The first thing you need to do is make sure you've got a responsive website design. If you haven't, your website won't look right on mobile screens. Then, you should test your mobile site speed because mobile users won't stick around if a website takes too long to load.
You will also need to make a few changes to your content. Mobile users are in more of a hurry than desktop users, and they want their content to be short and straight to the point. Shorten your content and your headlines (headlines that are too large won't fit on a mobile screen) and make touch elements such as buttons and links bigger and clickable. Use your common sense and think about what you'd like to see on a mobile screen.
Curate As Many Reviews As Possible
Reviews are king when it comes to online local business promotion, with 84% of consumers saying they trust online reviews just as much as a recommendation from a friend. Online reviews are also a ranking factor, which means that the more positive reviews you have, the higher your website will be on Google.
Don't just add reviews to your website, though. Make sure to add them to review sites like Yelp and TrustPilot. Put yourself in the shoes of a consumer – where do you go when you're looking for a restaurant near you? If you're like the rest of us, you'll head to a review site.
To encourage more reviews, send a polite email to your existing customers kindly asking if they'll leave you a review.
Nail Your Social Media Marketing Campaign
The great thing about promotion in 2019 is that you can get a super niche with your targeting. Long gone are the days when businesses had to advertise on television to the median customer. In 2019, you can target specific customers for a lot less money via social media.
Let's say I run a real estate agent firm in Florida. I can use Facebook to target only the people I know would be interested in my local services. This means I don't need to waste money putting my ad in front of teenagers living in New York, for example.
So first work out what your buyer persona is, then find out what social media platforms they're on. Then, put together a solid social media marketing campaign that targets them with localised ads.
Do Local PPC
Pay Per Click campaigns can be super beneficial because they're guaranteed to be seen by your target audience on Google. Provided you've nailed your keyword research and meta description, they can drive a lot of high-quality traffic to your website.

Example of a targeted PPC ad
Local businesses are projected to spend $170,000 each on PPC by 2022, which is a huge indicator of its power. Here are some tips to help you succeed with local PPC:
Use long-tail keywords – Long-tail keywords are less competitive and thus will have a better chance of driving more targeted clicks for less cash
Use tracking – A tracked PPC campaign will help you keep track of how well yours is doing
A/B test – A local PPC ad might not work straight off the bat. Carry out split tests to see what copy works best
Optimise your landing page – While a PPC ad drives people to your page, it's totally worthless if your landing page sucks. Make sure your landing page delivers on the promises made in your PPC copy if you want your conversions to be as high as possible
Conclusion
These are 7 tips on how to master the art of online local business promotion. It's a smart idea to implement all these tips if you want to ace the game and get your business in front of more eyeballs. The local online game is getting more and more competitive, too, which is why it's just as important to stay up-to-date with trends and make the necessary changes as you go along.
Author Bio
Petra Šestak is an internet marketing specialist at Point Visible, a digital marketing agency providing custom blogger outreach services. In her free time, you can find her on a tatami trying to improve her aikido techniques or in the local pub with her friends. Also, she's a coffee & chocolate addict.
Microsoft will drop Skype for Business Online on July 31, 2021 - ZDNet
Posted: 30 Jul 2019 08:00 AM PDT
Since 2017, when Microsoft announced its Teams group-chat service would replace Skype for Business Online, customers have been asking about the cut-over deadline. Microsoft officials finally shared that date today. Skype for Business Online will be "retired" on July 31, 2021, officials said.
After July 31, 2021, Skype for Business will no longer be accessible. Between now and then, however, Skype for Business Online users will continue to use the service as usual and can continue to add new users, Microsoft's blog post says. Starting Sept. 1, 2019, however, all new Office 365 customers will be onboarded to Teams and won't have the option of selecting Skype for Business Online instead. 
I asked Microsoft officials if customers would have an option to pay for a custom support agreement if they aren't ready to move from Skype for Business Online to Teams by July 2021 and was told by a spokesperson the company declined to comment.
Last summer, Microsoft officials claimed to have reached "feature parity" between Skype for Business and Microsoft Teams. But not all users agreed.
One example of a lacking feature which a number of users said was keeping them from moving to Teams is federation between Skype consumer and Teams. I've been asking Microsoft if and when the company planned to enable this much-requested feature and was told the company had no comment. Today, Microsoft finally had a comment: Microsoft will be adding the ability for Teams and Skype consumer customers to communicate using chat and calling in the first calendar quarter of 2020.
In today's blog post, Microsoft officials mention other product and feature requests from current Skype for Business Online users which the company is working to address. Among those:
Dynamic 911, which uses the caller's current location to route to a Public Safety Answering Point (PSAP) call center run by the local government will be added for Teams users in the US by the end of calendar 2019.
Shorter retention periods for channel and chat. New options will allow users to limit retention periods to as short as one day. Once data is deleted it will be removed from all permanent storage locations in Teams, officials said. This feature will be available in Teams by the end of calendar 2019.
Contact Center Integration and Compliance recording. Microsoft is working with various certified partners to provide these contact-center capabilities.
Microsoft already offers technical guidance and planning resources for moving from Skype for Business Online to Teams, as well as instructor-led training and FastTrack onboarding assistance.
Just a reminder: The on-premises server version of Skype for Business is not being retired in 2021. Microsoft introduced Skype for Business Server 2019 in the fall 2018. Extended support for Skype for Business Server 2019 ends on Oct. 14, 2025.