---
Solicitor weighs in on business proposal | News, Sports, Jobs - Williamsport Sun-Gazette
Posted: 15 May 2019 09:13 PM PDT
MONTGOMERY — A proposed chemical facility, at 107 Miller Ave., in the borough may be built regardless of the Montgomery council's view, according to the solicitor, Tuesday. A meeting for public comment with facility officials and the state Department of Environmental Protection is slated to be scheduled soon.
Coastal Chemical Company has successfully been issued permits from the borough for six tanks, and is in the final process of being issued permits from DEP. Following a period of 30 days, which started May 11, DEP will be accepting public input into the matter. Then DEP will choose whether or not to issue permits.
The borough cannot discriminate against any business, as long as that business does its work inside of the correct zone, according to Vic Marquardt, of Codes Inspection Incorporated, who the borough employs to enforce their zoning ordinance.
"Under the municipalities planning code — that's the state law that governs how a municipality conducts they're zoning and planning business — you have to provide for every use somewhere in your municipality, regardless of what the use is," he said. "So if you're not going to provide for it in that location, the question is where."
Borough council members met with DEP and Coastal Chemical in a closed meeting on Monday.
Several borough officials asked the public to not immediately dismiss chemical storage in Montgomery.
"It was informational, and I do invite the public — whenever we have that meeting — that they have an open mind. If you've had questions like you've had questions here, ask them," said Fae Herb, council member.
Dennis Gruver, emergency management coordinator, said despite his numerous and pressing initial worries, Coastal Chemical answered many of his questions.
"I have much fewer concerns after last night's meeting," he said.
Brad Harding, fire chief of the Montgomery Volunteer Fire Co., had also previously expressed concerns over disaster situations. Chemical fires require a certain type of foam to extinguish the flame, something the rural fire company has very little of. Coastal Chemical Company expressed a willingness to work with local fire companies in a closed meeting, according to the borough council
In the first year, Coastal Chemical Company will only be storing lubricants and motor oil in its six indoor, 12,000 gallon tanks. Borough council members said this would only be Coastal Chemical Company's first steps, and they will look to store natural gas or methanol in an additional four tanks which will be located outside of the facility.
Each day, Coastal Chemical Company would be moving up to four trucks to and from Williamsport railroads, but did not specify the route. Several residents were concerned about damage to the roads.
The borough council invited to public to attend the future meeting with DEP and Coastal Chemical Company officials to learn more and provide input. The meeting's date, time and location are still undetermined but will be advertised on Montgomery Borough website.
In other business, the borough council:
• Declined to accept the resignation of Council Member Mark Barbier. Until his resignation is accepted, the vacancy will not be filled. Voting "no," were Fae Herb, Susan Andrews, and Amber Wilt. Voting in the affirmative, were Dale Brindle, L. Whitlow Wertz, and Lynn Crist. Mayor Sean Leet broke the tie with a "no" vote.
• voted unanimously to allow Mayor Sean Leet to buy Montgomery police body cameras.
• voted unanimously to hire Mark Castle as a part-time police officer.
• voted unanimously to pass Ordinance 2019-3, amending a excavating ordinance.
• voted unanimously to pass Ordinance 2019-2, amending pension plan from 9.5 percent to 10 percent.
All members were present.
Novato council debates cannabis business tax proposal - Marin Independent Journal
Posted: 16 May 2019 03:21 PM PDT
The Novato City Council will continue to mull a proposal to tax cannabis businesses.
Any cannabis tax would be put to the voters, though there was debate among the council at its meeting Tuesday about whether it should be a general tax or a special tax, which would require a two-thirds majority vote to pass. There was also discussion on whether the tax measure should go on the November ballot or the March 2020 presidential primary ballot.
City staff plan to bring back a revised draft of the tax measure at a future meeting.
Councilwomen Pat Eklund and Pam Drew both said that if the city moves ahead with the taxes, a portion of the revenue should go to prevent youth drug and alcohol use as well as for mental health and addiction services.
"If we're getting into the business here, I think we need to get into the harm reduction business at the same time," Drew said.
Eklund drew a hard line, saying she would only support a special tax measure in which the tax rates were fixed. And because the council has yet to allow recreational and expanded medical cannabis businesses, Eklund questioned whether the council was getting ahead of itself.
"We may want to think about seeing first whether or not we're going to be doing cannabis in Novato before we put any more staff time or consultant money into drafting an ordinance," Eklund said.
The tax measure presented to the council would tax both medical and recreational cannabis businesses within city limits as well as illegal cannabis operations. Estimates on the tax revenues range from about $250,000 to nearly $1.2 million annually depending on what kinds of cannabis businesses the council ultimately decides to allow, according to staff.
City staff are proposing setting a sliding scale of rates across the business types, but also caps on the rates so that businesses are not overburdened. Cultivation operations would be taxed at different rates ranging from $2 to $10 per square foot of canopy based on their use of artificial light or whether they are a nursery. Other business types would be taxed a percentage of their gross receipts, ranging from 2.5% for testing labs to up to 6% for retail sales. Eklund said she would oppose taxes for testing labs.
While the council may not allow the various business types, the tax measure will allow the city to tax these businesses should future councils decide to allow them, staff said. Staff are recommending a general tax as it will only require a majority vote to pass rather than a two-thirds vote for a special tax. If voters adopt a general tax, revenue would go to the city's general fund, which the council can allocate as it sees fit including for youth services.
Representatives from the organizations Smoke-Free Marin and the Marin Prevention Network were present Tuesday to attempt to dissuade the city from expanding the local cannabis industry or at least take more time to consider other costs to health and society.
"This is a new era of cannabis. It doesn't really look like the benign, iconic green life that we'e seen in most marketing and it can be really highly potent," said Jasmine Gerraty of the Marin Prevention Network. "We need to be very careful when we're looking at these policies as far as our young people here in Marin County."
Cannabis advocates have argued that youth can find cannabis on the black market and that regulated cannabis is a way to prevent that. Only adults 21 and older can purchase recreational cannabis in California.
Councilman Josh Fryday said while he has never smoked cannabis, views on cannabis have changed in California.
"We can't put our head in the sand. The world is changing," Fryday said, "and the question is how does Novato both take advantage of this as an opportunity and make sure that we're getting ahead of this and we're controlling it in the way we want to."
---
Businesses support proposal for streamlining city regulations - Santa Clarita Valley Signal
Posted: 16 May 2019 01:50 PM PDT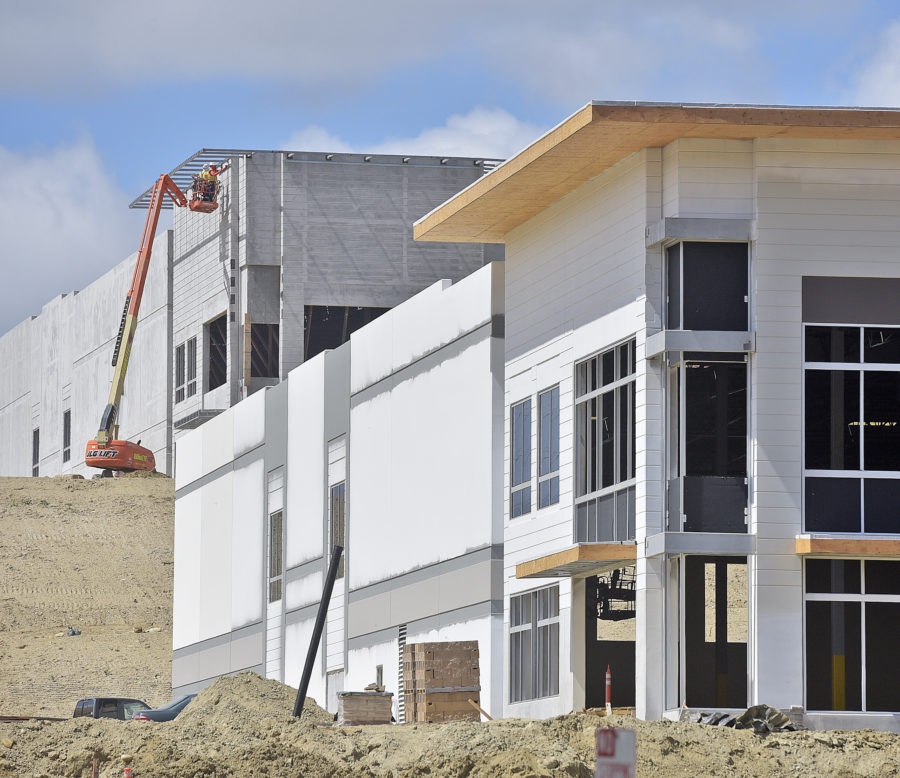 The Santa Clarita Valley business community is expressing support for new zoning rules the city hopes will help streamline development and reach its goal of "providing two jobs per every new housing unit constructed."
The Job Creation Overlay Zone was supported by both the SCV Chamber of Commerce and the SCV Economic Development Corp., which noted these standards would help further the city's "business-friendly" reputation.
One of the biggest impacts is that it would raise the allowable height for office buildings, which is a necessity to make local industrial space competitive with locations south of the Newhall pass, business officials said.
"The SCV Chamber also supports increasing beyond the proposed allowable height on office buildings to six stories and to establish an equivalent height for industrial buildings, as well," according to a statement put out by the business-advocacy group Thursday.
"As our business community continues to grow with new business moving here and local company expansions," said Nancy Starczyk, chair of the board for the SCV Chamber of Commerce, "it is vital for the city of Santa Clarita to provide appropriate development opportunities that meet current and future needs of business which bring high-paying jobs to our city."
Holly Schroeder, president and CEO of the SCV Economic Development Corp., praised the proposal as a move "in the right direction and consistent with the trends we are seeing."
"Changes in technology have made these taller buildings for industrial centers much more efficient; they're also much more desirable for the film and entertainment industry," Schroeder said, "and if we want to keep attracting these jobs to the Santa Clarita Valley, we need to be proactive in meeting the needs of these industries."
The new regulations would impact existing business parks and industrial centers, according to Jason Crawford, manager of economic development for the city of Santa Clarita.
"We tried to be very responsible in how we looked at streamlining this, where the new office buildings of this height would make the most sense," Crawford said. "In trying to be responsible, we only have this pertaining to existing business parks where there are already buildings of an existing size today."
Crawford added the new rules wouldn't impact construction next to residential areas.
"These are locations that are not near houses, that are in or close to business parks, that are in a transportation corridor," he added. "We want to find that balance of increasing the job opportunities for high-paying jobs while making sure our neighborhoods keep the same character and quality of life that folks are accustomed to."
The move to streamline procedures wouldn't impact the state's California Environmental Quality Act guidelines that require environmental review for new development, according to city officials.
The plan has been well-received so far, Crawford said, noting there would be further discussion of the plan at Tuesday's Planning Commission meeting.
If the commission approves the plan, it could be before the City Council for approval in June.

Proposal to let Louisiana cities set own minimum wage shot down after passionate debate - The Advocate
Posted: 16 May 2019 09:02 AM PDT
An effort backed by labor leaders and nonprofits that would let cities in Louisiana set their own minimum wage was shot down Thursday after a lengthy debate over whether the state is overreaching by preempting locals on wage and paid leave issues.
The measure was being pushed by a coalition of groups called Unleash Local, and won the support of city councils in New Orleans, Shreveport and Alexandria. The Baton Rouge Metro Council voted not to support the idea.
House Bill 422, by state Rep. Royce Duplessis, D-New Orleans, would repeal a 1997 law that prevents cities and localities from setting their own minimum wage and paid leave laws, and represents one of several unsuccessful efforts seen in the Legislature in recent years to boost wages for low-income workers. Duplessis said he brought the bill because the state has restricted cities from making their own decisions on minimum wage and paid leave.
A long line of workers, labor leaders and nonprofit organizations testified in favor of the bill. 
But two influential business groups, the Louisiana Association of Business and Industry and the National Federation of Independent Business, spoke out against the proposal, saying it would create a "patchwork" of policies that would hurt businesses.
The House Labor Committee sided with the business groups and killed the measure. The committee voted 9-6 on party lines to involuntarily defer the bill. Democrats supported the bill, while Republicans opposed it. 
"Instead of becoming Nazi Germany or socialist Venezuela, we allow (companies) the freedom ... to pay what they choose," said state Rep. Dodie Horton, a Republican from Haughton.
Recent polling from the LSU Public Policy Research Lab showed 81% of Louisiana residents support a minimum wage of $8.50. The state does not have a minimum wage and defaults to the $7.25 federal rate.
Representatives from the business groups warned of job losses if locals were allowed to raise their minimum wages.
"You're talking about intruding into the private sector with repealing this (law)," said Jim Patterson, of LABI. "I think it would be detrimental to the state's economy as a whole."
Dawn Starnes, head of the Louisiana chapter of the NFIB, said the law would open the door to a "patchwork" of different minimum wage policies throughout the state that would make it hard for business owners to operate.
Duplessis argued locals already set their own policies on zoning, permitting, taxes and economic development incentives, all of which impact businesses.
"I'm baffled as to why this one particular issue, we're painting it as though the sky will fall if companies have to make adjustments if they even function in different parishes," Duplessis said.
Unleash Local in a statement after the vote called the vote "disappointing" and said committee members have a "fear of local democracy." The coalition includes Step Up Louisiana, the Louisiana Budget Project, American Heart Association, Louisiana AFL-CIO and several other groups. 
"This anti-democratic impulse reinforces the need to fight for local control over worker policies along with Louisiana's working families, community organizations, and elected officials," the organization said. "Louisianans are tired of an unresponsive government that favors the interests of corporate lobbyists over its hardworking local residents." 
Duplessis brought the measure after seeing several efforts to establish a higher statewide minimum wage fail in the GOP-dominated Legislature in recent years. He said Thursday the bill would not raise minimum wages, but simply let locals make that decision for themselves, an idea he has called a conservative one by putting control in the hands of locals.
But the bill received a rude awakening just hours into the legislative session, when House Republicans diverted the bill to the House Labor Committee, which has shot down minimum wage proposals in the past. It was originally destined to go to the Local and Municipal Affairs Committee.
Gov. John Bel Edwards is backing a constitutional amendment this year that would let citizens vote on whether to install a $9 statewide minimum wage. The governor has tried unsuccessfully to raise the minimum wage to $8.50 in recent years.
Proposal would allow people to drink in approved areas between Denver businesses - FOX 31 Denver
Posted: 16 May 2019 09:59 PM PDT
DENVER -- A new proposal would allow people to consume alcoholic beverages in certain areas between businesses in the city of Denver.
In 2011, the legislature approved a law that lets cities designate enclosed areas where one can legally consume alcohol from a neighboring business. Aurora, Fort Collins and Greeley are some of the cities who have adopted the measure. Now, Denver is preparing a 5-year pilot program.
"We've been working on it for almost 18 months now, reaching out to communities, talking to City Council about it," said executive director of Denver's Excises and Licenses Department Ashley Kilroy.
Kilroy says they have already talked to the city's business committee about the idea and hope to formally introduce the draft in June. If approved, it would head to council to go through readings and a vote.
"It is not going to be Bourbon Street or Las Vegas," Kilroy said. "It's not an open container or open consumption."
Basically, businesses would pool together and designate an outdoor or indoor zone -- like an alleyway that connects businesses -- as a social place where patrons can bring alcoholic drinks. Under the proposal, one could not bring a drink from one liquor-licensed establishment into another liquor-licensed establishment. One could bring the drink into a boutique or shop that doesn't sell liquor if they are a part of the agreed-upon area.
For venues with multiple businesses, like The Source, individual business owners like the idea of letting guests mingle and explore more.
"I think the cohesiveness for the guest experience will allow them to experience multiple spots," said Smok Owner William Spiricueta. "All working together, I think it lends a lot of value for everyone."
Businesses would need evidence of community support before applying. Under the current proposal, the areas would have to close no later than 2 a.m.
AlertMe