---
Georgia business owner, illegal alien charged with exploiting illegal workers - U.S. Immigration and Customs Enforcement Newsroom
Posted: 09 May 2019 09:44 AM PDT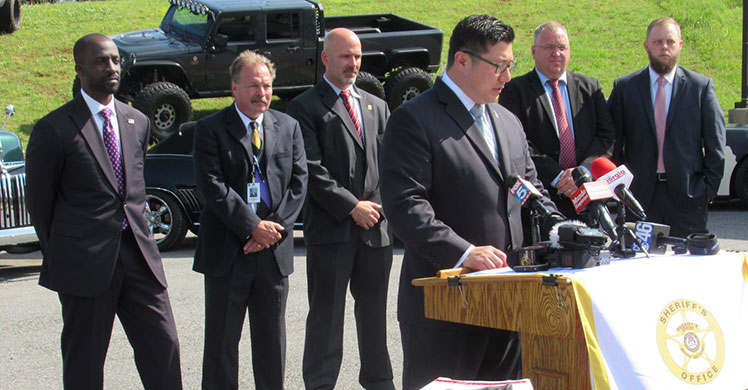 ROME, Ga. – Unlawfully present Mexican national Juan Antonio Perez, 46, was indicted on federal felony charges May 7 in U.S. District Court for the Northern District of Georgia pursuant to a years-long investigation by U.S. Immigration and Customs Enforcement's (ICE) Homeland Security Investigations (HSI) that culminated in the simultaneous execution of six federal search warrants in Georgia and Tennessee last week resulting in the federal criminal charges issued Wednesday.
According to court documents, Perez is charged with using his construction company, Aztec Framing, which operated in northwest Georgia and eastern Tennessee, to unlawfully profit by employing illegal aliens and paying them below-market wages. This allowed Perez to undercut legitimate business competitors who were unable to compete due to his illegal business practices. Perez is also charged with being an illegal alien in possession of 14 firearms – federal law prohibits illegal aliens from possessing firearms.
"Individuals, like Mr. Perez, who flagrantly violate federal law to give themselves an unfair business advantage are cheating both law-abiding employers and employees exploited by these unfair and illegal labor practices," said Special Agent in Charge of Homeland Security Investigations Atlanta Nick S. Annan. "This case is an illustration of serious threats to public safety on numerous levels.  Homeland Security Investigations will continue to focus not only on workers who violate federal law but also their employers."
"Perez not only broke the law by allegedly hiring illegal aliens at below-market wages and paying no taxes, he had a large assortment of weapons including shotguns and pistols that he had acquired through various means other than buying them himself," said U.S. Attorney for the Northern District of Georgia Byung J. "BJay" Pak.  "Illegal aliens, such as Perez, are not allowed to own firearms at all.  We will get to the bottom of how he acquired them."
According to U.S. Attorney Pak, the indictment, and other information presented in court: Perez allegedly came to the United States illegally in 1992. He has lived in Bartow County, Georgia, and has operated Aztec Framing at least since 2009. Aztec Framing has offices in Cartersville and Rossville, Georgia, and Hixon, Tennessee.
Perez allegedly employed illegal aliens at below-market rates, provided no benefits or insurance, and did not pay payroll taxes or Social Security.  Perez allegedly used the proceeds of his illegal activity to build a 7,500-square-foot house, bought other houses where he allowed some of his employees to live, and purchased more than 50 sports cars and heavily customized trucks. Yet, as of April 2019, the Georgia Department of Labor had no record of Perez reporting any income.  Perez was also known to collect firearms and was found to have 14 in his home when agents searched it April 30.
Members of the public are reminded that the indictment only contains charges.  The defendant is presumed innocent of the charges and it will be the government's burden to prove the defendant's guilt beyond a reasonable doubt at trial.
This case is being investigated by ICE Homeland Security Investigations with assistance from the Bartow-Cartersville Drug Task Force, the Federal Bureau of Investigation, U.S. Customs and Border Protection Air and Marine Operations, the Georgia Bureau of Investigation, the Cherokee Multi-Agency Narcotics Squad, and the Polk County Drug Task Force.
Assistant U.S. Attorney William Traynor is prosecuting the case.
Nine Finance-Tracking Tools For The DIY Small Business Owner - Forbes
Posted: 09 May 2019 10:15 AM PDT
In the early stages, many startups and small businesses choose to handle their finances on their own. This can be an overwhelming process, but when you're starting out, your budget simply may not allow you to hire an in-house finance manager or consultant.
If you're not ready to outsource your financial processes just yet, consider investing in resources and tech tools that help you manage your money. We asked a panel of Forbes Finance Council members which applications they recommend for business finance tracking.
1. Excel (Until You Can Afford More)
Tracking finances yourself is doable, at least up to a certain point. On the super-cheap end, I highly recommend you use Excel to track your expenses and a shoebox to hold all your receipts. On the more sophisticated, more organized end, it would behoove all business owners to use QuickBooks and, if you can afford it, hire an accountant or an accounting firm, which may save you lots of money. - David Ehrenberg, Early Growth Financial Services
2. FreshBooks
FreshBooks is a great online platform. You don't need to download it and you can access it anywhere. It has built-in time tracking, invoicing, bill pay and reporting features to operate your business. As a small-business owner, you always want to know how well your business is doing. - Jody Grunden, Summit CPA Group
3. Botkeeper
Hiring bookkeepers can get very expensive as you grow, and trying to keep them around can be a whole other challenge. Consider using a tool like Botkeeper. The online tool brings together a small amount of human interaction with new AI technology. It eventually learns your business and automates the process of data entry. - David Gass, Anderson Business Advisors, LLC
4. QuickBooks
When you're starting a business, bootstrapping is a must, so you need to wear many hats at the onset—one of those being the bookkeeper hat. A great way to automate and simplify bookkeeping is to use QuickBooks. It's a great tool for businesses of all sizes and, if utilized properly, it really does a lot of the financial work for you by creating your monthly financials/balance sheet automatically. - Jared Weitz, United Capital Source Inc.
5. Integrated Platforms
Business owners have a lot of platforms to choose from for finances. QuickBooks Online provides a good foundation at a low cost for new business owners. Other tools like Xero and Freshbooks play a good role in accounting and integrate with a lot of software. - Sal Rehmetullah, Fattmerchant
6. A Cash Flow Forecasting Tool
Various banks and other commercial accounting software providers have a weekly cash flow forecasting tool that is adequate for a small business. Knowing who owes you money and when it should be coming in versus when your bills are due is critical to maintaining and growing any size business. A business that runs on its own cash flows is more stable and predictable, no matter the economy. - Chris Tierney, Moore Colson CPAs and Advisors
7. A Cloud-Based Tool (After Your Banking Is Properly Set Up)
Keep all business activity on one bank and one credit card account (accounts can have multiple cards). Do not use these accounts for non-business purposes. Cloud-based accounting and reporting applications will be invaluable to entrepreneurs; however, the first step is proper bank setup. - Levi Morehouse, Ceterus
8. Tools That Help You Meet The Four Core Elements Of Accounting
First, use QuickBooks Online or Xero as the core accounting system. Second, get your business bank account integrated and separated from your personal accounts so you can easily get the transactions into QuickBooks. Third, get a payroll system running, such as Gusto. Finally, get Expensify for expense reports. These four core elements are common across almost every business. - Chris Schwalbach, AVL Growth Partners
9. A System That Grows With Your Needs
Startups need to pay bills, run payroll, invoice customers and provide information on cash burn. Don't try to find a system that will do everything. Rather, find one that has built a strong ecosystem of best-in-class solutions, such as employee expense reimbursement, payroll, vendor payments and cash management. Choose your backbone system wisely and use that to assemble what you need over time. - Maryanne Morrow, 9th Gear Technologies
11 Reliable Apps To Help Small Business Owners Save Money - Forbes
Posted: 10 May 2019 08:47 AM PDT
Each year, America celebrates the nation's small businesses with National Small Business Week. The U.S. Small Business Administration (SBA) takes the opportunity to recognize the 30.2 million small businesses in our country. According to the SBA, more than half of Americans either own or work for a small business, and they create about two out of every three new jobs in the U.S. each year.
Tweet This: More than half of Americans either own or work for a small biz and create about 2 of 3 new jobs in the U.S. each year.
Recently, I wrote about How To Shop Costco Membership-Free and also shared a list of Useful Shopping Apps To Save You Money, aimed at consumers mostly. In honor of National Small Business Week, I researched some of the best apps to help our friendly neighborhood small business owner save some money, (but many of these work for consumers, too). Many of these apps have free versions, some offer trials, or are paid apps.
Ebates gives cash back at over 2,000 websites and businesses. As a small business owner, you may not be purchasing in massive bulk quantities yet, but you may be placing enough individual orders that coupons and rebates can be helpful to your bottom line.
If you are purchasing in bulk, and don't have time for Costco or another big box store, then try Boxed.
Do you have a lot of recurring subscription services? Then test out Trim. These folks can help you analyze all types of your recurring expenses.
Earny: If the purchase price drops after you have purchased, this app refunds the difference.
Keeping track of expenses, for yourself or employees, can be a headache. Okay, it is a headache. I have used Shoeboxed (loved it) and Expensify. Snap a photo, upload the receipt.
Tweet This: Here are 11 Reliable Apps To Help #SmallBusiness Owners Save Money (consumers can use many of them).
If you just want to scan and digitize receipts and other documents, ScannerPro (for iPhone and iPad users) is highly rated. For Android, CamScanner is amazing.
For budgets and bills, try Mint. This consumer-focused app owned by Intuit, offers a terrific service that can work for solopreneurs. Of course, the company's flagship product, QuickBooks Online is well-regarded and in heavy use by many business owners. Their Simple Start program starts at $10/month. My business friend, Michelle Mangen, who is an expert in QuickBooks offers a free ebook of bookkeeping tips for small business owners that's worth reading.
Scheduling employees is a task that takes a lot of time -- try When I Work. This app and service is free for up to 75 employees and can help you get everyone scheduled. Let's your team swap shifts and see available openings.
The SBA hosts a variety of events through this week and today has a NSBW Twitter Chat today:
"Join SBA (@SBAgov) and industry experts for the National Small Business Week Twitter Chat on Friday, May 10 at 12pm ET on how to start and grow a small business. We'll be sharing tips and tricks to help you along your business journey. Join the conversation with #SmallBusinessWeek." If you miss it, just search out that hashtag and you can find most of the tips.
Thanks to all of the small business owners who are growing ventures, hiring people, and making a difference in their communities. If you have an app that you love and that saves you money, ups your productivity, let me know. I'd love to check it out.
Oh, and here's one non-app for small business owners who are navigating how to build a personal brand as they grow their business -- a new book by well-known small biz expert, Ramon Ray, The Celebrity CEO: How Entrepreneurs Can Thrive by Building a Community and a Strong Personal Brand.
Maryland business owner pleads guilty to dumping scrap tires - Washington Post
Posted: 10 May 2019 08:31 AM PDT
BALTIMORE — A tire business owner in Maryland's Prince George's County has pleaded guilty to four counts of unlawful disposal of scrap tires.
The plea by Thomas Okoronkwo of Glenarden was announced Friday by Maryland Attorney General Brian Frosh.
The 49-year-old will have to pay a $15,000 fine to the Maryland Clean Water Fund. A sentence of one year behind bars has been suspended and he's been placed on three years of supervised probation. He's the owner of Ameritech Automobile, a business with three county locations.
His case began when a rival business captured images of him entering their property and dumping scrap tires. This occurred 10 times between November 2017 and May 2018. Frosh says Okoronkwo admitted that he was dumping tires to avoid potential fines.
Copyright 2019 The Associated Press. All rights reserved. This material may not be published, broadcast, rewritten or redistributed.
Elk Grove business owner warns customers about impostors - KCRA Sacramento
Posted: 08 May 2019 11:43 PM PDT
Elk Grove business owner warns customers about impostors
Hide Transcript Show Transcript
INSTEAD. >> WE INSTALLED THE NEW SYSTEM AT A CONSUMER'S HOME. REPORTER: AS THE OWNER OF AN HVAC COMPANY, HE MAKES A LOT OF HOUSECALLS, BUT HE WAS SHOCKED WHEN HE DISCOVERED SOMEONE IS INTERCEPTING THOSE CALLS AND PRETENDING TO BE HIM. >> THEY WALKED AROUND THE HOME, TALKED TO HER ABOUT HER HEATING AND AIR CONDITIONING PROBLEM. REPORTER: LAST WEEK RICHARDSON SAYS A WOMAN CALLED THROUGH THE YELP APP. WHOEVER ANSWERED THE CALL SAID SHE WAS JASON -- SAID THEY WERE JASON AND THEY COULD BE AT HER HOUSE. THINGS COULD HAVE HAPPENED TO HER, HER HOME, HER POSSESSIONS, AND IMPLICATIONS ON OUR BUSINESS. REPORTER: THE DUO LEFT PROMISING AN ESTIMATE, BUT A FEW DAYS LATER, NO CONTACT AREA THAT IS WHEN THE CUSTOMER CALLED BACK. THIS TIME THE REAL JASON GOT THE CALL. >> I HAD AVAILABILITY TO MEET HER FACE-TO-FACE IMMEDIATELY. AS SOON SHE OPENED THE DOOR SHE SAID, I HAVE NEVER MET YOU. REPORTER: HIS BUSINESS WAS USING A PHONE NUMBER PROVIDED BY YELP TO KEEP TRACK OF CALLS. SOMEONE IS NOW KEEPING TRACK OF HIM. >> TECHNOLOGY IS GOOD WHEN IT WORKS. TECHNOLOGY IS BAD WHEN IT DOES NOT WORK OR IT WORKS IN THE WRONG HANDS. REPORTER: THE PHONE NUMBER LISTED ON YELP AND THE PHONE NUMBER LISTED ON THE COMPANY'S WEBSITE ARE THE SAME. RICHARD SAID THAT'S BECAUSE HE UPDATED ALL NUMBERS AFTER THIS ISSUE. NOW HE IS TEXTING HIS CUSTOMERS TO KEEP EVERYONE SAFE. >> SO THE CONSUMER KNOWS WHO IS SHOWING UP. ANY BUSINESSES ARE SUSCEPTIBLE TO IT A
Elk Grove business owner warns customers about impostors
The owner of an Elk Grove heating and air conditioning business is warning customers that someone is impersonating their technicians and in one case, showed up at a customer's home. Jason Richardson is the owner of Elite Heating and Air Conditioning. He said a Sacramento woman tried to call his business through the Yelp app last week. But somehow, after she clicked the "call" button on the app, an impostor answered the phone claiming to be the owner. Two men showed up at the woman's house, one pretending to be Jason, as they scoped out her home. Get the full story in the video above.
ELK GROVE, Calif. (KCRA) —
The owner of an Elk Grove heating and air conditioning business is warning customers that someone is impersonating their technicians and in one case, showed up at a customer's home.
Jason Richardson is the owner of Elite Heating and Air Conditioning. He said a Sacramento woman tried to call his business through the Yelp app last week. But somehow, after she clicked the "call" button on the app, an impostor answered the phone claiming to be the owner.
Two men showed up at the woman's house, one pretending to be Jason, as they scoped out her home.
Get the full story in the video above.