---
Gary's response to rotting cop cars has auto business owners fuming - nwitimes.com
Posted: 14 Apr 2019 03:00 AM PDT
Days after a Chicago newscast about parking lots packed with old and rusting Gary police cars, the city cobbled together a plan to do something about the problem for the first time in years.
While Mayor Karen Freeman-Wilson says the city's response was transparent and hewed to state laws regarding the disposal of public property, voices within Gary's automotive business community have raised doubts about the official story.
The plan, which involved selling some cars for scrap while towing others to a new location, was hastily concocted out of public view and a waste of taxpayer dollars, according to three business owners familiar with the matter.
The owners spoke to The Times on the condition of anonymity, saying they feared retaliation from the city.
Police cars rotting in the spotlight
The business owners say the city began moving the police cars shortly after a March 13 CBS News story about the long-neglected problem. In the report, Lake County Assessor Jerome Prince, who is running to unseat Freeman-Wilson in the Democratic primary, said the abandoned cars were an "environmental hazard" and called on the city to sell them for scrap.
The CBS report focused on three locations where the decrepit cars had piled up over nearly a decade: a city lot near the Salvation Army store on 11th Avenue, another lot at the northwest corner of 13th Avenue and Massachusetts Street, and a yard next to a maintenance building at Ninth Avenue and Madison Street.
In response to the CBS News story, Freeman-Wilson said many of the old squad cars were still being used for parts, while others had been sold in previous auctions but had never been picked up by their buyers. She also said the city intended to sell some of the cars at an auction in the near future.
But the Gary business owners say the administration's plan is nothing more than a damage control operation in the wake of an unflattering news story. Instead of putting the police cars up for public auction, they say, the city junked them in a deal with Westville-based Paul's Auto Yard and left money on the table.
"This is how Karen Freeman-Wilson operates and how she's operated for years," one of the business owners said.
In an interview with The Times, Freeman-Wilson defended her administration's handling of the issue and denied the city had ignored public property disposal laws.
"Our legal counsel is comfortable with us disposing of those vehicles," Freeman-Wilson said. "The property that is being disposed is ours to dispose because it had already been sold."
Local business owners also have criticized the city's hiring of Gary-based Republic Frame and Axle to tow some of the police cars to another piece of city property where they are concealed from public view. In doing so, taxpayer money was used to temporarily hide the problem of instead of finding a permanent solution, they said.
A Times reporter confirmed the dwindling number of old police cars sitting on the 11th and 13th Avenue lots. As of April 4, each lot held roughly a dozen squad cars, compared to well over twice that number at both locations at the time of the CBS News report.
Republic began towing the squad cars to city property near Ninth Avenue and Madison Street on April 3, according to one of the Gary businessmen, who is a former towing company owner. The lots are part of a complex of city buildings that include maintenance garages and the street sweeping and animal control departments.
A Times reporter who visited the site on April 4 observed old cruisers, unmarked sedans and police vans stashed in two lots adjacent to the animal control building. The same lots previously contained only scraps of rusted iron, according to photos taken March 15 and provided to The Times.
While the city was moving cruisers from the lots featured in the CBS story, it also was looking to offload some of the cars to Paul's Auto, according to the former towing company owner.
"It is absolutely true," he said April 5. "The city made a deal with Paul's Auto Yard. They have been moving cars until a few days ago."
Another business owner says he saw Paul Shafer, the owner of Paul's Auto, speaking with Harlan Smith, the city's director of vehicle maintenance, at the lot on 11th Avenue. The owner said he was surprised to Shafer possibly discussing city vehicles with Smith.
"Paul has never gone to these auctions, he's never been a high bidder," the business owner said, recalling his own experience attending public auto auctions in The Region.
The arrangement with Paul's Auto was partially confirmed by a municipal employee who spoke with The Times on the condition of anonymity because he was not authorized to talk to the media. The city worker says he witnessed tow trucks from Paul's Auto hauling old police cars from the 11th Avenue lot on April 1-2, but did not know where those cars were taken.
Asked about the city's hiring of Paul's Auto, Freeman-Wilson said the company was the winning bidder to buy and haul away previously auctioned vehicles that were left on the 11th Avenue lot. Those cars were sold to Paul's as scrap because they were not worth enough to justify another auction, she said.
On April 2, The Times contacted Paul's Auto locations in Gary, Lake Station and Westville, the company's corporate headquarters, for comment. Representatives at all three locations denied the company had taken possession of any decommissioned Gary police cars in recent months.
Paul's stopped picking up police cars for the city by April 4, according to all three business owners who spoke with The Times. Talk within the auto salvage and towing community about the deal was bringing unwanted attention to the company, the former towing operator said.
"After the (CBS) story broke, Paul's stopped getting the cars because they got heat for it," he said.
The ex-owner went on to defend Shafer, saying he took advantage of an opportunity from the city like any businessman would have. He also criticized Freeman-Wilson's administration for rushing into a deal after years of inaction on the decaying cruisers.
"It's not like they don't have a process to do it," he said. "They're just not doing it."
Freeman-Wilson attributed criticism of the city's handling of the old police cars to political mudslinging during primary election season.
"We know that there's always some kind of allegation," she said.
As questions have swirled around the nature of the deal between Gary and Paul's Auto, city employees have offered conflicting explanations about what happened to the old police cars that are no longer on city lots.
Two of the Gary business owners claim city employees told them that some of the squad cars were sold in March at a public auction run by J.J. Kane Auctioneers.
"I was told that by three people who work for the city," one of the sources said.
In fact, the last auction of any kind that J.J. Kane held on Gary's behalf was in September 2014, a company representative told The Times on Tuesday.
Sources who spoke to The Times also expressed doubt about the city's contention that some old cruisers were sitting on city lots because auction buyers had failed to pick them up. One of the business owners, who has decades of experience buying cars at government auctions, said it was exceedingly rare for a buyer to put up money at auction without ever intending to take possession of the car.
"If Jesus Christ himself had made that statement, I'd call him a liar," he said, referring to Freeman-Wilson's explanation.
The city's deal with Republic Frame and Axle to haul some of the police cars to city property at Ninth Avenue and Madison Street also has raised questions about whether other towing firms were given a chance to compete for the job. Sources who spoke to The Times could not recall seeing a public request for bids at any time before Republic began towing the cars.
"It was too quick for a public announcement," the former towing company owner said, referring to the three week-period between the CBS News story and transfer of cars to the Ninth and Madison location.
Freeman-Wilson denied the allegation, saying the city had solicited bids from other towing companies. Republic was the low bidder to tow old squads from the lot on 13th Avenue in preparation for an auction the city intends to hold "later this month," she said.
"The towing was done in conjunction with quotes," Freeman-Wilson said. "We opened it up (to bidders)."
The whole episode — both the deal with Paul's Auto Yard and the shuffling of the police cars to a different location — is emblematic of the way Gary has neglected to dispose of public vehicles under Freeman-Wilson and her predecessor, Rudy Clay, according to the ex-towing company owner.
"They wait until these (police) cars get completely run down, they strip them, and then leave them there," the former towing operator said. "It seems like they're purposely leaving them there."
Rally held demanding release of longtime Brentwood business owner in ICE custody for 2 months - KTVU San Francisco
Posted: 13 Apr 2019 05:07 PM PDT
BRENTWOOD, Calif. (KTVU) - A longtime Brentwood business owner has been in the custody of Immigration and Customs Enforcement for two months.  Loved ones worry he will be deported to Pakistan and say they are running out of options.
Friends, family and community members held a rally to demand Ramzan Chudhry's release on Saturday at the Brentwood Petroleum, the business he has run with his wife Asia Chudhry more than 20 years. Now Asia is working around the clock to make ends meet. 
"Me and my kids feel like we're left alone, "said Chudhry. 
Her husband was detained by ICE two months ago and could be deported. "He's been here in the United States almost 30 years. And it's hard for me. I need his support in my life. I can't even sleep."
Chudhry said her husband has never committed a crime since coming to the U.S. from Pakistan as a child. The couple has a home in Oakley and three teenage children.
Chudhry thinks their efforts to get him residency is what alerted agents to his illegal status. She said his application was denied, but his work permits are up to date. 
In January, he was summoned to immigration court, but Ramzan Chudhry never came home and his passport was taken away.
"It's so wrong. It's unfair. It's injustice," said Asia Chudhry. 
Her husband is now at Yuba City detention center. Their daughter said their whole world has been turned upside down. 
"We just want our father back," said Kinza Chaudhry. "We miss him so much."
Rally in #Brentwood for Ramzan Chaudhry - detained by ICE. Chaudhry illegally immigrated to U.S. from Pakistan when he was a teenager. He now has children, owns a business, and his family wants him back. @KTVU pic.twitter.com/244n7HAvjA

— Elissa Harrington (@EHarringtonTV) April 13, 2019
Members of the community joined the rally. They worry time is running out.
"He's well liked, he's a great person. Him and his wife would do anything for anybody," said Kim Moreno, a community member. "They would take their own shirts off their own backs to help anybody out here. It's crazy this has happened."
Hundreds have also signed a petition, demanding Ramzan Chaudhry be granted asylum so he can stay in the country with his family.
We reached out to ICE to learn more about why he's being held, but have not heard back. 
KTVU's Ryan Moran contributed to this report. 
 
Small Business Owners Push Back Against Mischaracterization of Trump's Tax Cuts - Washington Free Beacon
Posted: 14 Apr 2019 02:00 AM PDT
Small business owners are pushing back against Democratic mischaracterizations of President Donald Trump's signature Tax Cuts and Jobs Act.
More than a year after the legislation went into effect—slashing personal and corporate tax rates across the board—the focus has shifted from worker bonuses and wage increases to shrinking tax refunds. The latter, resulting from a decrease in the level of taxes paid throughout the year and changes to the Internal Revenue Service's withholding formula, has increasingly become fodder for Democrats eager to portray the cuts as a "scam" to benefit the wealthy.
In reality, the issue is more complicated, as Alfredo Ortiz, the president of the Jobs Creator Network (JCN), told the Washington Free Beacon. Ortiz's group, which represents a diverse coalition of small businesses and bills itself "as the voice of Main Street," has been working to educate voters on the benefits of the tax cuts ahead of the April 15 IRS filing deadline. JCN believes that if Democrats are allowed to win the debate over tax refunds, it will make it easier for the party to eventually push for a full repeal of the Trump tax cuts at a later date.
"There's a lot of attention on the size of the tax refund," Ortiz said during an exclusive interview. "Folks need to understand that you're going to be paying less money to the government because of the tax cuts, so you'll be getting less money when it's time to file."
He pointed to the fact that on average individual tax refunds are only down 1.1 percent—or $31—from 2018 to argue that more drastic reports of reduced returns are "off base."
"The news media is focusing on refund size, however, that isn't the whole picture," Ortiz said. "When you look at it you see [individuals and businesses] are paying less in taxes overall."
The "real story" behind the tax cuts isn't just in the "total amount of tax savings," but also in the "broader economic impact," according to Ortiz.
"Two-thirds of the job growth is in the hands of small business owners," he said. "The big thing happening with this economic boom is that small business owners have been able to continue investing in their businesses. Whether its buying equipment needed to grow their business or investing right back into their people through higher wages and better benefits."
One of the small business entrepreneurs that benefited from the tax cuts was Joseph Semprevivo, a JCN member from Florida who runs a diabetic-friendly baked goods company. The legislation's corporate tax cuts and expanded business deductions saved Semprevivo's business $30,000 over the year. Instead of pocketing the money, he chose to share it with his employees.
"As a result of the tax cuts we hired five new team members and we gave all our employees raises between $3,250 and $5,100," Semprevivo told the Free Beacon. "This was my way of telling my employees we love them, we want to retain you… and you're valuable."
Semprevivo said the tax cuts didn't just benefit his company and his employees, but also contributed positively to the larger ecosystem.
"One of my employees used his raise to buy a reliable car," Semprevivo said "He went out and bought a car that was built in Detroit by a union member. A truck driver was paid to transport the car to Florida, the salesperson got a commission, the car dealership made a profit, and the local tax base received revenue. It goes on and on in terms of all the people that benefited from the tax cuts."
"There's been a lot of talk about how people are getting less money back and the tax cuts aren't beneficial, the opposite has been true for myself and my employees," he added.
Other small business entrepreneurs affiliated with JCN likewise praised the tax cuts and other provisions within the legislation.
Guy Berkebile, the owner of a chemical company in Pennsylvania, cited the new 100 percent capital allowance as vital to his firm's growth in 2018. The allowance ensures that manufacturing companies like Berkebile's can now deduct costs associated with investments in new machinery at a faster rate than previously allowed.
"We're a chemical manufacturer and rely on machinery for everyday tasks," Berkebile said. "Previously it would have taken almost a decade to write off the cost of one piece of equipment, without taking into account depreciation."
Berkebile said the expensing allowance helped his firm increase its bottomline which translated to 29 new hires as well as increased wages and benefits for existing employees.
Susan Kochevar, who operates a drive-in theatre in Colorado, told the Free Beacon the tax cuts were "tremendously" helpful not only in boosting consumer spending, but also in cushioning the impact of local taxes and regulations.
"One of the problems we're facing and have faced is that taxes and regulations have expanded exponentially since I started running business," Kochevar said. "My state passed a minimum wage amendment. Its minimum wage went up last year, will go up this year, and then again next year. Those tax cuts helped me weather that rise, it helped me give my current staff a raise while still hiring new employees at the new rate."
Kochevar's comments stand in contrast to Democratic elected officials in Colorado and other blue states like New York, and California. Democrats from such states have lambasted the Tax Cuts and Jobs Act for its elimination of the State and Local Tax Deduction, which favored high-income earners in high-tax states.
"When I hear Democrats in Congress, especially Nancy Pelosi, mention lower tax refunds and talk about reversing the Trump tax cuts … it scares the heck out of me," Kochevar added. "That's going to destroy small businesses like mine."
Business owner sues city for failing to put out fire - The Decatur Daily
Posted: 13 Apr 2019 10:10 PM PDT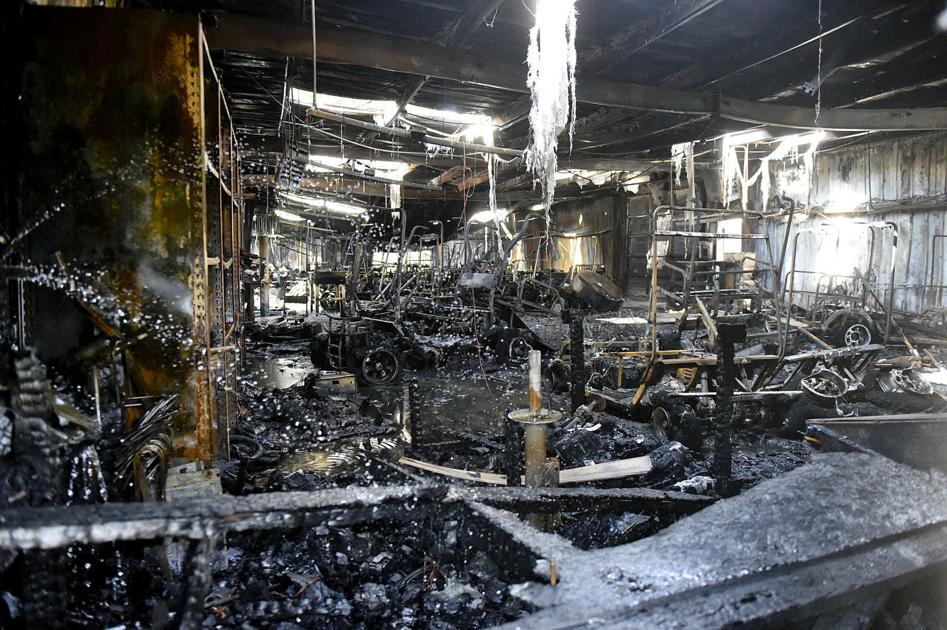 More than 10 months after a fire destroyed their golf cart business, with the fire's cause still not determined, the owners have sued the city of Decatur based on firefighters' alleged negligence in failing to connect to a nearby hydrant.
Decatur Golf Cars LLC and J&C Funding LLC, owners of the Modaus Road Southwest business that burned down in June, filed the complaint last week. Jimmy Johnson of Decatur is a principal in both businesses, according to records from the Secretary of State's Office. The business has since moved to Beltline Road Southwest.
"The failure of the firefighters to successfully extinguish the flame … (was the) result of the firefighters using insufficient water," according to the complaint filed by attorney Jerry Knight. "Notwithstanding the presence of a nearby, readily accessible fire hydrant, the defendants negligently, wantonly or intentionally failed … to connect to same and thereby allowed the destruction of the … building, its contents and golf carts parked outside the building."
Decatur Golf Cars, which also used the name Decatur Golf Carts, was located at the northeast corner of Modaus and Shady Grove Lane. It was next to Cedar Ridge Golf Course until the course was sold to Decatur City Schools in 2014 as the location for the new Austin High School. The business stored, repaired and sold golf carts.
Decatur Fire Marshal Jason Jones last week said he could not comment about what caused the June 1 fire because the investigation "is ongoing."
The Decatur Daily filed a public records request with the city Wednesday for any reports pertaining to the investigation. City Attorney Herman Marks said no such documents exist.
"There is no report indicating the cause of the fire on June 1," Marks said. "It's still being reviewed. They have not determined the cause of the fire. There is no document indicating the cause of the fire."
While the complaint by Decatur Golf Cars focuses on firefighters' alleged failure to connect to a nearby hydrant, a written question served on the city with the complaint asks whether the hydrant was "taken out of service at any time prior to June 1."
The answer to that question, said Decatur Utilities spokesman Joe Holmes, is no.
"The hydrant was available and working properly during that time and at all times since," Holmes said.
Other questions served on the city ask for the name and address of everyone "who participated in the efforts to extinguish the fire." 
In its complaint, Decatur Golf Cars said it would later add as defendants "persons who failed to access or failed to cause to be accessed water from a nearby fire hydrant."
Fire Chief Tony Grande declined to comment on the fire until he consults with the city Legal Department.
Grande, on the day of the early-morning fire, said 50 to 70 carts were destroyed and the metal building was severely damaged.
"It's likely a total loss," Grande said then. "There's a lot of destruction there."
He said then that the cause of the fire had not been determined.
"Investigators will do a little more digging today to make sure they have it right," he said on the day of the fire.
Four firefighters were taken to Decatur Morgan Hospital to be treated for heat exhaustion, and all were discharged, Grande said at the time.
The day after the fire, an entry attributed to Johnson, the business owner, was posted on his Facebook page. 
"I want to THANK all the Firefighters that risked their lives to try and save our business and the buildings around us and I'm so glad the ones that went to the hospital are ok ... Our Decatur Firefighters are amazing!!" according to the post. 
Knight declined to comment last week "beyond referring you to the complaint."
Small-business owners must be intentional with their time - Knoxville News Sentinel
Posted: 13 Apr 2019 05:00 AM PDT
As a business owner, how do you find a life balance between work and home? I have my own small business, and sometimes I feel like I'm putting in too much time at the shop and not spending enough time with my husband and kids.
A.: The idea of everything being in balance, on an everyday basis, is a myth. It's simply not possible to perfectly juggle every aspect of our lives every single day.
The key, I think, is to strive for an overall balance over time. You know first hand the long hours and how work can interfere with other things if you're not careful. The answer lies in really being into whatever you're doing. 
When you're not at your shop or taking care of work-related matters, actively participate in conversations with your spouse and kids — and listen. Spend time with them! Turn off your cellphone when you go on dates with your husband and when you take your kids on outings. 
When you're with your family you should really be with them. Then, when you have to work, chances are they won't be so upset, and you'll feel better about things, too!
Our son is 17, and he is in school. He has a good part-time job, and my wife and I started teaching him basic money management at a young age. He understands the importance of saving, giving and spending, plus he is setting aside money for technical school after he graduates from high school. Do you think it would be an appropriate real-world exercise if we started charging him a very small amount in rent each month to prepare him for life when he leaves home?
A.: I appreciate the fact that you're looking for teachable moments, but I really think charging a teenager rent while he's living at home is going too far. Now, if he was 28 or 29, that'd be a different story. But as parents, it's still your responsibility to provide a home for your 17-year-old child.
It sounds like you've done a fantastic job already of helping your son grow into a responsible young man. He knows how to work, and he has grasped the basic concepts of managing money. I meet people three times his age on a regular basis who still haven't done that. With this kind of start, I've got a feeling your kid will be fine. 
I also think, with this kind of start, he has a great chance of becoming wealthy some day!
Dave Ramsey is an author and radio show host. Follow Dave on the web at daveramsey.com and on Twitter at @DaveRamsey.
Read or Share this story: https://www.knoxnews.com/story/money/business/2019/04/13/small-business-owners-must-intentional-their-time-dave-ramsey/3412888002/