---
Former Clevelanders come home to grow health care technology startup MedPilot - cleveland.com
Posted: 10 Apr 2019 05:04 AM PDT
CLEVELAND, Ohio -- A typical high-end urgent-care clinic does everything it can to provide a good patient experience, right down to a refrigerator stocked with vitamin water and a tinkling indoor waterfall in the waiting room.
It's a soothing patient experience, but how will the clinic keep those vibes going after the patient leaves?
Entrepreneur Nathan Spoden, 30, believes consumers prefer health care providers that send appointment reminders via text and offer a billing portal that explains each charge in plain English. MedPilot, a health technology startup now based in Cleveland, can provide that kind of patient service.
The company was founded in New York, and relocated to Cleveland's South Marginal Road about a year ago. It came back to fulfill the bring-it-home dreams of its boomerang co-founders Spoden and Chief Marketing Officer Matt Buder Shapiro. Spoden, the chief operating officer, grew up in Mentor; Buder Shapiro, 28, is from Shaker Heights.
The company's third co-founder and CEO, Jacob Myers, is from San Francisco.
MedPilot also wanted to be part of northeast Ohio's health care technology sector alongside the Cleveland Clinic, University Hospitals and Explorys. In less than a year, MedPilot has grown from five to 30 employees and attracted $2 million in investments. It's on track to hire an additional 40 employees this year.
The company, headquartered on South Marginal Road in Cleveland, brings artificial intelligence and machine learning to patient billing, marketing surveys, follow-up appointment reminders and other doctor-to-patient communication.
MedPilot has sold its specialized software and algorithm mostly to local and national urgent care chains and physician groups representing a total of 350,000 patients. Cedar-Sinai Medical Center in Los Angeles has invested in the company and will be Medpilot's first client that is a large health system, Spoden said.
"We've become an automated solution for health care providers to plug into their patient billing process to create not only a better experience, but help reduce costs and increase efficiency," Spoden said.
Jon Pinney, managing partner of the law firm Kohrman, Jackson & Krantz, made a six-figure investment in MedPilot. Pinney learned of the company from Chantel Moody, corporate partnerships director for health at Plug and Play, which is also a MedPilot investor.
Pinney intends to introduce the MedPilot guys to more potential investors and clients.
"They do a great job with pitches," Pinney said. "Cleveland is a medical town and (MedPilot) plays well with that strength. I'm very optimistic it will continue to progress to a multi-million dollar business soon."
MedPilot aims to grow by fixing billing problems that can ruin a patient's experience.
"Billing is such a major pain point, and we attack that pain point for the patient," Buder Shapiro said.
The company's billing portal provides definitions for complicated insurance jargon and explains each charge clearly. Text reminders for payments take into account the size of a payment balance and how long it has gone unpaid. MedPilot's algorithm looks at various factors, such as patient demographics and payment history, to offer a customized payment plan.
MedPilot also sends texts and emails to remind patients about appointments. The software does not define medical conditions, and can send paper bills if desired.
"You as the patient don't see us," Buder Shapiro said. "You're communicating with your health care provider. We're in the background."
Dr. Robert Haber, a Beachwood dermatologist, initially signed on with MedPilot because Buder Shapiro is his patient. Haber also recognized that patients could have a good experience with his staff, but wind up unhappy over a billing snafu.
"Snail mail still accounts for most of the communication with patients," Haber said via email. "I've always believed in the most cutting-edge technology in dermatologic care, which is why I wanted to engage MedPilot to fully enhance my practice from a technology perspective. My patients and I have been incredibly pleased with the results so far."
The idea for MedPilot's software and algorithm sprang from Spoden's previous consulting work involving medical billing. Spoden saw that patient billing was an afterthought, so he wanted to bring artificial intelligence and machine learning to the problem.
There are competing companies focused only on patient collection, but MedPilot keeps its eye on improving patient experience.
"What differentiates us is the AI that we're using," Spoden said. "We're building a knowledge base on patient billing, and have something that can automatically communicate with patients on a provider's behalf."
The company launched in 2015, and signed up its first customers in 2017.
Spoden and Buder Shapiro shared a longtime dream of running a Cleveland-based startup. They recognized Cleveland's growing importance as a health care innovation hub. They knew they could find technical talent and clients here, but questioned how easily they could raise financial backing.
Their apprehensions on that score were unfounded. On Saturday, April 13, the company plans to announce a Series A round of fundraising, with a goal of between $3 ad $5 million in investments.
"We're trying to change the narrative that this is a terrible city to be in," Buder Shapiro said. "Clevelanders hear that narrative so much, they start to believe it."
Investors and tech talent are plentiful here, but the region lacks a large startup community that comes together informally and is willing to share resources, the men agreed.
"We just like to meet anyone we can. I wish more people did that," Spoden said. "I know in Palo Alto that's pretty normal. In New York, that's normal. In Cleveland, people are more like, that's my investor, don't talk to him."
In the future, MedPilot may add features that allow patients to see medical test results, ask a chatbot about health questions and receive a reminder via Facebook Messenger.
"We want to be the best communication engine in health care, and we're not going to stop until we get there," Buder Shapiro said.
Secretary of State candidate stops in Somerset - Commonwealth Journal's History
Posted: 09 Apr 2019 09:13 PM PDT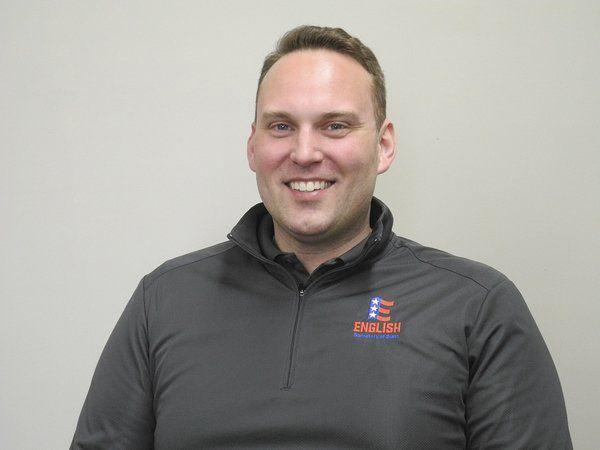 Andrew English feels that a real leader is needed as the commonwealth's next Secretary of State.
One of four candidates vying for the Republican nomination -- along with Michael Adams, Stephen Knipper and Carl Nett -- English believes his experiences make him the most qualified.
The Oldham County native spent Friday in Somerset as part of his campaign tour, introducing himself and listening to potential constituents.
English was prompted to run by concerns over the current state of the office now run by Alison Lundergan Grimes. Once considered a leading gubernatorial candidate, Grimes has more recently made news for investigations into alleged ethics violations.
Should English win next month's Primary, he won't be facing Grimes -- who's barred from running again after two terms. Heather French Henry, Jason Belcher, Jason Griffith and Geoff Sebesta are the Democrats running for Kentucky Secretary of State.
English had nothing specifically negative to say about any of them or his Republican opponents -- only that he encouraged to run by his wife rather than complain about the status of the office and candidates in the race.
"I feel like I'm the best candidate across the board," English said, citing his background as a lawyer with master's degrees in communications and public policy. "I'm someone who can understand the issues from every facet and every angle, and rebuild that office."
Though this race marks his first foray into the political arena, English said he's dedicated his adult life to public service.
"It's something that's been beaten into my head since I was a little kid; you give back," English said. "I want to make the world a better place."
The son of a football coach and school teacher, his first lessons in leadership and teamwork were on the football field. English played well enough to earn a football scholarship to Marshall University -- transferring to Hofstra University after breaking his collarbone. There he earned his bachelor's degree in Political Science and Communications as well as his first master's in Communications.
Upon graduation he worked for Commerce Secretary Jim Host during Governor Ernie Fletcher's tenure. "He's been a good mentor to me," English said of Host. "He taught me so much about leadership."
After that, English decided to earn a second Master's in Public Policy as well as his law degree from William and Mary, the first university and oldest law school in the United States. "I figured if it was good enough for Henry Clay, it was good enough for me," he joked.
During his second year there, English applied and was accepted into the United States Navy JAG (Judge Advocate General) Corps. He also clerked for then-Senator Jeff Sessions, who was ranking member of the Senate Judiciary Committee. It was there that he met his soon-to-be wife, Blaire Hammock.
After that, English was first assigned as a criminal defense attorney in Jacksonville, Florida, before being deployed to the Persian Gulf with the 24th Marine Expeditionary Unit aboard the USS Iwo Jima. The six-month deployment turned into nine, with English making it home just in time for his planned wedding.
English and his wife found themselves back in Washington DC, where English was assigned to be lead prosecutor at the Washington Navy Yard.
With hopes of starting a family, English left active duty and is now a Lt. Commander in the U.S. Navy Reserve. Returning to Kentucky, he joined the Justice and Public Safety Cabinet as general counsel -- managing a team of 48 lawyers, paralegals and investigators responsible for all the cabinet's legal matters (including departments like the Kentucky State Police, Department of Corrections, Department of Juvenile Justice, and Department of Criminal Justice Training). The staff, he noted, was larger than the Secretary of State's.
"I was honored to serve in that capacity," English said. "Then it came to the point where I saw the issues going on in Frankfort with the Secretary of State's office and I felt like it was time that we really needed a true leader to fix the problems."
Those problems, he said, include the number of Kentucky counties with more registered voters than citizens eligible to vote; no real voter ID law; and the office having diminished relationships with county clerks, local boards of elections and the state board of elections.
"You have to get somebody in there who's going to give the taxpayers and voters confidence in that office," English said.
English said he's met with 45 county clerks so far -- assuring them he will work "hand in glove" with them to ensure their voices are heard. "The message I'm hearing is that the current Secretary of State has dictated to people," he said. "I've always been a servant-leader. That's what the military has taught me, my educational background and working…My job is to help the clerks do their job.
"I know what works in Pulaski County doesn't work in Jefferson County or Lee County," English continued. "Each county is different. I'm a small government guy; I believe that government starts at the county or city level. That's where it should start."
To that end, English wants more balanced representation not just in terms of Republican and Democrat, but also urban and rural. He wants to be able to work directly with the legislature when it comes time for redistricting. In terms of elections, he said a strong leader can shepherd the state through the 2020 election cycle and ensure that everything is done properly in each county. He wants paper ballot backups throughout the state.
While the office may be more closely associated with elections, English is also interested in its economic duties. While he calls the Kentucky One Stop Business Portal good, he said we must continue to modernize with a better interactive portal and possibly mobile app capabilities.
"The Secretary of State's Office is the cradle of economic development in the commonwealth," he said of cutting red tape to register companies. "The Secretary of State is responsible for making this state as business-friendly as it can possibly be, being an advocate to draw business here. The Secretary of State needs to get out on that bully pulpit and preach the good word that is Kentucky."
ECi Announces Making Tax Digital for VAT-Compatible Software for Horizon and Progress Users - Associated Press
Posted: 08 Apr 2019 01:53 AM PDT
LINCOLN, England & FORT WORTH, Texas--(BUSINESS WIRE)--Apr 8, 2019--ECi Software Solutions, a leader in cloud-based business management solutions, today announced its new Making Tax Digital (MTD) portal for submitting VAT returns through the company's Horizon ®  office supplies software and Progress ®  business management software. This new portal and ECi's MTD software compatibility – which have been recognized by Her Majesty's Revenue and Customs (HMRC) – will enable all ECi U.K. customers to more easily comply with the government's Making Tax Digital for VAT initiative.
The Making Tax Digital for VAT initiative – which was first introduced in September 2017 – went into effect April 1, 2019. It requires that all businesses with a turnover above the VAT threshold of £85,000 keep digital records for VAT purposes only and provide their VAT return information to HMRC through MTD functional compatible software. To make this transition easier on customers, ECi has made their cloud software MTD-compatible and created an online portal that will support legacy customers with on-premise solutions. As a result, the company's software is now able to:
Keep records in a digital form as required by the regulations
Preserve digital records in a digital form as required by the regulations
Create a VAT return from the digital records held in functional compatible software and provide HMRC with this information digitally
Provide HMRC with VAT data on a voluntary basis
Receive information from HMRC via the API platform in relation to a relevant entity's compliance with obligations under the regulations
"ECi has been very proactive in sharing information with their customers about the preparations for Making Tax Digital for VAT, which has given us the confidence that we will be ready," said Jackie Meachen, financial controller at Heatons Office Solutions Limited – a Horizon customer.
"Making Tax Digital for VAT is an important U.K. government initiative that has caused worry for a vast majority of our U.K. customer base," said Dan Noble, product manager, ECi. "However, according to a recent study, applying digital solutions will enable small businesses with ten or more employees to earn an annual productivity gain of £18,000. That's why we've ensured our software is MTD-compatible and HMRC-recognized and will continue to update our offerings to help customers keep pace with evolving regulations."
About ECi
ECi Software Solutions provides industry-specific business software solutions and services, focusing on cloud-based technologies. For 30+ years, ECi has served small to medium-sized manufacturing, wholesale/retail distribution, building and construction, and field service organizations. Privately held, ECi is headquartered in Fort Worth, Texas, USA, with offices throughout the U.S., Canada, Mexico, England, the Netherlands, and Australia. For information, email info@ecisolutions.com, visit www.ECiSolutions.com or call (800) 959-3367.
All trademarks are the property of their respective owners.
View source version on businesswire.com:https://www.businesswire.com/news/home/20190408005143/en/
CONTACT: Traci Johnson, SVP Global Communications & Brand
800-959-3367 x23276
tjohnson@ecisolutions.com
KEYWORD: UNITED KINGDOM UNITED STATES EUROPE NORTH AMERICA TEXAS IRELAND
INDUSTRY KEYWORD: TECHNOLOGY DATA MANAGEMENT SOFTWARE PROFESSIONAL SERVICES FINANCE
SOURCE: ECi Software Solutions
Copyright Business Wire 2019.
PUB: 04/08/2019 04:00 AM/DISC: 04/08/2019 04:00 AM
http://www.businesswire.com/news/home/20190408005143/en
Governor Murphy Announces New Jersey Offshore Wind Supply Chain Registry - InsiderNJ
Posted: 09 Apr 2019 12:08 PM PDT
NEW YORK, N.Y. 
 – Speaking to a packed house of wind industry leaders at the IPF Supply Chain Conference, Governor Phil Murphy today announced the creation of a New Jersey Offshore Wind Supply Chain Registry. The registry, which will be developed as part of the New Jersey Economic Development Authority's (NJEDA) membership in the Business Network for Offshore Wind, will create a free online portal where investors exploring offshore wind-related projects in New Jersey will be able to find Jersey-based companies to partner with or purchase from.
"Developing a robust offshore wind industry is a key step to building a stronger, fairer New Jersey economy that provides good jobs and protects our environment for future generations," said Governor Murphy. "The offshore wind supply chain registry will facilitate the delivery of our offshore wind projects and ensure New Jersey companies are first in line for opportunities they create."
The NJEDA, through its Office of Economic Transformation (OET), has been working closely with the Board of Public Utilities (BPU) and other agencies on the Offshore Wind Task Force to expand New Jersey's offshore wind industry. A consistent challenge throughout this process has been the lack of a comprehensive list of New Jersey-based companies that established offshore wind companies can partner with or purchase from as they plan projects in the state. The Offshore Wind Supply Chain Registry will address this problem by helping to attract more offshore wind companies to New Jersey and create new opportunities for Jersey-based companies by integrating them into the offshore wind supply chain.
"Offshore wind is on the verge of becoming one of the biggest industries in the world, and New Jersey will be at the forefront of that trend," said NJBPU President Joseph L. Fiordaliso. "This is a once-in-a-generation opportunity for New Jersey businesses and workers, and our leaders throughout the state are working together to make sure we take full advantage of the benefits this industry can bring to the Garden State."
To expedite the development of the registry and ensure it is ready to support New Jersey's current 1,100 MW solicitation, the NJEDA is working with the Business Network for Offshore Wind, a 501(c)(3) organization dedicated to the development of a US offshore wind industry and its corresponding supply chain, to provide free access to the New Jersey portion of the Network's industry-reviewed supply chain registry.
"We are excited to work with the NJEDA to open New Jersey up to more offshore wind opportunities," said Liz Burdock, CEO & President of the Business Network for Offshore Wind. "Offshore wind is a rapidly-growing industry that will be a major economic driver for years to come. New Jersey's proactive approach to establishing this portal will set an example for the rest of the country of how to build a robust wind economy that benefits local businesses and workers."
The Network normally does not open its registry up to the public, but the partnership with the NJEDA will make the New Jersey-company portion of the registry publicly available for free through the NJEDA website. This will create a unique resource for offshore wind companies thinking of launching a supply chain project in New Jersey and will provide New Jersey-based companies with access to new partners in other states and in Europe.
"The lack of a comprehensive, searchable list of New Jersey-based offshore wind partners has been a consistent hurdle to unlocking offshore wind's full potential to create new jobs and grow our economy," said Brian Sabina, NJEDA Senior Vice President – OET. "The offshore wind supply chain registry will be a powerful tool for attracting major offshore wind projects to New Jersey and connecting New Jersey-based companies with new opportunities."
Sabina said that the NJEDA has set a goal of including more than 650 New Jersey-based companies in the registry by mid-August, in time for the next annual Time for Turbines event in Atlantic City. He added that the registry will be accepting sign-ups and giving demonstrations of the system at the Network's booth throughout the IPF conference and that the NJEDA will be launching a marketing campaign encouraging New Jersey businesses to participate in the registry over the coming months.
To access an early version of the portal please see www.njeda.com/offshorewind
To read Governor Murphy's full economic plan, please visit: https://nj.gov/economicplan
Travel APIs Revolutionizing Travel World Where Other Travel Technologies Just Can't Stand - Thrive Global
Posted: 09 Apr 2019 11:31 PM PDT
The past studies confirmed that almost every user used to visit the travel portal approximately 12 to 32 times for a single reservation. This was the real matter of concern for end users. Travelers these day desire to get everything at one corner. Earlier only a few websites were offering these things. They have modified the customer experience which ultimately smoother the service for average passenger.
With time travel companies gets more acceptable towards online services. Earlier they were not getting enough confidence for the same. Travel APIs is one of the efforts towards continuous services. Here are some of the listed travel APIs
Choose From Best Travel APIs And Know How They Act
In the field of travel technology, successful linking refers to Travel APIs. This interface enables fetching of information and various features among individual software. Travel API act as a Control panel for developers for the purpose of connecting different software.
What it implies for travel companies?
If a company involved in the hotel industry then due to Travel APIs they are able to merge it with other requirements as well. For example, the company can enable its customer to book a cab as well from the portal by combining a hotel booking engine with vehicle rental.
This thing helps the company in earning some commission and allow customer ease in booking. Travel APIs are becoming a crucial topic for Travel companies. Here are some significant Travel APIs
Amadeus And Sabre GDS APIs For Complete Flight And Hotel Reservation
The travel industry is the major sector which requires updated information in larger quantity. To perform the daily task it is necessary to process the right information. GDS is what which is resolving the information needs of travel businesses.GDS gathers and combines the travel-related information from several suppliers in a common database. It enables tour operators to book a flight, hire cars, and reserve hotel rooms, etc.
Now there is no need to link with individual service providers as Travel APIs are here. This also paves a way for uncomplicated booking procedure for the end user.
GDSs Mainly Concerned With Five Types Of Bookings
Flight
Hotel stay
Hire cab
Cruise and Ships
Train
There are some major GDS named Amadeus, Sabre, and Travelport, etc. Amadeus Sabre and Travelport are covering a huge section.
Amadeus APIs
Amadeus introduced their all-new website Amadeus for developers and withdraw their earlier collection of APIs. Earlier all the services at one place were not possible. The head of innovation program at Amadeus We asked Amadeus representatives for more detail. While some APIs are still in development, Fran Romero, Head of Open Innovation Programs at Amadeus seems very confident towards their latest interface.
The Amadeus API for development staff is produced to pace up the invention. It encourages unique approaches by allowing those who are at the peak of the travel business. The developers are in a position to locate Amadeus API integration apart from the instruments, sources, and assistance they require to develop and begin their applications immediately.
For the time being Amadeus API is served in two ways.
Self-Service APIs
The Self Service APIs launched as a replacement for Travel innovation sandbox. GDS was not trusted by businessmen earlier so they used Travel innovation sandbox for testing purpose only. It was not implemented for the development purpose. Later on, it was recognized by the company that it should be applied for corporate purpose as well. The self-service allow automatic entree to Production.
What can you perform with it?
Flights and ticket price exploration (involving  cheapest tickets, various scheduled stops, low-priced dates, and so on)
Hotel booking
Currently, the Self-Service APIs is taking care of Airline and Hotel industry only. But with the time there are chances that it may expand to other travel industry contributors.
Enterprise APIs.
The Enterprise APIs covers wider part than Self-Service APIs. This covers extra assistance:
Flight booking  
Railway booking
Hotel booking
Vehicle hire booking
Relocation
Ship booking
Travel insurance reservation
Utilities
Customer profiles
Both the type of Amadeus API consist of various APIs. The fact is that some of them are completely advisory such as flight ticket exploration or manageable timing prices.Remaining are for reservation purpose only.This thing enables the right flexibility in designing a plan for your offerings.
Sabre APIs
All the GDS renders quite similar functionalities. Sabre APIs allow same function as Amadeus APIs but it segment it into eight categories.
Flight booking
Land transports ( hired car, train)
Cruises booking
Hotel booking
Profiles
Trip management
Session management
Utility
Sabre APIs Integration is quite identical to Amadeus APIs. It does not allow travel insurance and transfer booking from the airport. If these are strictly needed in your case it is good to go for Amadeus APIs.
Travelport APIs
Travelport covers Galileo, Worldspan, and Apollo, etc. This Global distribution system has its individual name in the market of API. These GDS are merged into one Travelport Universal API. It is not like other GDS as the universal API comprises a pool of functionalities.
GDSs covers: Apollo, Worldspan, and Galileo
Flight Air API
Rail API
Travelport stay
Prices and secondary support
Customer profiles
For the time being Travelport is not offering Cruise API, Insurance API and transfer APIs. In that case, choosing Amadeus APIs is best as Sabre APIs also not provides the same.
This is a long time hurdle to select from various GDS APIs.You can differentiate GDS on the basis of market share and costing. The Sabre has a strong position in the US but it is lacking anywhere else. Amadeus GDS is influencing Europe market and losing strength in other countries.
GDSs provide general data for booking and reservations. However, if you need specific solutions like hotel booking or car rentals, it's worth looking at dedicated products.
Conclusion
GDS is crucial to the information needs of the travel sector.Although every GDS provides almost the same APIs still there are some APIs which are not available in the Sabre APIs and Travelport API. It is better to do some study before choosing a right GDS