---
Target's Online Marketplace To Compete With Amazon...And Other Small Business Tech News This Week - Forbes
Posted: 03 Mar 2019 04:00 AM PST
Here are five things in technology that happened this past week and how they affect your business. Did you miss them?
1 — Target takes exclusive approach for new online marketplace.
According to a new CNBC report, Target is slowly, cautiously opening up its website to third-party sellers with an invitation-only Target+ initiative. The company is being very selective about who it invites and has been testing the waters with companies who were chosen based on 'what people are searching for,' according to Target's marketing and digital boss. These include sporting goods retailer Mizuno, educational toy maker Kaplan, and keyboard giant Casio. (Source: CNET)
Why this is important for your business:
If successful, Target's approach could potentially rival Amazon, eBay and Alibaba and provide yet another platform where businesses of all sizes can sell their products and reach new audiences.
2 — Microsoft is pitching its most futuristic technology to businesses instead of trying to wow consumers.
Last weekend, at the Mobile World Congress—a mobile trade show in Barcelona—Microsoft did not focus on fancy new phones for consumers but instead took its most futuristic technology and showed how it could be used to make businesses more productive. Microsoft also introduced its HoloLens 2 augmented reality device, which has been vastly improved over its previous version and will sell for about $3,500. (Source: CNBC)
Why this is important for your business:
As I wrote here I believe the HoloLens 2 will have a significant impact on businesses with uses ranging from Troubleshooting, inspecting, maintaining and fixing machinery on the floor using interactive guides, pointers and diagrams to treating people or animals onsite during an emergency where the medical technician is given immediate visual instructions or is acting as the eyes and ears for a more experienced doctor who's located potentially thousands of miles away.
3 — Half of C-level execs say blockchain will change how their tech firms do business.
A new KPMG survey shows that almost half (48%) of IT executives believe blockchain will change the way their companies do business over the next three years. Respondents also said that the biggest benefit of blockchain is improved business efficiency, and 41% percent said they're 'likely' or 'very likely' to implement blockchain in the next three years. (Source: Computer World)
Why this is important for your business:
In the survey, the execs said they believe the greatest disruption from blockchain adoption will be in Internet of Things, where it's expected to help track software upgrades, product refills, and product warranties. Look for many new applications of this applications to be available for your business in the coming years. It's worth understanding all that blockchain does.
4 — Lenovo's smallest and best-selling ThinkPad laptops get refreshed for 2019.
This week, Lenovo has announced some largely incremental updates to its more affordable IdeaPad laptops and its ThinkPad X and T series. Since the models under $1,000 are what most consumers buy, Lenovo is now trying to bring some of its more premium features to these lower-priced models. For example, the company's updated IdeaPad S540 now includes Intel's 8th Gen Core i7 processors or AMD's Ryzen 7 3700U processors and an option for Nvidia's GeForce GTX 1050 discrete graphics card. Lenovo will launch three versions in April and June: a 14-inch Intel model starting at $879.99, a 15-inch model at $849.99, and a 14-inch AMD variant starting at $729.99. (Source: The Verge)
Why this is important for your business:
I've found ThinkPads to be extremely reliable and durable which is why they make up most of the laptops we buy.
5— Robots at Work: meet the non-engineer who automated his small business.
Curtis Lucas, owner of Alaska Professional Janitorial (APJ), a commercial janitorial business, is an example of how automation is impacting small and mid-sized businesses—and how accessible automation technology is becoming, even to non-engineers. After having trouble finding employees to do cleaning, Lucas decided to design a robot for the job and found easily available, affordable sonic sensors, microprocessors for software architecture, and motors and motor controllers to construct the robot. He did most of the coding himself but hired someone to improve on his work and develop the app to run the robot. (Source: ZDNet)
Why this is important for your business:
If some dude in Alaska is easily building robots how long will it be until these machines truly overtake the world?  Answer: not as long as some people think!
Gene Marks is a CPA and owns The Marks Group PC, a technology consulting firm based near Philadelphia.
Mattress sales bounce between stores and online buyers - Leader-Telegram
Posted: 02 Mar 2019 10:15 PM PST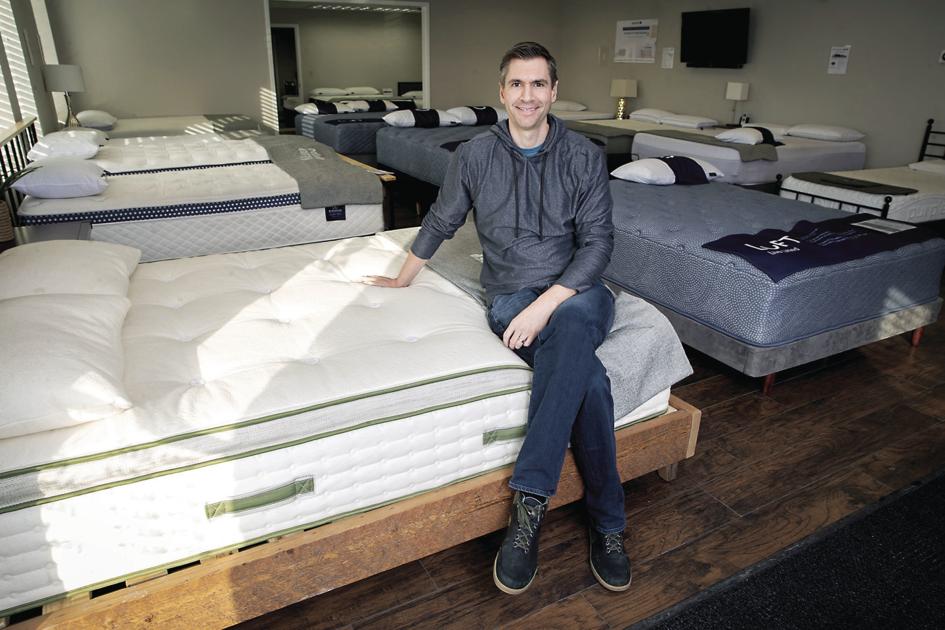 The number of Americans who shop online for mattresses — one of the most personal and expensive possessions in a home — continues to grow and reshape the business of selling them.
In the past three years, sales of mattresses purchased online bounced from virtually nothing to nearly 20 percent of the U.S. market. Consumer Reports is marking the shift with its March issue, in which most of the mattresses reviewed are brands chiefly sold online.
The fortunes of two retailers illustrate the change.
Ben Trapskin three years ago opened Sleep Sherpa in Edina, Minn., as a showroom for mattress brands that are mainly sold online. Last year, he opened a second store in Chicago, and he's considering a new one on the east side of the Twin Cities.
Meanwhile, Dave Smittkamp of Mattress Liquidators in West St. Paul has decided to quit the retail mattress business after 30 years.
"The internet has made our job a lot tougher," he said. "With free delivery and free returns for 100 days for online mattresses, what does a customer have to lose?"
Kenny Larson, president of Slumberland, based in Little Canada, Minn., said the online-based retailers have succeeded in changing purchase habits on mattresses away from try-it-before-you-buy-it.
"What's changed isn't the foam mattress," Larson said, referring to the mattress style that online-based sellers chiefly offer. "Those have been around for years. It's the way consumers want to get the product; either pick it up from the store or order it online and have it delivered."
And yet, the rate of growth for online-based mattress makers has slowed down and some of the best-funded of them have started forging deals with retailers or even creating their own outlets.
"Online retailers such as Casper, Warby Parker and even Amazon have discovered that to grow the market, they need to appeal to both online and store shoppers," said Brian Yarbrough, an analyst at Edward Jones.
Casper announced last year that it plans to open 200 stores in three years. It also has a distribution agreement with Target. In January, Nectar announced plans to be in 250 Mattress Warehouse stores on the East Coast.
Entrepreneurs such as Trapskin of Sleep Sherpa are pushing a new model that's more educational than self-promotional. And it's working.
"We broke even in 2017 and we were definitely profitable in 2018," Trapskin said. "We saw sales increases of 50 percent last year in the store and 30 percent on Sleepsherpa.com."
He started his business after blogging about the pros and cons of mattresses he tried. Eventually, companies started sending him mattresses to test, so Trapskin wondered if other consumers would want to try several mattresses in a showroom without having to order and possibly return them.
Sherry Bloom of Medina, Minn., has bought several mattresses for her residence and vacation home in the past few years. She remembers the moment when she realized that buying a mattress at Sleep Sherpa was different.
"We told the salesman that we kind of liked this one mattress and he said, 'You may also want to try this one over here. It's cheaper,'" she said. "The whole process seemed more honest. The salesman wasn't pushy at all."
In the recent past, most customers would place mattress orders online with the mattress-maker, which would ship it directly to the customer. Now Trapskin is keeping some reserve stock of the most popular sellers so customers can grab and go.
Since Trapskin opened Sleep Sherpa, a retailer in New York City has opened a similar business with even bigger plans to expand.
Roy Yosef started SleePare six months ago to help customers become more educated about getting a good night's sleep.
"We are both educating consumers on a product that can involve a lot of research," Yosef said. "We want to have as many locations as Mattress Firm."
Retail analysts expect more fallout among the 200 online mattress sites and 9,000 store locations as the market shifts. Last year, Mattress Firm announced plans to close up to 700 of its 3,200 stores.
At Mattress Liquidators, Smittkamp sells overstocks and scratch-and-dent queen mattresses for $300 to $600. He even sells one online brand, Saatva. A queen-size Saatva mattress costs $500 to $600 in his store, down from their online price of $1,100 to $1,300.
But even at those prices, they have become difficult to sell.
"People want really low-end queen-sized mattresses for $100 to $250 or high-end for more than $1,500. It's difficult to sell in the $300 to $500 range now," Smittkamp said.
Employees acquire Art's Cyclery, exit online business to focus on local customers - Bicycle Retailer
Posted: 28 Feb 2019 02:55 PM PST
SAN LUIS OBISPO, Calif. (BRAIN) — A trio of employees has purchased brick-and-mortar and online retailer Art's Cyclery and has wound down the e-commerce business in favor of focusing on local customers at its new location on California's Central Coast.
About 10 years ago, previous owners of Art's Cyclery had partnered with Sports Warehouse, which operates e-commerce businesses in activities including tennis, running and skate, to take the shop online and scale up its e-commerce business. Those sales quickly grew to become nearly 80 percent of overall sales at its peak, with as many 30 employees. But Sports Warehouse acquired Art's two years ago as the online business struggled, said Trevor Roland, who acquired Art's last summer along with partners Jon Whisenand and Josh Job. The three have all worked at Art's for several years.
"We were moving a bunch of stuff, but we had price matching policies, we did free shipping — all the things the other online retailers were doing. But we just weren't doing the quantities to be profitable. Initially, I think we saw a lot of new sales and growth, and we had hoped the margin would go up as we got more efficient and dialed in. But the online bike game just wasn't working in our favor. Having to price match Chain Reaction and all those other big companies was really hard for us," Roland said.
"That was a low point in the business on the local level just because the faces of company were gone. The local vibe just went south. They did that for a couple years, and the company still wasn't very healthy, so they decided to sell the company. All of us who worked there knew that online wasn't working, but that local stuff like we had done in the past could do well. So we went ahead and made an offer, and we moved in October," Roland said.
The partners moved the business out of Sports Warehouse's vast warehouse facility in San Luis Obispo to a 4,000-square-foot storefront with room for offices, storage and a retail sales floor covering about 2,500 square feet.
In the last year under Sports Warehouse's ownership, Art's had focused on the mountain bike market, but the new owners are now bringing in more road inventory to serve those customers. They've also dialed back the numbers of brands they carry and are focusing their buying on products suited to local riding conditions.
"We want to carry the things that all of us would buy if we were customers," Roland said. "We have a really unique area. Tires you run here are different from what you'd run on the East Coast."
The shop has also been ramping up group rides, including a regular women's MTB ride starting from the shop with coffee and snacks, and local events like movie premieres and trail work days with local advocates.
"That's been the coolest part about this. We have the freedom to do those things now," Roland said. "Local stuff is where we want to be."
Best Dropshipping Products to Sell Online - Small Business Trends
Posted: 02 Mar 2019 06:00 AM PST
Selling things online can be a fantastic way to make an income, work from the luxury of your own home, be your own boss and improve your work/life balance, providing you've got the right product.
If you're looking for an effective way to make a decent profit by selling items online, then look no further than using the dropshipping approach to ecommerce.
---
---
What is Dropshipping
Dropshipping is the name given to an ecommerce model which enables retailers to purchase products individually from wholesalers, who ship them directly to their customers. Rather than having to fork out hundreds of dollars of large amounts of inventory, retailers simply partner with a drop shipping supplier and list their products for sale.
Entrepreneurs can therefore sell items online without having to carry any inventory.
Naturally, some dropshipping products work better than others, and if you want to optimize the success of a dropshipping business, you'll need to sell the right products.
Best Dropshipping Products
To give you a head start, take a look at the following ten best dropshipping products to sell online.
Athleisure
From sports bras to sweatpants, headbands to tank tops, athleisure is a genre of clothing consumers can't seem to get enough of. As well as being high in demand, this popular type of leisure/sports wear provides dropshipping businesses with the opportunity to either start their own standalone athleisure store or sell these items alongside a broader fashion or sports ecommerce store.
Anti-Aging Cream
Nobody can cling on to eternally youthful looks but there is a wealth of products out there that promise to prolong the aging process. By selling anti-aging creams online directly from the wholesalers, you can capitalize on a market that is expected to surpass $330 billion in 2021.
Photos
Photos remain a top product to sell online, with a staggering 70 million photos, illustrations and vectors being sold on Shutterstock. Exploit the high demand for quality, unique and compelling photography and images by starting your own dropshipping photography business.
Phone Accessories
From cases to chargers, earphones to power banks, mobile phone accessories are almost as essential as mobile phones are in day-to-day life. The rapid increase in sales of mobile phone accessories and being able to purchase them from wholesalers and sell them on at an inflated price, means such products are one of the best items to dropship online.
Smoothie Blenders
As we become increasingly health conscious, products like smoothie blenders that promote healthy eating and living are in high demand. Buying these popular items directly from the wholesalers, presents an opportunity to make money selling them online.
Shapewear
By 2022, the shapewear market is expected to reach an incredible $5.6 billion In sales. Given the prolific demand for undergarments designed to temporarily alter the wearer's shape, shapewear is a lucrative dropshipping product to sell online.
Travel Accessories
Traveler-focused gadgets and accessories are also in high demand with the likes of travel pillows, rucksacks, digital hanging luggage scales and passport covers being best-selling products on Amazon. Take advantage of growing 'digital-nomad' lifestyles and the rising demand for innovative and convenient travel accessories by selling dropshipping travel items online.
Posture Correction Belts
With more and more people working remotely from their own desks and a greater emphasis on creating a healthy lifestyle at work, posture correction belts have become a sought-after product and consequently are a good dropshipping product to sell. These popular items are inexpensive to buy from wholesalers meaning you make tidy profit selling them from your own ecommerce store.
Smartwatches
Approximately 1.2 billion watches are sold around the world each year, with high-tech, minimalist smartwatches being at the forefront in global watch sales. These small, light and highly sought-after products make a great choice of item to sell as a dropshipping merchant.
Teeth Whitening Kits
We all have teeth and most of us want white teeth, hence the demand for teeth whitening kits that significantly improve the appearance of our smiles. Research shows the global demand for teeth whitening products is expected to reach $7.4 billion by 2024, making it a great product to sell online.
Image: DepositPhotos.com
---