---
5G's Potential, and Why Businesses Should Start Preparing for It - HBR.org Daily
Posted: 05 Mar 2019 09:12 AM PST
Executive Summary
A new Accenture survey of nearly 2,000 technology and business executives in 10 countries revealed deep uncertainty about next-generation mobile network technology, known as 5G. More than half don't expect the technology will enable them to do much that they can't already do. This suggest many business leaders neither understand the technology nor its disruptive potential. 5G, when fully implemented, is poised to be a very big deal, a far bigger transformation in mobile technology than any previous generational shift. Its speed, capacity, and dramatically reduced power consumption and communications response times, or "latency," will make possible an astonishing range of innovative new products and services. If incumbent businesses don't pick up the pace in preparing for 5G, the resulting gaps will inevitably attract new entrants and start-ups, unleashing the kind of sudden disruptions that have unsettled mature industries in the past.
A new Accenture survey of nearly 2,000 technology and business executives in 10 countries revealed deep uncertainty about next-generation mobile network technology, known as 5G. Few of those surveyed, for example, believe industry predictions about the dramatically improved speeds of 5G networks. And more than half don't expect the technology will enable them to do much that they can't already do. Nearly three-quarters said they need help imagining 5G use cases.
These findings suggest that many business leaders neither understand the technology nor its disruptive potential. 5G, when fully implemented, is poised to be a very big deal, a far bigger transformation in mobile technology than any previous generational shift. Its speed, capacity, and dramatically reduced power consumption and communications response times, or "latency," will make possible an astonishing range of innovative new products and services. The economic and social benefits could be enormous.
5G networks rely on much smaller, but more densely-deployed, antennae, most attached not to giant cell towers but to existing buildings, light poles, and other physical infrastructure. By packing or "densifying" the network, signals will be carried faster and more reliably, with bandwidth measured not in megabits but rather in gigabits per second. Early tests suggest that 5G networks will be as much as 100 times faster than today's mobile technology.
Part of the disconnect in company leaders' perceptions is no doubt the result of early marketing, with some carriers already offering "5G" products before the full technical specification has yet to be completed. Wall Street and others have expressed skepticism, unsure of where the true value of 5G will come from, and who will profit from it (more on that in a moment).
In fact, these remarkable technical features will allow next-generation networks to compete head-on with wired broadband systems, including those built with today's fastest fiber-optic technology.
More to the point, 5G's revolutionary technology will also make possible the kind of disruptive applications that usually leave both investors and users salivating. So why the gap between 5G's possibilities and the lack of urgency and understanding among the executives in our survey?
The answer, we think, is that much of 5G's biggest impact will be diffused across a range of industries and user communities, making its future value both difficult to see and hard to measure.
Our forthcoming book, Pivot to the Future, finds that similar mismatches between the potential of new technologies and their actual, realized benefits are growing, including with artificial intelligence and quantum computing. Most senior executives we surveyed are looking at these technologies through the lens of incremental improvements to today's business, rather than imagining how they could be used to reshape industries and, even more broadly, how they could be applied in the search for solutions to broader social problems, including the environment, poverty, and health care.
This is largely due to the limitations of conventional business thinking. When new innovations disrupt multiple industries or make possible applications that serve new groups of customers (including those who may be un- or under-served today), traditional approaches to strategy and planning underestimate their real impact, leading to delayed investment and missed opportunities.
These failures accumulate in the form of unrealized gains for enterprises, industries, consumers and society as a whole — what we call "trapped value."
To take just one example, 5G networks will supercharge the nascent Internet of Things, where everyday devices become connected, sending and receiving data to highly-local networks and from there in secured form throughout the cloud, including to service providers and device manufacturers.
Where today's IoT offerings, including connected doorbells and thermostats, are often simple and sometimes even gimmicky, a fully connected residence will generate tremendous benefit, especially to aging baby boomers who hope to stay in their homes as long as possible.
With sensors that monitor, and devices that assist, everything from mobility to medication, seniors will be able to age in place at much higher rates, and for longer.  Connected robots, 3D-printed prosthetics, and tele-health services, likewise, will all play a part in the house of the future.  To work together, truly smart homes will need 5G's capacity, reliability, energy efficiency and low latency. (We'll also need better answers to a growing list of questions about user data collection and use.)
That kind of use case could release tremendous trapped value we'll all share, including the potential for reduced health care costs, improved quality of life, and more diverse and inclusive communities. But because the industries affected and the users benefiting most from these applications are so diffused, few businesses today, including the network operators themselves, can see the value gap that is growing larger every day.
To take a second example, consider the profound impact of smart vehicles, connected roads, and other infrastructure.  A 2017 study by Accenture Strategy estimated that smart city applications made possible by 5G networks could create three million new jobs and contribute $500 billion to U.S. GDP over the next seven years, releasing value trapped in the form of productivity lost today to time wasted in traffic and reduced pollution from vehicles traveling more efficiently in "platoons."
Those kinds of benefits, though large, are difficult to calculate in a typical strategy exercise. Even more challenging to factor in is one of the greatest hopes for smart transportation: a dramatic reduction in vehicle fatalities. In the U.S. alone, just a 10% decline in roadway deaths would translate to 4,000 lives saved every year. While we have a way to go before autonomous driving technology is available at such a scale, that kind of positive change would impact everything from insurance to vehicle design, releasing trapped value that would be difficult to overestimate.
Beyond smart homes and cities, the speed, capacity, and reliability of 5G networks will accelerate new innovations in equally-impressive ways elsewhere. Agriculture, for example, could become substantially more efficient from connected sensors in the ground, drones patrolling crops, and integrated weather tracking technology. Mobile entertainment also stands to be enhanced by 5G's speed, and in particular its reduced latency, to offer ever-higher-quality video, supplemented with new types of interactions from augmented and virtual reality.
There's no shortage of predictions about the potential for 5G networks. But like many new technologies, and as our survey makes clear, there's also a great deal of uncertainty about the when, how, where and who. Full 5G deployment may be five years away–maybe more depending on how regulators and local governments respond to both the opportunities and challenges. The applications we've identified may come sooner or later, along with the many that haven't even been thought of yet.
Still, if incumbent businesses don't pick up the pace in preparing for 5G, the resulting gaps will inevitably attract new entrants and start-ups, unleashing the kind of sudden disruptions that have unsettled mature industries including entertainment (iTunes and Netflix), transportation (Uber and Lyft), and manufacturing (3D printing), to name a few.
That's why we recommend an aggressive but measured approach to planning for and investing in 5G today. It makes little sense for companies in affected industries (increasingly, all of them) to bet on one particular technology or application.  But at the same time, the old approach of waiting for new 5G-powered markets to emerge and jumping in later as a so-called "fast follower" won't work either.
That's because even when disruptors are slow to gain traction, once they do, the race to profit is often over as soon as it starts. If you weren't already warmed up and on the starting line, your chances of winning will be virtually zero.
What's more, many of the new applications 5G technology makes possible will be nurtured by interconnected ecosystems that cross traditional supply chain and industry borders. Any hope of capturing even a fraction of the value 5G will ultimately release will require early and sustained intervention, perhaps in the form of industry consortia, along with a balanced portfolio of corporate venture funding.  The time is now to begin identifying partners, and experimenting with new forms of collaboration and co-investment.
You need to keep improving on today's business, while keeping a closer watch on how 5G markets emerge.  That's the only way to be ready to scale rapidly with new offerings as the unknowns dissolve over time.
In the Middle of His Official Business, Trump Took the Time to Send Checks to Michael Cohen - The New York Times
Posted: 05 Mar 2019 05:37 PM PST
WASHINGTON — On a busy day at the White House, President Trump hosted senators to talk about tax cuts, accused a Democratic congresswoman of distorting his condolence call to a soldier's widow and suffered another court defeat for his travel ban targeting Muslim countries.
And at some point on Wednesday, Oct. 18, 2017, Mr. Trump took the time to sign a $35,000 check to his lawyer, who had made hush payments to prevent alleged sexual misconduct from being exposed before the 2016 presidential election. It was one of 11 occasions that Mr. Trump or his trust cut such checks, six of which were provided this week to The New York Times.
At the heart of last week's congressional testimony by Michael D. Cohen, Mr. Trump's former lawyer, was the sensational accusation that the sitting president of the United States financed an illegal cover-up from inside the White House. The dates on the newly available checks shed light on the parallel lives Mr. Trump was living by this account — at once managing affairs of state while quietly paying the price of keeping his personal secrets out of the public eye.
The president hosted a foreign leader in the Oval Office, then wrote a check. He haggled over legislation, then wrote a check. He traveled abroad, then wrote a check. On the same day he reportedly pressured the F.B.I. director to drop an investigation into a former aide, the president's trust issued a check to Mr. Cohen in furtherance of what federal prosecutors have called a criminal scheme to violate campaign finance laws at the direction of Mr. Trump.
The White House on Tuesday referred questions about the payments to Mr. Trump's private lawyers. Jay Sekulow, one of the president's personal lawyers, had no comment and a lawyer for the Trump Organization declined to discuss the matter.
Other defenders of the president said that the checks proved only that Mr. Trump paid his personal lawyer, not that he necessarily knew the money was meant to reimburse Mr. Cohen for hush payments to Stormy Daniels, the pornographic film actress who has claimed to have had an extramarital affair with Mr. Trump. The president has denied the affair.
"I think it's news we knew about," Representative Jim Jordan of Ohio, the ranking Republican on the House Oversight and Reform Committee and one of the president's staunchest allies, told reporters during a break in last week's hearing. The payments, he said, could have been for services based on a retainer, although Mr. Cohen said there was no such retainer.
The president's critics said that the checks, mostly with Mr. Trump's distinctive up-and-down signature, in fact bolster the prosecutors' conclusion about his involvement in the scheme. Mr. Cohen has pleaded guilty to violating campaign finance laws as well as lying to Congress and faces three years in prison starting in the spring.
"The $35,000 is an indication of the quality of that evidence, and it both shows the extent of Trump's leading role and now leaves little doubt that he faces criminal prosecution after he leaves office for the same offenses for which Cohen will serve time," said Robert F. Bauer, a law professor at New York University and former White House counsel for President Barack Obama.
Indeed, some people close to Mr. Trump have privately predicted that he will ultimately choose to seek a second term in part because of his legal exposure if he is not president. While there is no legal consensus on the matter, Justice Department policy says that a president cannot be indicted while in office.
The checks to Mr. Cohen were sent on a more or less monthly basis throughout 2017, Mr. Trump's first year in office. Mr. Cohen provided two checks to the House committee last week and his lawyer, Lanny J. Davis, provided the additional six checks to The Times this week. Mr. Cohen's team said it was searching for three others.
Of the eight checks now available, seven were for $35,000 and another was for $70,000 to cover two months' worth of payments. Six were signed by Mr. Trump himself while he was president and the other two were signed by his eldest son, Donald Trump Jr., and his company's chief financial officer, Allen Weisselberg.
Altogether, Mr. Trump or his trust paid Mr. Cohen $420,000, according to federal prosecutors. Of that, $130,000 was to reimburse payments made shortly before the 2016 election to Ms. Daniels, whose legal name is Stephanie Clifford, so she would not tell her story. Another $50,000 was for Mr. Cohen's effort to manipulate online polls to inflate Mr. Trump's reputation as a businessman.
That $180,000 was then "grossed up" with another $180,000 to offset taxes that Mr. Cohen would have to pay on the original money since it was being treated as income. Another $60,000 was added as a "bonus," prosecutors have said.
Mr. Trump has offered conflicting accounts about the matter. Speaking to reporters on Air Force One in April 2018, he said he did not know about the payment to Ms. Daniels. But a month later, his lawyer, Rudolph W. Giuliani, hoping to refute the suggestion that it might be a campaign finance violation, told Fox News and The Times that the president had in fact reimbursed Mr. Cohen for the payment.
Citing Mr. Cohen and other evidence, prosecutors from the Southern District of New York said in court papers that Mr. Trump directed the scheme, essentially making him an unindicted co-conspirator.
"We're talking about a felony committed by the president of the United States where there's no dispute," said Mr. Davis, the lawyer for Mr. Cohen.
People close to Mr. Trump have suggested that he may not have been aware of what Mr. Cohen was doing in real time, despite an audiotape that Mr. Cohen recorded of him discussing with Mr. Trump payments that The National Enquirer had made to a second woman who claimed to have had an affair with the candidate.
A person close to Mr. Trump said that he may have believed the checks were payment for general legal fees, but may not have known why. The president's associates stressed that the payment to Mr. Cohen was one of several he made privately each month.
Mr. Davis scoffed at that. "You denied the Stormy Daniels affair and that was a lie," he said. "Now you're denying that you knew about this payoff and reimbursement that Giuliani says you knew about. So your claim of ignorance doesn't have any credibility."
One person who without question was involved, according to multiple people briefed on the events, was Mr. Weisselberg, the Trump Organization chief financial officer. Mr. Cohen told Mr. Weisselberg about the $130,000 wire transfer to Ms. Daniels. Mr. Weisselberg suggested repaying it in installments and told Mr. Cohen to send invoices once a month, according to the people.
By Mr. Cohen's account, the checks began in February 2017, just weeks after Mr. Trump was inaugurated as president. When Mr. Cohen visited the Oval Office for the first time, he said, Mr. Trump raised the issue of the hush payments in the same room that symbolized the United States' seat of power.
"Don't worry, Michael, your January and February reimbursement checks are coming," he quoted Mr. Trump telling him. "They were FedExed from New York and it takes a while for that to get through the White House system."
The first check was signed Feb. 14, 2017, for $70,000 to cover both January and February. It was issued by the president's trust and signed by Mr. Weisselberg and Donald Trump Jr.
The payment came at a fraught moment in the president's early weeks, just a day after he forced his national security adviser, Michael T. Flynn, to resign for lying about his contacts with Russia. On the same day the check to Mr. Cohen was signed, Mr. Trump pulled aside James B. Comey, then the F.B.I. director, and suggested "letting Flynn go," according to a contemporaneous memo by Mr. Comey.
The next check, for $35,000, came from the trust on March 17, even as the president hosted Chancellor Angela Merkel of Germany in the Oval Office and aides were grappling with a firestorm over unfounded assertions aired by the White House that the British had spied on Mr. Trump when he was a candidate.
A check for April has not been located; Mr. Cohen's records were seized by federal agents. But after the initial payments, Mr. Trump was instructed that he should write Mr. Cohen checks from his personal checking account instead of the trust. It is not clear why he was told this, but in so doing, he removed his son's name from future checks.
On May 23, the president signed a personal check on the same day he was overseas meeting with Prime Minister Benjamin Netanyahu of Israel in Jerusalem and President Mahmoud Abbas of the Palestinian Authority in Bethlehem, before flying that night to Rome.
Checks for June and July have also not been located. The next one, on Aug. 1, came as Mr. Trump invited small business owners to the White House and an aide confirmed that the president had dictated a misleading statement about a 2016 meeting that his campaign team held with Russians.
On Sept. 12, Mr. Trump hosted the prime minister of Malaysia even as his press secretary, Sarah Huckabee Sanders, was telling reporters that the Justice Department should "certainly look at" prosecuting Mr. Comey. Mr. Trump signed another $35,000 check that day.
After the Oct. 18 check came one on Nov. 21, just two days before Thanksgiving when Mr. Trump pardoned a turkey, saying, "I feel so good about myself," and then defended Roy S. Moore, the Republican Senate candidate in Alabama who had been accused of sexual misconduct with teenage girls. Mr. Trump also spoke by telephone that day with President Vladimir V. Putin of Russia.
The last check made public was signed on Dec. 5, the same day that Mr. Trump called Mr. Netanyahu, Mr. Abbas and Arab leaders to tell them that he had decided to move the American Embassy to Jerusalem.
DEGC, Detroit Experience Factory to host women-owned business tours March 8 - Crain's Detroit Business
Posted: 05 Mar 2019 06:00 PM PST
In celebration of International Women's Day on March 8, the Detroit Economic Growth Corp. will host two women-owned business walking tours alongside tour operator Detroit Experience Factory in Detroit.
The walking tours, which both last two hours, will take shoppers through the Corktown, New Center and Midtown areas to hear female entrepreneurs share their experiences in the Detroit small business ecosystem.
The first tour starts at 1 p.m. at clothing store Ferne Boutique, 6529 Woodward Ave., and will take shoppers through the New Center and Midtown areas. Other stops include home decor store Urbanum, clothing stores Frida, Peacock Room and Nora, as well as indie bookstore Source Booksellers. Tickets are $10 and can be purchased here.
Laura Horwath, owner of Ferne Boutique in New Center, said she wanted to create a collective way to promote women-owned businesses in Detroit on International Women's Day.
She started compiling a list and created a website called womenindetroit.com, which boasts more than 100 women-owned businesses, and brought the idea to the DEGC.
"It's so great to find reasons to collaborate ... to do things to help each other is what I found to be successful," Horwath said.
Horwath said she decided to establish her first store in Bay City in August 2015 because there was a void in the area for stylish pieces for women between the ages of 20 and 40.
She decided to expand to the New Center area last September once she realized she did not want to miss out on the city's revitalization efforts. Her business received a $10,000 Motor City Match grant from the program's 10th round in January.
The second walking tour begins at 4 p.m. at the bodega-style market The Farmer's Hand,1701 Trumbull Ave. Other participating businesses on the tour's schedule include vintage and resale boutique Mama Coo's Boutique, Corktown boutique ElDorado General Store, men's clothing store George Gregory and hand-dyed women's clothing store Brightly Twisted. Tickets are $10 and can be purchased here.
8 Things You Need to Know Before Starting a Business - Entrepreneur
Posted: 05 Mar 2019 10:00 AM PST
Bluemercury's Marla Beck and other successful founders share their advice for aspiring entrepreneurs.
7 min read
Opinions expressed by Entrepreneur contributors are their own.
Nothing can fully prepare you for starting your own business—but you can learn from others who've been there. We asked eight founders and Advisors in The Oracles what they wish they'd known when they were starting out. Here's what they said.
1. Realize entrepreneurship is a marathon.
Marla Beck
Image credit: The Oracles
The Nasdaq crashed one year after we started Bluemercury. For a year and a half, there was no way to raise venture capital and we had to figure out how to build our business with revenue and cash flow. Now the company has been through two recessions.
Many entrepreneurs focus on how they can exit their business in a few years. But things are always changing, and life rarely works out like you plan. Instead, focus on building a great company for the long term. Remember, entrepreneurship is a marathon, not a sprint. —Marla Beck, co-founder and CEO of Bluemercury, which was acquired by Macy's for $210 million; creator of M-61 Skincare and Lune+Aster cosmetics
2. Ensure there is a demand for your product or service.
Matt Mead
Image credit: The Oracles
Entrepreneurship requires working harder and learning more about yourself than you can imagine. It has lucrative rewards — but no guarantees. When things get intense, you're running out of cash, and you want to quit, remember that sales may not cure all issues, but you can't cure the issues without sales.
Companies that thrive focus on being consistently profitable so they can withstand unforeseen events like economic downturns. Before you start a business, do your research, know your numbers, and be certain there's a market and demand for your product or service. Every sale should be profitable, ideally by 50 percent. Then you'll have money to hire A-list players so you can focus on the work you want to do. Document everything and build systems as you go, so anyone could do your job tomorrow. But first, learn how to sell! —Matt Mead, founder and CEO of Mead Technology Group, EpekData, and BrandLync
3. Know you won't get it right the first time.
Joshua Harris
Image credit: The Oracles
Don't dwell in information-gathering mode. The only way to progress is to actually do it — take action immediately. Then you must be quick on your feet, analyze the results, and make changes if needed. You're probably not going to get it right the first time — or even the second or third. But if you're nimble, you can pivot.
Avoid heavy overhead. Look for ways to make cash quickly and get paid upfront. The more cash you have, the more you're able to take calculated risks — which you need to do. You can't have an upside without a downside. Invest in yourself and have confidence that you will deliver. When you "fail," consider it feedback. Each time you test a theory in the real world, you'll get feedback that shows you how to improve. The only way you'll actually fail is if you give up. —Joshua Harris, founder of Agency Growth Secrets; teaches entrepreneurs how to start, grow, and scale marketing agencies that help businesses grow
4. Be patient and make sure you have adequate funding.
Guy Sheetrit
Image credit: The Oracles
Anyone starting a new business should fully understand the timeline and funding needed to survive the startup phase. I wish I had understood how long it would take to get to a revenue level that would allow my business to thrive and grow.
Nearly half of all small businesses that fail didn't have adequate funding. Plan on it taking longer than expected to generate a profit, and make sure you have a backup funding source. Every startup's timeline to profitability is different, and failure is always a possibility. But if you have adequate funding, you dramatically reduce the chances of failure. —Guy Sheetrit, CEO of Over The Top SEO, who provides customized SEO marketing solutions for e-commerce, local, and Fortune 500 companies
5. Understand your target audience.
David Newman
Image credit: The Oracles
Many entrepreneurs focus so much on marketing and selling that they neglect to deeply understand exactly what their clients want to achieve or solve. Profitable companies know their customers better than they know themselves. They sell the value, impact, and results their customers want to buy.
Become a student of the game. Don't wing it or assume you already know the answers. Plan a listening campaign to understand your target audience's problems and dreams. It's never too late to pivot, expand, or adjust what you sell to exactly what your clients desire and demand. When you do that, you become that rare company whose products don't need to be sold — they're just bought. —David Newman, best-selling author of "Do It! Marketing" and creator of the Speaker Profit Formula; host of the iTunes Top 50 business podcast "The Speaking Show"; connect with David on Facebook
6. Be prepared to pivot.
Peter Hernandez
Image credit: The Oracles
Business school can't teach you the lessons you learn from founding a business. When you are dealing with people, ideas, and markets, hell breaks loose on the battlefield no matter how good the business plan is.
The first lesson is to vet your partners. Make sure they have the right personality, are financially stable, and are available for the long hours required. They must also have skin in the game. Second, don't overcomplicate your business model or product line. Simple, well-executed, and elegant plans are best. Third, be prepared to pivot quickly based on changing markets and needs. Know your customer well and listen to what they're saying. —Peter Hernandez, president of the Western Region at Douglas Elliman; founder and president of Teles Properties
7. Listen to your customers.
Ashley Alderson
Image credit: The Oracles
Traditional thinking will tell you to start everything with a business plan and the product.  But when we started The Boutique Hub, I learned the hard way that identifying the minimum viable product (MVP), implementing, and getting immediate customer feedback were most important. In our first iteration, I started with a plan and a product that made sense to me, but it didn't fit the market. It nearly killed the business.
I started over and hustled to find what our customers really needed. Then I offered it, even without the right pricing, details, or layout. I did it for little to no cost, just to learn from them. Once we had a product-market fit, we added the details necessary to grow. Always remember, your customer decides if your business is going to work, not your business plan. Test your market first, then go all in. —Ashley Alderson, founder and CEO of The Boutique Hub; cancer survivor, motivational speaker, seven-figure entrepreneur, and host of "Boutique Chat"
8. Solve a problem.
Simon Grabowski
Image credit: The Oracles
Always ask yourself what need or problem your product or service will answer. If there is no demand or interest from the market, you should rethink your idea.
I started my first business because I needed a tool to send automated, mass emails to my subscribers. I had some programming skills, so I built it. As it turned out, many others had the same need. More than 20 years later, GetResponse has over 350,000 customers. I built my second company, ClickMeeting, on the same foundation. At GetResponse, we needed to improve communication with our globally dispersed team. We couldn't find a solution that met our needs, so we built one. Now ClickMeeting is in over 160 countries and serves over 100,000 customers. —Simon Grabowski, founder and CEO of ClickMeeting
Want to share your insights in a future article? Join The Oracles, a mastermind group of the world's leading entrepreneurs who share their success strategies to help others grow their businesses and build better lives. Apply here.
For more articles like this, follow The Oracles on Facebook, Twitter, LinkedIn, and Instagram.
All the Questions to Ask Before Starting Your Own Business - Lifehacker
Posted: 05 Mar 2019 06:00 AM PST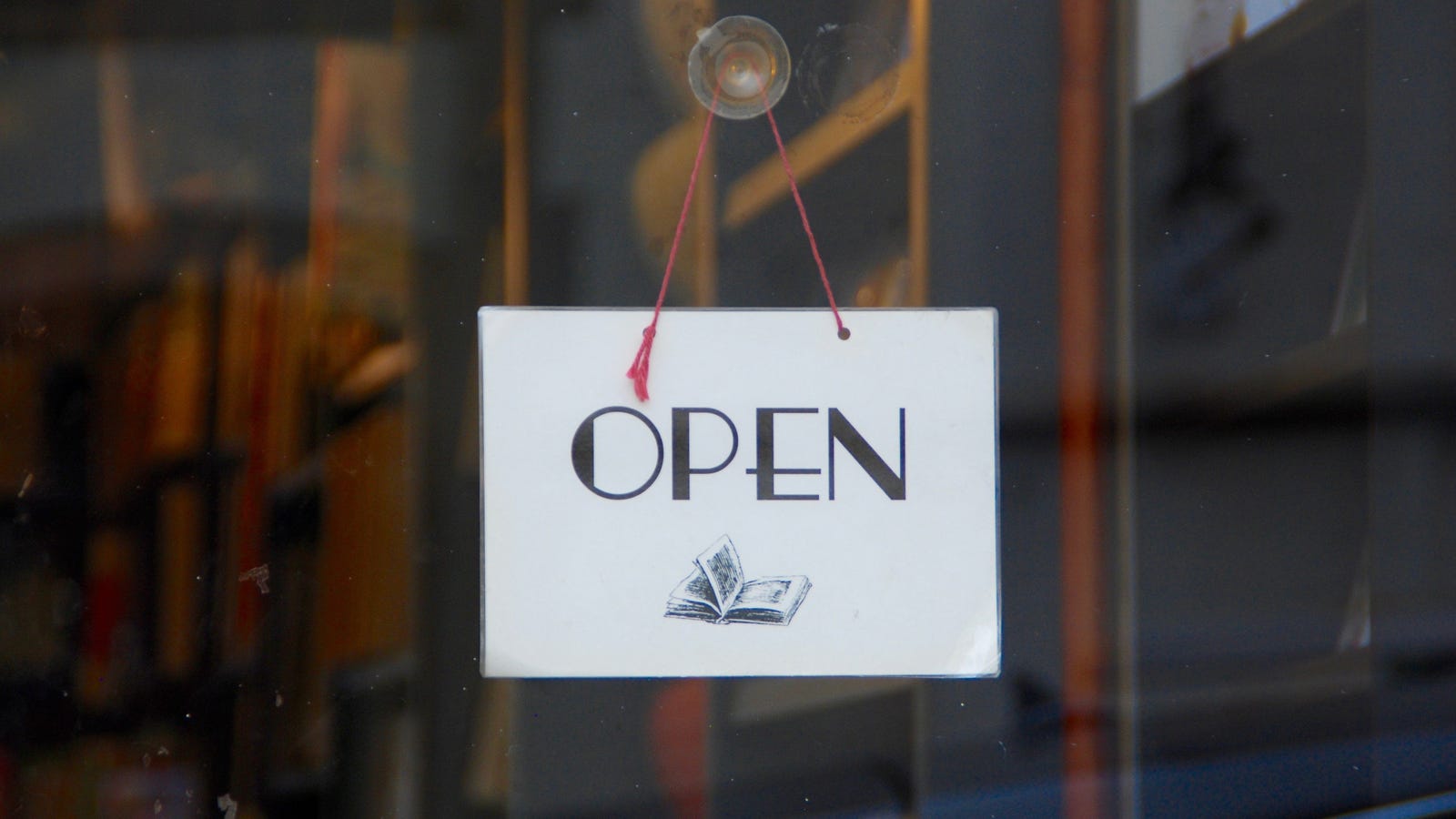 Starting a business is a deceptively complicated process. It's not as simple as "coming up with a great business idea" and "putting that idea into action."

You have to decide how you're going to incorporate your business—LLC, S-Corp, C-Corp—and how you're going to fund your business during the startup phase.
You have to decide how much of your own money you're going to put into the business, and at which point you'll close the business if it hasn't started bringing in revenue (or isn't bringing in enough revenue).
You might need to decide whether you're going to bring on a business partner (or partners), and how you and your partner(s) will divide the responsibility and the profits.
You should also meet with both a lawyer and a CPA to understand the legal and tax implications of your business. That's the step many first-time small-business owners skip, and it can cost them a lot of money later in the process.
So, before you put your great business idea into action, ask yourself—and your prospective business partner(s), and your CPA, and your lawyer—these questions.
Questions to ask yourself before you start a business
How will this business make money?
This might seem like a no-brainer, but take some time to think about it. Are you selling a product? A service? Are you providing content for free and monetizing via ads and sponsorships?
Once you've gotten that far, ask yourself why a person would make the decision to give your business money. What are they actually buying? A tool that makes their lives easier? A skill they can use in their future career? An emotional experience? The more you know about your business's unique selling proposition, or USP, the better prepared you'll be to sell the USP to potential customers.
How much money does this business need to make?
Many business owners assume that their businesses won't make any money, at least at first; however, it's important to ask yourself both how much money the business needs to make to cover its expenses and how much money you need to earn from your business to cover your expenses. (Plus the amount of money you'll need to set aside for taxes.)
Once you've got some numbers drafted, ask yourself when your business needs to start earning that money. If you don't have a lot of money to live on while you get your business up and running, your business might need to hit your minimum earning numbers by the end of its first quarter. Other business owners might be able to go for a year or so without taking any money out of their businesses to pay themselves—but they'll still need a business that brings in enough money to cover its own expenses. (And taxes.)
What career capital am I bringing to this business?
In his book So Good They Can't Ignore You, Cal Newport explains that many small business owners jump into a new business without first building up career capital—the skills, resources, and network required to succeed in a given career.
Newport uses the example of a woman who decided to start a yoga studio after taking a one-month teacher training; since the woman had very few teaching skills (compared to more experienced teachers) and none of the resources she might have built up had she spent more time working in the yoga industry before starting her own studio, her business was unsuccessful.
Have you done the work of building career capital, or are you starting a business in an industry or field that is new to you? Beware of launching a small-business passion project before taking the time to build up the capital you need to make it successful.
What actual capital am I bringing to this business?
Some businesses require more start-up costs than others. If your business falls into the "heavy start-up costs" camp, do you have the funds to cover its expenses without jeopardizing your own financial stability?
Likewise, how much money are you willing to put into your business before it starts making a profit? Knowing your number will make it easier to make business decisions—including the difficult decision of when to give up on a business idea.
Who are my customers?
Doing the work of creating an ideal customer profile is great; starting a business that already has a group of potentially interested customers is even better. Think of the people who go from blogging to teaching courses, for example; they already know who's interested in their work and can design their courses based on their audience's needs.
This is also where career capital can come in handy; if you plan to go into consulting, for example, your first clients should naturally derive from your network.
You can also use services like Kickstarter to test new business ideas and see if you have a group of potentially interested customers—though you'll still need to do the work of identifying your ideal customer and using your current network to help you reach that customer.
How will I connect my business to new customers?
Customer attrition is a real thing; if you aren't constantly connecting with new customers and cultivating those relationships, your sales and revenue will go down instead of up.
Think about how you might reach out to new customers. Are you going to advertise? Collaborate with other small-business owners? Attend conventions? Create YouTube how-to videos?
What's my plan for growth?
Where do you want your business to go, once you get it started? What does realistic growth look like over the next year? The next five years? Knowing what a realistic success path looks like for a business like yours can help you set SMART goals and benchmarks to help you get there.
Under what circumstances would I close down the business?
When will you decide to stop building your business? When revenue drops below a certain number and stays there for six months? When you've put X amount of cash or time into the business and haven't seen growth?
Know when you'll quit before you start, and you won't end up throwing good money after bad.
Under what circumstances would I sell the business?
There's a lot of value in running a profitable business, especially if it generates passive income. There's also a lot of value in selling a business. Ask yourself when you might be willing to sell, and continue to ask yourself that question every year you remain in business.
---
Questions you should ask a prospective business partner
Why do you want to partner on this business?
People want to partner on businesses for a variety of reasons: to pursue a dream, to use their skills to help others, to earn passive income, to invest in a company that they might sell in the future, etc.
Knowing why your prospective partner wants to be involved in the business will help you determine whether this is the right partner for you. A business partner who is primarily focused on helping others will often make different business decisions than a business partner who is hoping to create an asset that can be sold. Does their vision of what this small business could be match—or complement—yours?
How much money does this business need to make?
Yes, you already asked yourself this question—but if your partner has a very different answer, you're going to want to discuss it. A business where one partner can afford to go without income and another partner can't, for example, might lead to disagreement on business decisions.
Where should this business be located?
If this is the type of business that operates out of someone's home, whose home will serve as the official business address? Will you get a separate business mailbox, or will one person be responsible for receiving the business's mail? The way you and your prospective partner discuss this question—whether your partner puts thought into the decision, says they don't care, or presents an argument and refuses to listen to yours—will tell you a lot about how you might work together in the future.
What career capital are you bringing to this business?
Choosing a partner with considerable career capital can help your business grow more quickly. If your prospective partner doesn't have a lot of career capital, what other skills, resources, or assets are they bringing to the partnership?
What actual capital are you bringing to this business?
Is your prospective partner putting their own money into the business? If so, how much? Be aware that the amount of capital you and your business partner put into the business may effect how each of you get paid in the future; that is, depending on how your operating agreement is structured, the partner that made the larger capital contribution may be entitled to a larger distribution of income from the business. (This'll be a good question to bring up with your lawyer.)
Who do you think is our ideal customer? How do you think we should connect our business to new customers?
Make sure you and your prospective partner are on the same page. If one of you sees your ideal customer as a 35-year-old man and the other thinks the ideal customer is a 50-year-old woman, you probably aren't seeing the business (and its unique selling proposition) in the same way.
What do you see as realistic-but-ideal business growth over the next year? The next five years?
A business partner who thinks success equals "getting into the local small business expo" is going to be very different from a partner who thinks success equals "getting on Shark Tank." You'll also want to confirm that your prospective partner understands the path towards their vision of success. Can they set and achieve SMART goals?
Under what circumstances would you close the business? Under what circumstances would you sell?
Again, you're going to want to make sure you're roughly on the same page here. (You'll also want to ask these questions every year you remain business partners.)
How will we resolve disagreements?
It'll be hard to know how you'll resolve disagreements until you're actually in the middle of a disagreement, but discussing how you might address disagreements. Will you bring in a third party? Will you evaluate the options on a financial or growth metric? Will you look for a win-win solution? Answering these questions will help you prepare for future conflict.
More importantly, this kind of discussion will establish you and your business partner as members of the same team. It's not you vs. your business partner. It's you and your partner and your business vs. the world.
What happens if one of us wants to continue working on the business and the other wants to stop working on the business?

Of all the questions you and your prospective business partner might discuss, this one is relatively easy! You can work with a lawyer to create an operating agreement that states what each partner is entitled to if they leave the business. Take a look at some sample operating agreements to see what typically happens in these situations, because having the discussion with your partner before meeting with a lawyer will help the conversation—and the document creation—go more smoothly.
What happens if both of us want to continue working on the business but we no longer want to work with each other?
Unfortunately, two business partners cannot split up and still share custody of a business. If the two of you decide it is time to end your relationship, one of you is going to have to leave the business or get bought out—or the two of you will have to agree to shut the business down. At that point, you'll refer to your operating agreement to determine how any remaining money is distributed, as well as any other assets the business may have generated.
---
Questions you should ask a CPA
What type of business structure is most beneficial, tax-wise?
Don't assume that your business will be an LLC or a S-Corp before talking with a CPA. There are specific advantages and disadvantages of each type of business structure, and it's important to learn which might be the most beneficial to you—and why—before you incorporate. These decisions have tax consequences that could save (or cost) you a lot of money, so it's worth it to get a CPA on your team at the very beginning of the process.
What do we need to know about paying business taxes?
If you thought doing your own taxes was complicated, wait until you start doing business taxes. Does your business income pass through to the partners, and at what percentage per partner? How much should you be setting aside for estimated tax payments? What about payroll taxes? Can you reduce your tax burden by setting up a SEP IRA?
The more you know about how business taxes work, the less likely you'll end up making a costly mistake (like not setting aside enough cash to cover your tax burden). The more you know about business tax optimization, the more money you can put either into your own pockets or right back into your business.
So talk to your CPA. They've done this kind of thing before, and they know how to help you.
What types of tax forms will we need to complete, and when are they due?
In addition to the good ol' 1040, you'll probably need to file additional tax forms on behalf of your business throughout the year. If your business pays freelancers, for example, you might need to file 1099 forms—which are due on January 31, not April 15. Businesses with partners and businesses with employees have even more forms to fill out and file.
A good CPA will remind you of these requirements and their due dates well in advance, but it's still smart to know what to expect and when to plan it into your workload.
What's the best way for us to handle bookkeeping? What about inventory?
Your CPA should be able to help you set up your small business bookkeeping, and may even have a preferred bookkeeping software. They can also give you tips on tracking inventory, managing capital accounts, and more.
Do we need business licenses? Work-from-home permits? Any additional documentation?
Different types of businesses have different types of licensing requirements, and individual cities may have additional permits you need to secure. Ask your CPA what forms you need to complete before your business is in compliance with state and local laws.
Do we need to complete biennial reports? Are there any other reports or requirements we should be aware of?
As a small business, you'll probably need to send biennial reports to the state in which you are incorporated. Ask your CPA about your reporting requirements and what you'll need to include in those reports.
---
Questions you should ask a lawyer
Is our business name appropriate? Should we trademark it?
A lawyer can help you choose a business name that works both for your business and for your state's business requirements. A lawyer can also help you decide whether it would be worth the time and money required to trademark your business name.
How can we create an operating agreement that clarifies the terms of our business partnership and protects all business partners?
Don't just grab a standard operating agreement off the internet and assume it's good enough for your business. Talk to your lawyer about how to create a business operating agreement that is fair to both you and your business partner, covers any unique situations (such as one partner contributing more capital than the other, or one partner contributing a piece of intellectual property that will serve as the foundation of your business), and protects your rights as individuals as well as business partners.
What types of contracts should we prepare?
If you're going to be working with freelancers, clients, or vendors, you're going to need contracts. Your lawyer can help you draw them up.
If we plan to work with freelancers or hire employees, what legal issues should we be aware of?
You don't want to be the type of business that hires someone as a contractor when they're really doing the work of an employee, right? You also don't want to be the type of business that asks illegal questions during hiring interviews or the type of business that doesn't provide state-mandated breaks to employees.
Know your legal responsibilities, whether you're going to be working with freelancers or hiring employees. A lawyer can help you with both the obvious ones (yes, you have to pay employees at least minimum wage unless your state allows you to pay less than the minimum wage for certain kinds of tipped work) and the ones you might not be aware of.
Are there any federal or state requirements, such as safety requirements, that might affect our business?
If you're opening a food truck, you're going to need to get familiar with food safety laws. If you're launching a hair salon, you're going to need to learn about OSHA's formaldehyde standard. If you're a blogger who earns money from affiliate links, you'll want to understand the FTC disclosure requirements.
Ask your lawyer to help you understand which federal and state regulations apply to your business, and how to remain in compliance.
Do we need to get liability insurance or any other type of insurance?
Your lawyer can explain why your business might need insurance, as well as which types of insurance you should consider purchasing.
These aren't the only questions you'll want to ask as you prepare to launch your business, but they're a good start—and they'll probably inspire you to ask even more questions. Remember: the more answers you get before you start your business, the less likely you'll be to make a mistake that hurts your business before it has a chance to grow.