---
County Board tables adoption of local option sales tax proposal - ECM Publishers
Posted: 03 Mar 2019 02:45 PM PST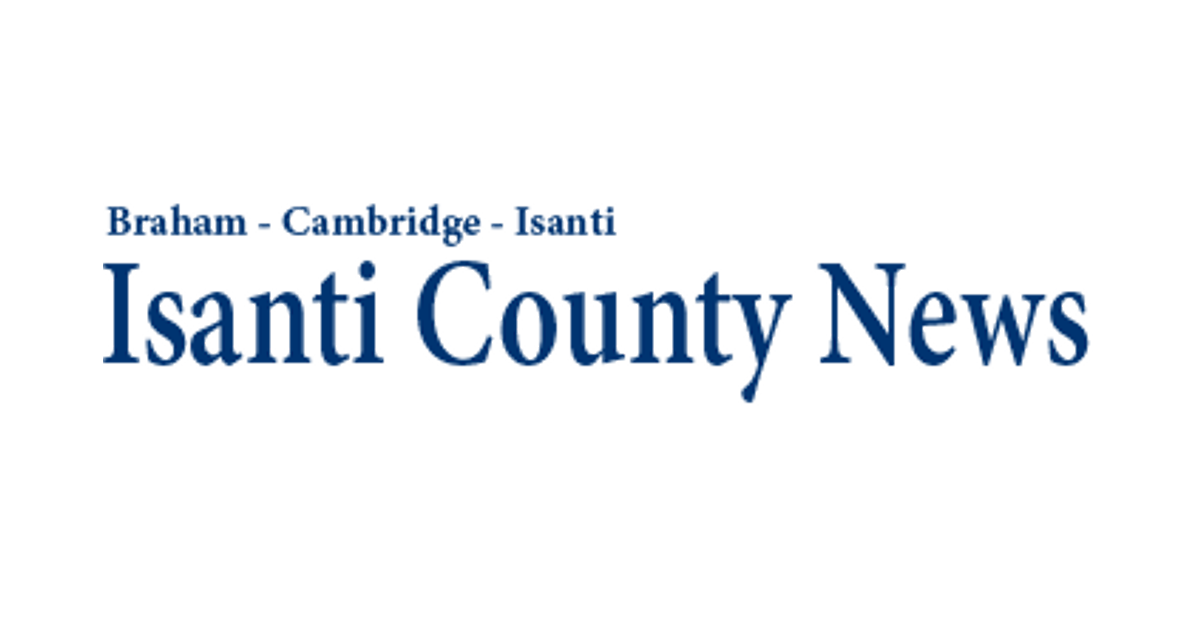 A handful of residents and business owners attended a public hearing Feb. 20 during the Isanti County Board meeting for the consideration of adopting a local option sales tax for transportation.
County Engineer Richard Heilman gave a presentation about implementing a half-cent local option sales tax for transportation to generate $1.875 million to help fund transportation improvement projects, including county roads, bridges and safety improvement projects.
"A $100 purchase would equate to 50 cents. One-hundred percent of the revenue would be received and controlled by the County Board," Heilman said. "Current licensed vehicles, licensed cars, trucks, motorcycles and trailers would be exempt from the sales tax."
According to Heilman, transportation projects in the next 15 years total $84 million, and the highway department receives $3.5 million each year in road construction funds through the state aid highway system and the local levy. This leaves a $35 million shortage. The local option sales tax would generate approximately $1.9 million each year.
"Isanti County hired the University of Minnesota to study the effects of a local option sales tax to examine the pros and cons ... and what the funding would be," Heilman said. "In part of that study, out of that $1.875 million, it's estimated that the residents would pay 72.6 percent of it and non-residents would pay 27.4 percent."
Heilman said local option sales tax has been around since 2013 and 44 counties in Minnesota have adopted some form of the local option sales tax, including neighboring Chisago, Mille Lacs and Anoka counties.
"I've been coming in here year after year and stressing the shortage of the funding and how we are not doing the projects we really need to be doing," Heilman said. "At some point we need to have some other funding to do it or we will not be able to make these investments to get a sufficient transportation system."
Public comment
Cambridge City Administrator Lynda Woulfe said during the Cambridge City Council meeting Feb. 19, she was asked by the City Council to appear at the public hearing and object to the county's imposition of a local option sales tax at this time.
Woulfe said Cambridge has been working on a local option sales tax to fund the construction of a new library, street and park improvements. Cambridge residents voted to approve a one-half percent local option sales tax at the 2018 general election and the city is in the process of seeking legislative approval for the tax. Woulfe said she is heading to the state Capitol next week to testify on the city's behalf in support of the requested local option sales tax. While passage is not certain, the city remains hopeful.
"If the city's local option sales tax does pass and the county also imposes a one-half percent local option sales tax, that will bring the sales tax rate to 7.875 percent just within the city of Cambridge," Woulfe said. "This will be the highest sales tax within our neighboring eight counties and equal the sales tax in St. Paul."
Woulfe requested the County Board wait to adopt a local option sales tax for transportation until it is known if Cambridge's local option sales tax will pass.
"It should be noted that less than 2 percent of the county road system is within the city limits. Upon reviewing sales tax data, if the county imposes a local option sales tax, approximately 58 percent of the revenue will be collected within the city of Cambridge. On the surface, this appears to create a higher tax burden for Cambridge residents for county roads and that a countywide property tax would be a more equitable funding mechanism for transportation," Woulfe said. "The city of Cambridge truly does understand the demands of road projects. Between 2020 and 2031, the city has $41 million of needed road improvement projects which will need to be funded by property taxes if the local option sales tax doesn't come through."
Mike Larson, owner of Larson Cycle in Cambridge, said he feels the local option sales tax is anti-business because he sells a lot of sales tax vehicles.
"I do a tremendous amount of business in Wisconsin; more than over 100 units a year," Larson said. "That's going to be my biggest hurdle with this."
Commissioner Susan Morris asked Larson what percentage of his customers are from Wisconsin.
"Approximately 10 to 15 percent," he responded. "This community is only about 20 percent of our total revenue. Eighty percent of revenue comes from far outside this county. We are very well established and very well known."
Monte Dybvig, owner of Doctor Monte's Auto in Cambridge, said this local option sales tax for the county came as a surprise to him and one reason he voted for the local option sales tax in Cambridge was to get a library renovation in Cambridge.
"As a business owner, a 1 percent increase would have a detrimental effect. The one-half percent increase which is already slated through Cambridge sales is tolerable and worthy, but not in the county," Dybvig said.
Morris said the county does already fund over $400,000 a year to support the local library and does the maintenance on the library as well.
"Nobody wants to raise taxes, but we have a problem," Morris said. "All counties are facing this. Not only in Minnesota, but around the whole country."
After the public hearing was closed, Morris said she would like to see what the state Legislature does before making a decision.
"We're not just singling out Cambridge. The whole county would share the one-half percent sales tax. That's just not an undue burden," Commissioner Terry Turnquist said. "We can't control what Cambridge has done or hasn't done, or how they tax their people."
Commissioner Dave Oslund wanted the city of Cambridge to know this local option sales tax is not a new thing for the county.
"This was on board when I was elected four years ago. It's something that's been going on for quite some time," Oslund said.
The County Board voted to table the decision by a vote of 4-1 with Chair Mike Warring opposed.
"I think we need to do something and I think this is the (direction) we need to go," Turnquist said. "I have no problem with a delay because we can gather more facts and information."
Teams Selected for the Colorado NextCycle Program - waste360
Posted: 22 Feb 2019 05:33 AM PST
The Colorado Department of Public Health and Environment has chosen nine teams for the Colorado NextCycle program. During the open application period late last year, teams from around North America pitched recycled material end market business ideas for the Colorado marketplace.
The nine teams selected for the first-of-its-kind pilot program will each receive a $5,000 business development grant, mentoring from the Colorado NextCycle technical advisory committee and technical support from RRS, the recycling and sustainability consulting firm assisting with the Colorado NextCycle program.
The support will help the chosen teams further refine their recovered/recycled material end market business ideas. They will pitch their ideas at the state's largest recycling conference in June and will have the ability to submit their business ideas for the 2019 department grant cycle for funding to implement their business proposals in Colorado.
"I am so excited to see companies develop bold and innovative ways to reduce waste," said the department's Executive Director Jill Hunsaker Ryan in a statement. "Colorado NextCycle provides the technical and financial support needed to turn great ideas into reality, and that's a win for all of us."
The nine teams are:
1. 9Fiber
Headquarters: Silver Spring, Md.
End market Business Proposal: Engineer and build a processing plant in Pueblo, Colo., for transforming hemp and cannabis waste stalk and stems into fiber for use in textile, absorbent, industrial, bioplastic, semi-conductor, carbon-fiber, construction, fuel and automotive applications.
2. Direct Polymers
Headquarters: Denver
End market Business Proposal: Add the ability to wash, blend and pelletize difficult-to-recycle plastic streams containing labels, liquids, dirt and other contaminates at an existing Commerce City facility.
3. Ekomats
Headquarters: Netherlands/Chelsea, Vt.
End market Business Proposal: Identify a second North American site to manufacture ekomats, a multipurpose mat made of recycled No. 4 LDPE plastic film waste used in construction, residential, industrial and various service industries.
4. Natural Buildings Innovation
Headquarters: Gunnison, Colo.
End market Business Proposal: Research and marketing to scale existing operations receiving, retrieving and processing standing dead trees into custom wood products and building materials for the local economy.
5. Renewlogy
Headquarters: Salt Lake City
End market Business Proposal: Feasibility study for a new facility in Colorado for converting plastic waste from materials recovery facilities and municipal drop-off locations into fuel products and feedstocks.
6. Resolar
Headquarters: To be determined
End-market Business Proposal: Site facility in Colorado for refurbishing end-of-life solar panels for resale to nonprofits, indigenous tribes and companies that build off-grid systems and do-it-yourselfers.
7. San Juan Organics
Headquarters: Durango, Colo.
End-market Business Proposal: Research to develop business and site plan for an aggregation and processing facility to create local organic compost and soil amendments from organic scrap.
8. Spring Back Colorado
Headquarters: Commerce City, Colo.
End-market Business Proposal: Feasibility of operating a steel shredding machine in existing Commerce City location to allow for in-house shredding of steel mattress coils into acceptable end market form and potential for receiving and processing coils from other mattress recyclers.
9. Vartega
Headquarters: Golden, Colo.
End-market Business Proposal: Identify thermoplastic and carbon fiber waste streams for reforming/repurposing material into an engineered composite manufacturing feedstock for use in the automotive, sporting goods and 3D printing industries.
UK trade official sees hope in Brexit hard-liners' proposals - Raleigh News & Observer
Posted: 03 Mar 2019 12:39 PM PST
Britain's international trade secretary on Sunday welcomed proposals drawn up by hard-line Brexit supporters that outline what it would take for them to support Prime Minister Theresa May's deal with the European Union.
Liam Fox told the BBC that the European Research Group's proposals, published in the Sunday Times, could be seen as an attempt to find common ground on the sticky issue of the Irish border.
"I hope it's a genuine attempt, and I think it is, to try to map out ground where we can have common territory" before the House of Commons votes on the deal next week, Fox told the BBC.
Parliament rejected May's deal in January, largely because of concerns about the so-called backstop, which is designed to prevent the need for physical border checks along the Irish border if negotiators fail to agree on a free-trade deal. Lawmakers on all sides opposed the provisions because they could leave Britain tied to the EU indefinitely.
Sign Up and Save
Get six months of free digital access to The News & Observer
In its published proposal, the European Research Group demanded a "clear and unconditional route out of the backstop."
While the group didn't detail how its goal should be achieved, it said the change must be contained in a treaty-level clause that "unambiguously overrides" the text of the current agreement.
Graham Brady, chairman of the influential 1922 Committee of Conservative lawmakers, expressed optimism that a breakthrough was close. Brady suggested he could back May's deal if the right compromise on the backstop emerged.
"The whole country is tired of vacillation and delay," he wrote in the Mail on Sunday, adding that "this is not a time to make the best the enemy of the good."
"We know what is needed to shift the logjam," he said. "The attorney general needs to give a legally binding guarantee that the backstop is temporary."
Meanwhile, the opposition Labour Party remained divided over its next moves after party leader Jeremy Corbyn last week supported calls for a second Brexit referendum.
John McDonnell, Labour's spokesman on treasury issues, signaled Sunday that the party was likely to force its lawmakers to back legislation on a new referendum. But former minister Caroline Flint told Sky News that up to 70 of Labour's lawmakers would oppose any such move.
Corbyn had an egg thrown at him Sunday during a visit to a north London mosque. The Labour leader was not hurt and met with constituents at the Finsbury Park Mosque and Muslim Welfare House as planned, according to Britain's Press Association.
A 41-year-old man was "quickly detained" and arrested on suspicion of assault, the Metropolitan Police department said.
WMC bashing tax changes in budget proposal - Wisbusiness.com
Posted: 03 Mar 2019 11:13 PM PST
WMC bashing tax changes in budget proposal
3/4/2019
Gov. Tony Evers budget proposal is drawing praise from most labor and health groups, while the state's largest business association is bashing provisions to cap a tax credit for manufacturers and limit tax breaks on long-term capital gains.
"This is an anti-business manifesto," WMC President and CEO Kurt Bauer told WisBusiness.com. "This budget proposes raising the cost of doing business on almost every category of business in Wisconsin."
By eliminating the manufacturing portion of the state's manufacturing and agriculture tax credit, Bauer says Evers budget proposal is "singling out" the state's top economic sector.
"Gov. Evers wants to give tax cuts to the middle class by taxing the champion of the middle class," he said. "It's ironic and it's just bad policy."
Wisconsin Manufacturers and Commerce represents more than 3,800 member companies in the state. Bauer says many of these businesses would be harmed by a number of budget provisions, including one limiting a tax break on long-term capital gains.
Evers proposes eliminating the 30 percent tax break for people earning above a certain amount. Bauer argues this would dampen investment in the state and lead to lower tax collections.
Meanwhile, labor organizations are lauding the governor for including repeal of right-to-work and a return to prevailing wage in his budget proposal.
In his first public appearance after his first budget address, Evers touted these proposals Friday at the Wisconsin AFL-CIO Building Trades Conference in Madison. He told the pro-union audience that his budget will "begin to undo the harm that's been done to organized labor."
Stephanie Bloomingdale, President of the Wisconsin AFL-CIO, said repealing right-to-work moves the state toward "a healthier middle class" with strong union rights.
"Restoring prevailing wage and the right to a project labor agreement will grow our economy with family-supporting jobs while ensuring our construction projects are completed safely on time and on budget," Bloomingdale said.
The Milwaukee Area Labor Council is also supporting repeal of right-to-work, saying the last 8 years of Republican control led to the "demonization of the union movement."
The Wisconsin Laborers District Council, which represents about 9,000 construction workers across the state, is backing the guv's proposal to increase funding for fixes to road and bridges.
A number of other labor groups have came out in support of Evers budget, including the International Brotherhood of Electrical Workers Local 494, Milwaukee Building and Construction Trades Council and Wisconsin State Sheet Metal Workers.
On the health care front, the state's hospital association is optimistic but cautious about Evers' budget proposal, saying it will take time to understand the potential impacts on health care in the state.
Still, WHA President and CEO Eric Borgerding expressed support for provisions that would increase Medicaid reimbursement for hospitals, and continue funding for former Gov. Scott Walker's "Wisconsin Healthcare Stability Plan."
The Wisconsin Alzheimer's Association says several budget items will help people with the disease and their caretakers. And the state chapter of the American Cancer Society Cancer Action Network says proposed funding for tobacco use prevention and cancer screenings will help reduce the state's overall cancer burden.
But the Wisconsin Dental Association calls the guv's budget proposal "a mixed bag," as some provisions could unevenly benefit certain clinics and health systems, the group says.
WDA President Dr. Patrick Tepe says the guv's plan to boost Medicaid funding "risks creating winners and losers based on geography." He says larger urban health care groups stand to benefit more than those in rural areas.
See more reaction to Evers' budget proposal in the WisPolitics.com press release page: http://www.wispolitics.com/2019/03/01/?arcf=cat:19
See details of the proposal here: http://www.wispolitics.com/2019/evers-proposes-8-cent-gas-tax-hike-as-budget-checks-off-string-of-dem-priorities/