---
FinFit Enhances Ready University to Provide Premier Financial Education - Associated Press
Posted: 06 Mar 2019 06:50 AM PST
This content is a press release from our partner Business Wire. The AP newsroom and editorial departments were not involved in its creation.
VIRGINIA BEACH, Va.--(BUSINESS WIRE)--Mar 6, 2019--FinFit, a FinTech company that provides over 125,000 employers with a unique financial wellness benefit platform, has upgraded Ready University, its educational portal, to offer enhanced financial training and education. Ready University will now feature 38 short, engaging lessons focused on key elements of financial wellbeing: money basics, paying for college, loans and payments, buying a home and planning for retirement.
"Education is a key pillar to a financial wellness program. It's important that we continue to motivate our members with relevant, engaging and interactive resources," said David Kilby, President of FinFit and author of  The New Productivity Engine: The compelling impact of financial wellness in the workplace. " Through Ready University, our members can immerse themselves in real-life financial scenarios and training resources. Complex processes – like buying a home, for example – are broken down in an easily digestible manner. Providing accessible financial education and resources to help our members handle today's challenges puts them in a position to start planning for tomorrow."
Covering everything from common account types to the basics of investing, each module within the revamped Ready University will provide users with a bite-sized, instructional animation to make topics approachable and relatable. Ready University's modules encourage user engagement by providing knowledge checks and activities throughout each course to ensure that the user is not just watching a video or reading an article in Ready University, but that they are absorbing and retaining the information. All courses in Ready University are arranged into intuitive playlists. A user can focus on specific aspects of their financial wellness if they already have a goal in mind, or they can start at the beginning and work their way through the entire offering.
Family sharing is an exciting new addition to Ready University. FinFit members now have the opportunity to share financial education with their families. Ready University will encompass 15 age-appropriate courses designed for the children of members, ranging from grades K-12, in an effort to build strong financial foundations. These courses will cover topics like saving, investing, credit and borrowing, renting vs. owning, and financing higher education.
FinFit is a comprehensive financial wellness program that improves productivity at companies by helping employees become more financially stable. Unlike programs that offer financial wellness consulting or education only, FinFit provides a complete solution that starts with a proprietary personalized financial assessment and includes educational tools, resources and real-world financial solutions. FinFit's training platform treats each employee like the unique individual they are. After a quick financial assessment, they are directed to a roadmap tailored to their individual goals, encouraging them to take the necessary steps to create behavioral change by modifying spending, saving, borrowing and planning habits.
For more information on FinFit, please visit www.finfit.com.
About FinFit
Founded in 2008, FinFit has grown to be one of the nation's largest financial wellness benefits servicing over 125,000 clients. FinFit provides a self-directed online experience that lets employees measure their financial wellbeing and provides fun, education resources and tools to increase their financial knowledge and drive results. FinFit helps to eliminate stress in the workplace by providing real-time solutions that offer real-world help when it is needed most. FinFit is a powerful way for employers to attract and retain talent by helping employees get focused, get healthy and become more productive.
View source version on businesswire.com:https://www.businesswire.com/news/home/20190306005018/en/
CONTACT: Press
Kim Miller
757.578.1184
kmiller@finfit.com
KEYWORD: UNITED STATES NORTH AMERICA VIRGINIA
INDUSTRY KEYWORD: WOMEN OTHER CONSUMER EDUCATION UNIVERSITY CONTINUING TECHNOLOGY SOFTWARE OTHER TECHNOLOGY SECURITY PROFESSIONAL SERVICES ACCOUNTING BANKING FINANCE PARENTING TEENS CONSUMER FAMILY MEN
SOURCE: FinFit
Copyright Business Wire 2019.
PUB: 03/06/2019 09:00 AM/DISC: 03/06/2019 09:01 AM
http://www.businesswire.com/news/home/20190306005018/en
Introducing The TEX Portal, The First-of-its-Kind Intelligent Networking App for the Tech and Telecom Industries - JSA
Posted: 05 Mar 2019 02:00 PM PST
We are thrilled to announce the launch of the TEX Portal, an intelligent meeting manager and networking app, specifically designed for community engagement across the tech and telecom industries. As a member of the TEX Portal, you can interact with top decision makers, while also forging longstanding business relationships and improving your overall event ROI.
And before you roll your eyes and think this is just another meeting manager app, consider this: the TEX Portal does not only enable its members to plan one-on-one meetings at any of JSA's quarterly TEX Events (like TEX Dallas, taking place a week from tomorrow), but all industry events. It doesn't stop there, though! The Portal also serves as a platform for members to actively share invaluable ideas and resources within the Portal's Executive Idea Board and Library.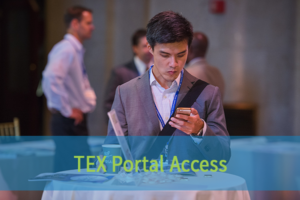 We believe that events should not end at the closing reception, which is why we created an app that keeps the conversation going throughout the year and beyond.
TEX Portal Members can:
Plan meetings virtually and at any/all industry events, including the quarterly Telecom Exchange events;
Select business and technology interests and services so the Portal can then intelligently recommend with whom to meet;
Pitch ideas on the Executive Idea Board to a select group of decision makers or entire member base;
Access and post educational papers and videos in the Library;
First viewing of JSA's Monthly Virtual CEO Roundtable recordings, prior to being released to the industry;
Upload executive bios and company profiles and more.
Members of the TEX Portal include decision makers across the telecom, tech, data center and network infrastructure ecosystem. It's complimentary for JSA retainer clients and confirmed TEX speakers, and access for TEX registered attendees is included with your event pass and remains valid until two weeks following the event.
To learn more about the TEX Portal's groundbreaking platform and annual membership fees, click here.
And if you haven't yet, secure your pass to the TEX Dallas Pop-Up event, taking place Wednesday, March 13. Register today!
Schumer accuses Trump of blocking Gateway for 'political leverage' - Crain's New York Business
Posted: 04 Mar 2019 10:47 AM PST
President Donald Trump is bringing the country to the edge with "economic suicide"  for the sake of political advantage by refusing to allow the crucial Gateway Project to advance, Senate Minority Leader Charles Schumer alleged Monday.
Addressing a leading business and civic organization in Manhattan, the Democrat alleged that the president and his Transportation Secretary Elaine Chao have deliberately blocked funds and delayed environmental approvals to retard the $30 billion overhaul of Amtrak infrastructure linking New York and New Jersey. At the heart of Gateway is the burrowing of a new train tunnel under the Hudson, repairing the century-old existing tubes and reconstructing the decrepit Portal Bridge in New Jersey.
Citing figures from the Regional Plan Association, Schumer argued that the failure of any of these atrophied assets would cost the national economy $10.9 million a day and $4 billion a year. But he claimed Chao—the wife of GOP Senate Majority Leader Mitch McConnell—and Trump have prevented the project from progressing purely to extract unrelated policy concessions from Schumer and his fellow Democrats in the Northeast.
"Unfortunately, President Trump and his Department of Transportation have put their thumb on the permitting process, holding up this urgently needed project in a systematic and cynical bid to exert false political leverage over me and my colleagues in the New York and New Jersey delegations," Schumer asserted to the gathering of the Association for a Better New York. "What this is about, we all know it: it's punishing elected officials who refuse to fall in line behind President Trump."
Schumer recalled a series of decisions the admininstration made in 2017: first to withdraw from the Gateway Project Development Corporation in 2017—a joint state-federal entity overseeing the undertaking; then its refusal of federal loans to help New York and New Jersey cover part of their share of the price tag; and finally its cancellation an Obama-era commitment to split the cost 50-50 with the states.
Since then, the minority leader maintained that the administration has been "slow-walking" the federal approvals process and has refused to release almost $9 billion in congressional infrastructure appropriations that would enable the endeavor to advance.
"One signal from President Trump, one signature from Secretary Chao, and Gateway could begin," Schumer intoned. "So we're stuck. They're blocking everything. Secretary Chao has been totally uncooperative, and she's getting her orders from the president, I know that."
In hopes of allowing work to begin on the Portal Bridge, if not the sub-Hudson tubes, Schumer said he and his colleagues would append an addendum to a future piece of "must-pass legislation" obligating the federal government to reimburse localities for investments in projects of "national significance."
"Our legislation would give the sponsors of nationally significant projects the assurance they need to begin with local money," he said. 
The Trump administration did not immediately answer a request for comment. But Schumer's proposals won immediate endorsement from the Gateway Project Development Corporation.
"The legislation proposed today by Senator Schumer would go a long way toward breaking the log jam in Washington over the critically-important Gateway Program projects," the entity said in a statement. "The stakes are far too high to allow politics to further delay the start of major construction."
Schumer also seemed to jab at Gov. Andrew Cuomo, a fellow Democrat, though not by name. After huddling with Trump at the White House last year, the governor announced that the new train tunnels should move forward without the other portions of the project, and that the federal government should cut Amtrak—a member of the GDC—out of the development entirely. Cuomo has feuded with Amtrak for years over control of Penn Station. 
The senator insisted that new train conduits would be pointless without replacing the dysfunctional Portal Bridge, which they feed onto. He also maintained that Amtrak owns most of the infrastructure in question, possesses vital institutional knowledge of it operations and has access to crucial funding from the federal government. 
"The notion that Amtrak has been an impediment to progress of the tunnel is misguided, counterproductive will only lead to more delay," he said. "To cut Amtrak out is dumb, and we shouldn't do it."
UK's Small Businesses Face Digital Tax Deadline - Forbes
Posted: 05 Mar 2019 12:59 AM PST
Just one month and counting until huge numbers of Britain's small businesses face major disruption and a potentially expensive administrative bill – and we're not talking about the UK's departure from the European Union.
From 6 April, the first day of the new tax year, more than a million small and medium-sized enterprises will be caught up in the UK's new Making Tax Digital project, an ambitious attempt to digitalise the tax system. The project requires all businesses registered for value added tax (VAT) and turning over more than £85,000 a year (the level at which VAT registration currently becomes compulsory) to begin filing their VAT returns using specialist accounting software.
In theory, Making Tax Digital has advantages for all concerned. For HM Revenue & Customs, the agency in charge of administering the tax system, it should reduce costs, improve accuracy and help with the battle against non-compliance and outright fraud. For businesses, meanwhile, the advent of new technology promises greater efficiency and less productivity-sapping paper-pushing.
In practice, however, there have been all sorts of difficulties with the initiative. So much so that the House of Lords economic affairs committee, an independent group of cross-party politicians, has been campaigning for a delay to the launch of the new system. It has already published one damning report into the launch of Making Tax Digital and its warnings are widely echoed by small business groups.
One major failure has been a lack of publicity, with many small businesses still in the dark about their responsibilities. The House of Lords report estimated that 40 per cent of businesses affected – some 400,000 firms – don't know anything about it.
Also, while it promised to do so when first announcing Making Tax Digital, HMRC has failed to find a software provider that is prepared to offer a free package that will enable small businesses to comply without having to pay. Instead, the authority has published research suggesting the new system will cost firms just £70 a year – a figure that advisers to small businesses say is far too low.
By contrast, the Institute of Chartered Accountants says £1,250 a year is a more accurate estimate, once you take into account costs such as staff training as well as the price of the software itself. The Federation of Small Businesses has suggested £2,770 a year is closer to the right figure.
Many small businesses will also be surprised to discover that while they are already filing their VAT returns digitally, they will still need to make changes and, potentially, invest in new software. HMRC currently manages an online portal through which businesses can make their submissions, but this facility will be switched off in the move to the new system.
The bottom line is that small businesses are now going to have to invest in affordable accounting software if they don't already have a suitable package  – that will involve a monthly cost, though the cheapest packages start at less than £10 a month.
On the plus side, these packages offer a range of useful features, reducing the administrative burden of record-keeping and tax filings with facilities such as reconciliation with bank accounts and automated calculation of your bills. In the medium to longer term, many small businesses may be pleased with the return on their investment.
In the short term, however, time is running out for small businesses to get in shape for a system they know little about. And with the launch of Making Tax Digital due just seven days after Brexit, more disruption is the last thing they need.