---
Dow set to fall | Huawei sues the US | Amazon joint health venture is named - CNBC
Posted: 07 Mar 2019 04:32 AM PST
U.S. stock futures were lower this morning as investors remained focused on U.S.-China relations. The Dow and S&P 500 on Wednesday had their lowest closes since Feb. 14. The Dow, S&P 500, and Nasdaq were all down three straight sessions, and are on track to post their worst week of 2019. (CNBC)
* Cramer: Stockholders are suffering from FOBS, fear of big sellers (CNBC)
Earnings reports out this morning come from Barnes & Noble (BKS), H&R Block (HRB), and Kroger (KR), while Costco (COST), American Outdoor Brands (AOBC), Camping World (CWH), El Pollo Loco (LOCO), and Okta (OKTA) are among the companies releasing quarterly numbers after today's closing bell. (CNBC)
The Labor Department is out with its weekly report on initial jobless claims at 8:30 a.m. ET. At the same time, the government issues its revised report on fourth-quarter productivity. The European Central Bank concludes its policy meeting with an interest rate decision and policy statement at 7:45 a.m. ET. (CNBC)
Huawei is suing the U.S. over a law that bans government agencies from buying the Chinese tech giant's equipment. It claims the legislation is unconstitutional, as it goes on the front foot following months of political pressure. (CNBC)
* Huawei CFO defense will center on Trump's trade comments (CNBC)
CNBC has learned President Donald Trump had a private meeting this week with close advisors to discuss a wide range of topics, including the 2020 election — and concerns about possibly facing former Vice President Joe Biden.
The Democratic National Committee announced that Fox News will not host any of its presidential primary debates in the 2019-2020 cycle, citing an article in The New Yorker that characterized the outlet as an agent of the White House. (CNBC)
* Trump fires back at DNC (USA Today)
Trump's former personal lawyer and fixer Michael Cohen gave the House Intelligence Committee documents that reveal alleged editing to the statement he used to lie to Congress in 2017 about efforts to build a Trump Tower in Moscow. (CNBC)
* Cohen told lawyer to seek Trump pardon (WSJ)
* Trump's former campaign chief Manafort to be sentenced today for bank and tax fraud (Reuters)
Alex Trebek, longtime "Jeopardy!" host, revealed that he has been diagnosed with stage 4 pancreatic cancer. "Normally, the prognosis for this is not very encouraging, but I'm going to fight this, and I'm going to keep working," he said. (NBC News)
The Amazon (AMZN), J.P. Morgan (JPM), and Berkshire Hathaway (BRK) health-care joint venture finally has a name: Haven. Prior to the big reveal, many industry insiders referred to the venture as "ABC" or "ABJ." (CNBC)
* Health records giant Epic temporarily halts additions to its app store because of privacy concerns (CNBC)
Amazon (AMZN) will close all of its 87 pop-up locations in the U.S. in April. The company is also planning to open dozens of grocery stores and potentially thousands of Amazon Go stores, according to earlier reports. (CNBC)
* Dollar Tree to close up to 390 Family Dollar stores (CNBC)
Sears is back into court, less than one month after emerging from bankruptcy protection. The retailer was sued by Stanley Black & Decker, which accused it of breach of contract and trademark infringement. (Reuters)
American Eagle Outfitters (AEO) reported quarterly profit of 43 cents per share, beating estimates by a penny. However, the apparel retailer's revenue fell slightly short of Wall Street forecasts. American Eagle also forecast weaker-than-expected current quarter profit, as it spends more on marketing and new store openings.
Allergan (AGN) said a new treatment for depression failed in three late-stage studies, and the drugmaker added that it was deeply disappointed in the results. Billionaire hedge fund manager David Tepper has been pushing Allergan, which also makes Botox, to consider selling itself.
General Electric (GE) has hired an investment bank to explore a possible sale of its stake in a renewable energy joint venture, according to a Reuters report. GE is partners with Italy's Enel in the venture, and the stake is said to be worth more than $1 billion.
Qualcomm (QCOM) is getting some help from the Defense and Energy departments in its dispute with the FTC over smartphone royalties, according to the Wall Street Journal, supporting Qualcomm's contention that losses in a court battle could hurt its ability to compete with China's Huawei.
Apple (AAPL) has announced it's bringing 1,200 employees to a San Diego office over the next three years, growing its presence right in the backyard of its current legal rival Qualcomm.
Anheuser-Busch InBev (BUD) was downgraded to sector perform from top pick at RBC Capital Markets in a valuation call, among other factors.
Idris Elba is Warner Bros. choice to replace Will Smith as Deadshot in the "Suicide Squad" sequel, according to Variety. The original film was a massive box office success when it hit theaters in 2016, grossing $746 million worldwide.
Charlotte Russe going out of business; inventory-liquidation sales begin today - Winston-Salem Journal
Posted: 07 Mar 2019 08:45 AM PST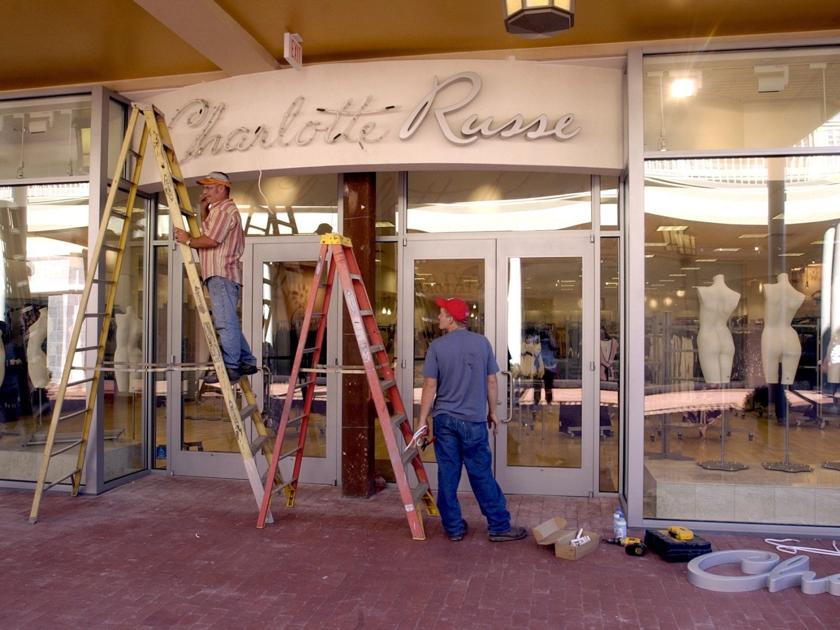 The Charlotte Russe women's apparel chain said Thursday it is closing all of its 416 stores.
The store's website says it has shut down its online store and on Thursday began inventory-liquidation sales at about 400 stores, including in Hanes Mall in Winston-Salem and Four Seasons Town Centre in Greensboro.
The company did not say how long the liquidation sales will last.
It said in a statement that all items are included for "deep discounts" and the sales "are expected to wrap up quickly." Gift cards can be redeemed until March 21.
Merchandise currently in the stores, plus additional products from the distribution center and products originally designated for online sale, will be sold as part of the liquidation.
"Charlotte Russe has been our internal watch list for some time and their filing is not a surprise," said Sarah Kotelnicki, marketing director for Hanes Mall. "We have not yet been informed of a timeline for their closure.
"Our leasing and specialty leasing teams have had this retailer in their sights and are evaluating both permanent and temporary replacements.
"These closures provide us with an opportunity to bring in more diverse uses and position our properties for more success long-term."
California-based Charlotte Russe was founded in 1975. Known as a shopping destination for young women seeking trendy apparel, shoes and accessories, sales reached their peak in 2016 at $986 million.
The retailer said Feb. 5 that it planned to close 94 stores nationwide as part of a Chapter 11 bankruptcy filing.
At that time, the company said it had secured up to $50 million in debtor-in-possession financing.
The retailer said a U.S. bankruptcy judge approved an order naming SB360 Capital Partners to handle the inventory liquidation that's valued at $160 million.
The company's intellectual property and rights to its leases will be sold separately.
Aaron Miller, executive vice president of SB360, said that "a sale of this magnitude will bring never-seen-before values to a broad selection of today's best fashion trends."
CBD in CPG: Challenges and opportunities | 2019-03-07 - Food Business News
Posted: 07 Mar 2019 05:30 AM PST
ANAHEIM, CALIF. — Consumer curiosity is pushing hemp to new heights. Cannabidiol, or C.B.D., has skyrocketed in supplement sales in recent years and, along with mushrooms, ashwagandha and probiotics, is one of the hottest ingredients in functional food and beverage products, said Carlotta Mast, senior vice-president of content and insights at New Hope Network.
Associated with various health benefits, such as pain relief and stress reduction, hemp-derived C.B.D. is poised to explode in the consumer packaged goods marketplace. The ingredient includes a host of regulatory and formulation challenges, plus plenty of confusion among retailers and consumers.
At Natural Products Expo West, held March 5-9 in Anaheim, C.B.D. or hemp extract appeared in a vast array of food and beverage products on display, from protein bars to cold-brew coffee to wellness shots.
Weller, a Boulder, Colo.-based brand, is unveiling a range of sparkling waters with zero calories and 25 milligrams of C.B.D. from broad-spectrum hemp extract per serving. The brand also offers a water-soluble C.B.D. drink mix and a line of C.B.D.-infused coconut bites in dark chocolate, caramel and original varieties.
Weller was founded in 2017 by Matt Oscamou, who previously founded and led Frontier Snacks, and John Simmons, founder and chief executive officer of Third Street Chai.
"We found ourselves with the opportunity to start something together and really dive in and change the way consumers are getting C.B.D. and incorporating that into daily routines and diets," Mr. Oscamou told Food Business News. "We saw the opportunity to do something very different than a tincture or gel cap that has a real clinical feel to it and find ways to let people incorporate into their daily routine, whether it's a snack in your bag, after your workout or in the middle of the day, or a sparkling water beverage you can drink at any occasion."
As consumers reduce use of supplements, the opportunity for C.B.D. in food and beverage is significant, and brands are beginning to take notice, Ms. Mast said.
"We surveyed 230 natural and organic brands in January and found that most are currently not selling any hemp or C.B.D. products … but that is expected to change," Ms. Mast said during a presentation at Expo West. "Sixty-five per cent of the companies we surveyed said they expect to add a hemp or C.B.D. product to their offerings within the next one to two years. This shows a lot of the legacy companies in the industry are planning to move into this space, and there is likely to be much more activity."
Industrial hemp was legalized in the recent farm bill, but C.B.D. is not a federally approved additive for food and beverage.  This past December, the Food and Drug Administration appeared to be pursuing a pathway to legalizing the sale of C.B.D. oil and cannabis compounds in food and beverage, according to F.D.A. commissioner Scott Gottlieb, M.D. The F.D.A. prohibits companies from adding C.B.D. or T.H.C. (the compound that produces psychoactive effects) to food, drinks and supplements, and it prohibits the sale of food, supplements and other products containing C.B.D. across state lines.
Dr. Gottlieb resigned on March 5, creating uncertainty for the near future of C.B.D.
"When we started the company 16 months ago, hemp was still on the controlled substance list," Mr. Simmons said. "We are focusing on states and regions that don't have gray areas. We provide our brokers and sales team with a list of state regulations that we keep up to date.
"For example, we speak with our distributors and wholesalers week after week and are constantly updating our shared regulation list with all of our vendor partners and consumers. It's a moving target; it's an evolving category. We are incredibly optimistic the F.D.A. will find a pathway for C.B.D./hemp to make its way into food and beverage."
Another challenge is flavor. Hemp extract features a "very grassy taste and aroma," said Elizabeth Giannuzzi, co-founder and chief executive officer of Siren Snacks, a San Francisco-based brand of plant-based protein bites that recently added a coconut chocolate chip variety featuring full-spectrum hemp extract.
"We worked to source a very neutral-tasting hemp extract, and also crafted our recipes with bold flavors like coconut and dark chocolate, which can stand up to the earthier hemp flavor," she said. "Our biggest challenges were around sourcing and finding a reputable, high-quality supplier using organically grown hemp with a clean extraction process. Next, we had to develop a production process and testing protocol so that we could feel confident that our products are delivering an accurate and reliable dose of 5 milligrams of C.B.D. per bite. Finally, there were some regulatory hurdles around serving size."
Mr. Simmons added, "Dealing with a brand new industry and different processes from suppliers, we take the vetting of our supply and sourcing very seriously, both to ensure we have top-quality product and ingredient going into our products but also to make sure we're going to have a level of consistency, that if you taste our products two times it's going to be the same… it's not wildly different.
"That's one of the great challenges in this, is you really can't throw C.B.D. in any food and beverage product and expect the right results. You have to treat it as the unique ingredient that it is."
Nearly half of U.S. consumers are familiar with C.B.D., and 30% of those have purchased products featuring the cannabinoid, Ms. Mast said. Still, much confusion remains around its effects as well as the difference between full-spectrum hemp extract versus a C.B.D. isolate, Ms. Giannuzzi said.
"We use a full-spectrum hemp extract (containing C.B.D. and other cannabinoids), and oftentimes need to educate our customers on the many health benefits associated with full-spectrum products," she said. "There is also a lot of confusion around the recommended dose for C.B.D. Our bites have 10 milligrams C.B.D. per serving, but we've seen quite a range across different beverages and edible products containing C.B.D."
Ultimately, food and beverage products containing C.B.D. or hemp extract should still meet consumer expectations for taste, quality and consistency, Ms. Simmons said.
"There's a lot of people selling C.B.D. products, but they're all based on assumptions of what the consumer wants," he said. "I don't think anybody can predict where the category will end up, but we think consumers are going to help lead the way, and we're going to listen to them."
Simplifying assortment among keys for Walmart grocery growth - Food Business News
Posted: 07 Mar 2019 07:10 AM PST
BOSTON — Simplifying assortment and thoughtful, strategic pricing have helped drive the grocery business at Walmart Stores, Inc., but more work is needed, said Gregory S. Foran, president and chief executive officer of Walmart U.S.
"I get out to the stores every single week," Mr. Foran told participants at the UBS Global Consumer and Retail Conference on March 6 in Boston. "About half the time I'm okay with it, and the other half, I'm grumpy."
One area of improvement for Bentonville, Ark.-based Walmart has been the simplification of its product assortment. Using Ritz crackers as an example, Mr. Foran described a scenario that used to include upwards of nine different variants of Ritz Original crackers, ranging from single packs to double packs to flat packs to bonus packs. Eventually it reached a point where Mr. Foran said the retailer needed to address the question of "What are we doing here?" As a result, Walmart has simplified the assortment.
He said the company also has benefited from thoughtful, strategic pricing, as well as the growth of the online grocery business.
"If you want to know one of the things that helps food, our food business, is when the store knows that it's going to become an online grocery store," Mr. Foran said. "Because now, you are the personal shopper. You are picking out the capsicums or the asparagus. You are the one that's pulling out the meat."
Although it is improving, an area the company continues to address involves its fresh offerings.
"Fresh has been a big deal, and we haven't even got to close arriving on fresh," Mr. Foran said. "I still go into stores and the wet wall — leafy greens — quality isn't good. We get to the store (and) they haven't got their P.I. (perpetual inventory) right. They're not rotating the merchandise. But it's better than it was. Meat has improved. The quality of our beef, our drive to get Angus, prime Angus, has worked, and I know it. I buy it. I eat it. I can taste the difference."
Mondelez invests in prebiotic functional food start-up - Food Business News
Posted: 07 Mar 2019 09:16 AM PST
DEERFIELD, ILL. — Mondelez International, Inc. has taken a minority investment in Uplift Food, an early stage start-up focused on prebiotic functional foods. This marks Mondelez's first venture investment as part of SnackFutures, the company's innovation and venture hub created to unlock snacking growth opportunities. Financial terms were not disclosed.
Founded in March 2018 by Kara Landau, media dietitian representative for the Global Prebiotic Association, Uplift Food seeks to offer functional foods featuring the mood supportive benefits of prebiotic gut healthy foods. The New York-based company offers one product so far: Gut Happy Vanilla Daily Uplifter. The dietary supplement powder is made with pumpkin seed protein, probiotics, prebiotic fiber, mushrooms, green banana flour and sacha inchi seeds. The powder is vegan, paleo, gluten-free and dairy-free and contains 40 calories per 1-tablespoon serving. The Daily Uplifter may be added to smoothies, protein bars, oatmeal, muffins, pancakes and more, Uplift said.
The SnackFutures team will work with Uplift Food to make gut health more "understandable, accessible, and enjoyable" through new forms and flavors, Mondelez said. In addition to the financial investment, SnackFutures also will provide support in areas including marketing, distribution, R.&D. and sourcing.
"Partnering with SnackFutures will undeniably strengthen Uplift Food's capacity to live our mission of seeing everyone benefit from the consumption of gut healthy foods," Ms. Landau said. "The SnackFutures team provides the industry experience needed to make our dream a reality, and the continued support they show us to hold onto our nutritional and ingredient integrity allows us to remain true to our core values and grow."
Mondelez launched SnackFutures in November 2018 with a focus in three areas — the creation of new brands and businesses, reinvention of some of the company's smaller brands, and the funding of start-up entrepreneurs. Functional snacking is a strategic area for SnackFutures, Mondelez said, and Uplift Food offers functional food sklutions for consumers looking for snacks with benefits.
"As the global snacking leader, we're on a clear mission to lead the future of snacking by providing the right snack, for the right moment, made the right way," said Tim Cofer, executive vice-president and chief growth officer of Mondelez International. "Together with Uplift Food, we have a unique opportunity to disrupt the functional food category by delivering 'snackable' products focusing on gut health – something that does not exist today."