---
General Mills advancing regenerative agriculture practices | 2019-03-04 - Food Business News
Posted: 04 Mar 2019 07:51 AM PST
MINNEAPOLIS — General Mills, Inc. said it plans to partner with organic and conventional farmers, suppliers and farm advisers in key growing regions to advance regenerative agriculture practices on one million acres of farmland by 2030.
Regenerative agriculture is a holistic method of farming deploying practices designed to protect and intentionally enhance natural resources and farming communities. These practices focus on pulling carbon from the air and storing it in the soil in addition to helping the land be more resilient to extreme weather events. General Mills said it will partner with key suppliers to drive adoption across key ingredients including oats, wheat, corn, dairy feed and sugar beets.
"We have been feeding families for over 150 years, and we need a strong planet to enable us to feed families for the next 150 years," said Jeffrey L. Harmening, chairman and chief executive officer of General Mills. "We recognize that our biggest opportunity to drive positive impact for the planet we all share lies within our own supply chain, and by being a catalyst to bring people together to drive broader adoption of regenerative agriculture practices."
Jonathon J. Nudi, president of North American Retail at General Mills, said the company's first on-farm training and education academies will focus on North American growers who source oats for Cheerios, Annie's, Cascadian Farm, Nature Valley and Blue Buffalo.
General Mills has been driving awareness of regenerative agriculture with consumers through its brands. Last spring, the company introduced two limited-edition Annie's branded products featuring ingredients grown using regenerative farming practices. Annie's elbow pasta and cheddar and bunny-shaped baked graham snacks were made using organic ingredients from regenerative farms in Montana. The farmers, Nate Powell-Palm and Casey Bailey, were named and pictured on the packaging.
Meanwhile, Cascadian Farm, another General Mills' brand, is working alongside The Land Institute to commercialize organic Kernza. Kernza is a perennial grain whose roots are able to capture carbon and water, while preventing soil erosion, according to General Mills.
Since 2015, General Mills has invested more than $4 million to advance soil health initiatives. Among its efforts General Mills is working with Gunsmoke Farms L.L.C. to convert 34,000 acres of conventional farmland in South Dakota to certified organic acreage, using regenerative agriculture practices. General Mills also has developed The Soil Health Roadmap in partnership with The Nature Conservancy. The roadmap outlines steps to achieve widespread adoption of soil health systems on more than 50% of U.S. cropland by 2025.
"We need companies like General Mills who have the scale and commitment to create sustainable agricultural systems," said Larry Clemens, North America region agriculture director for The Nature Conservancy. "Efforts to improve soil health and enrich biodiversity are critical to addressing climate change and other environmental challenges."
China Tariffs News Boosts Stocks; China ETF Soars - Investor's Business Daily
Posted: 03 Mar 2019 03:26 PM PST
Stocks opened to brisk gains higher Monday as news reports said negotiators may have set the stage for an easing of China tariffs. The news lifted global trade, and buoyed Dow Jones leaders Caterpillar (CAT) and Intel (INTC).
X
Biotech stocks also sprung into early action, Nightstar Therapeutics (NITE) spiked 65% after biotech heavyweight Biogen (BIIB) agreed to an $800 million takeover. Another small biotech, Ascendis Pharma (ASND), bolted nearly as high after positive results of a phase 3 trial.
Chip stocks were generally positive, with ON Semiconductor (ON) leading on an analyst upgrade.  China-based IPO Quidian (QD) popped more than 3%. Another China name, Ctrip.com International (CTRP), also took a premarket jump ahead of earnings late Monday.
Kraft Heinz (KHC) managed a modest bounce after an upgrade from Morgan Stanley. Facebook (FB) jumped 2% to outpace its FANG stock tech peers. Facebook reportedly launched lawsuits against companies and persons in China it says created and sold fake Facebook and Instagram accounts.
The Nasdaq Composite jumped to an early lead, up 0.6%. The Dow Jones industrials and S&P 500 futures climbed 0.4% apiece.
Applied Materials (AMAT) jumped highest among Nasdaq 100  and S&P 500 stocks.
Dow Jones Stocks: Boeing, Caterpillar Set Early Pace
China-sensitive stocks Boeing and Caterpillar duked it out near the top of the Dow Jones industrials, after news reports said U.S. and Chinese negotiators were nearing a deal that could potentially ratchet down the U.S.-China trade war tensions. Reuters quoted unnamed sources saying the deal could lead to a dismantling of China tariffs imposed by the U.S., as well as duties put in place by China as a response.
Caterpillar jumped 1.3%, Boeing stock rose 0.6% early Monday. Boeing shares finished Friday up more than 50% from a late December low. Its shares extended, up almost 18% after clearing a double-bottom base on Jan. 30. Boeing stock rose nearly 1% before the open while Apple stock advanced 0.5%.
Facebook Sues China Companies, Individuals
Facebook popped 2% in early trade, after announcing it, along with its photo-sharing app Instagram, had launched at least seven lawsuits against China-based companies and individuals. The suits filed in U.S. Federal Court allege that four separate companies and three persons created and sold fake accounts on Facebook platforms. The suits say the entities created and sold fake accounts in large quantities through six websites.
Marijuana Stocks: Cronos-Aurora Deal
Cronos Group (CRON) agreed to sell its 19% stake in organic cannabis producer Whistler Medical Marijuana to larger peer Aurora Cannabis (ACB) for approximately 2.5 million shares in Aurora. The companies valued the shares near $21.7 million, and said the entire deal was worth $154 million. The deal also included potential milestone payments, also in shares, valued at around $6.7 million.
Dow Jones, Nasdaq Eye Pre-China Tariffs Highs
The Dow Jones industrial average and Nasdaq now sit on 10-week advances. For the Dow, it is the longest string of consecutive weekly gains since 1995. The rebound marks the best run for the Nasdaq since 1999. Both rallies are rebounds from losses initiated by U.S. moves in its effort to restructure its trade relationship with China.
The rebound leaves the Nasdaq 7.1% below its peak from August, which occurred just as the U.S. imposed 25% tariffs on China-made imports valued at $16 billion per year. The index traded sideways below that peak until just after the U.S. launched its second round of U.S. tariffs, on Sept. 24. As U.S. and China relations now appear within sight of an accord that would permit a potential release of tariffs, the Nasdaq and S&P 500 are also within sight of returning to their pre-China tariff levels of August and September. The Dow Jones industrials peaked early in October, seven days after the U.,S. imposed its $200 billion round of China tariffs.
The Dow Jones Industrial Average starts Monday less than 4% below its pre-China tariffs high. The S&P 500 is 4.9% below its pre-tariff peak. (For more in-depth analysis of the stock market and its current uptrend, study the Big Picture.)
Chipmaker ON Semi Eyes Buy Point
ON Semiconductor jumped 2.7%, after BMO Capital boosted its rating to outperform, from market perform. The report jacked the stock's price target up 50%, to 30. The gain put ON Semiconductor shares 5% below a 23.44 buy point in a deep cup-with-handle base.
China ETF Climbs; Global Markets Positive
Overseas markets were positive, with benchmarks in Shanghai, Hong Kong and Tokyo ending Monday's sessions sharply higher. Markets in Europe showed firm gains in afternoon trade. The CAC-40 in Paris led the region's benchmarks, jumping 0.8%.
China ETFs continued to rise, with Direxion Daily FTSE China Bull 3X Fund (YINN) and Direxion Daily CSI 300 China A Share Bull 2X (CHAU) each up nearly 4% in early trade. Both funds had peaked in January 2018, when the U.S. launched its initial rounds of tariffs on China products.
The Direxion Daily CSI 300 has spiked 39% over the past two weeks. That's partly due to optimism toward a trade-war resolution, and partly due to news Friday that index manager MSCI planned to increase the weighting of China A share listings in its global benchmarks. A-share stocks traded on the Shanghai and Shenzhen stock exchanges, have traditionally been limited to non-Chinese investors, trade only in China's renminbi currency.
YOU ALSO MIGHT LIKE:
Four Recent Breakouts Offer New Tight Entries
Winners And Losers From Trump's Yuuuge, Nearly Done China Trade Deal
These 4 Stocks From Hot Sector Are Simmering In Buy Range
Buffett Bets Big On This Hot IPO — Why It Should Be On Your Radar
Get Free IBD Newsletters: Market Prep | Tech Report | How To Invest
What's moving markets today: Live updates - CNN
Posted: 04 Mar 2019 01:50 PM PST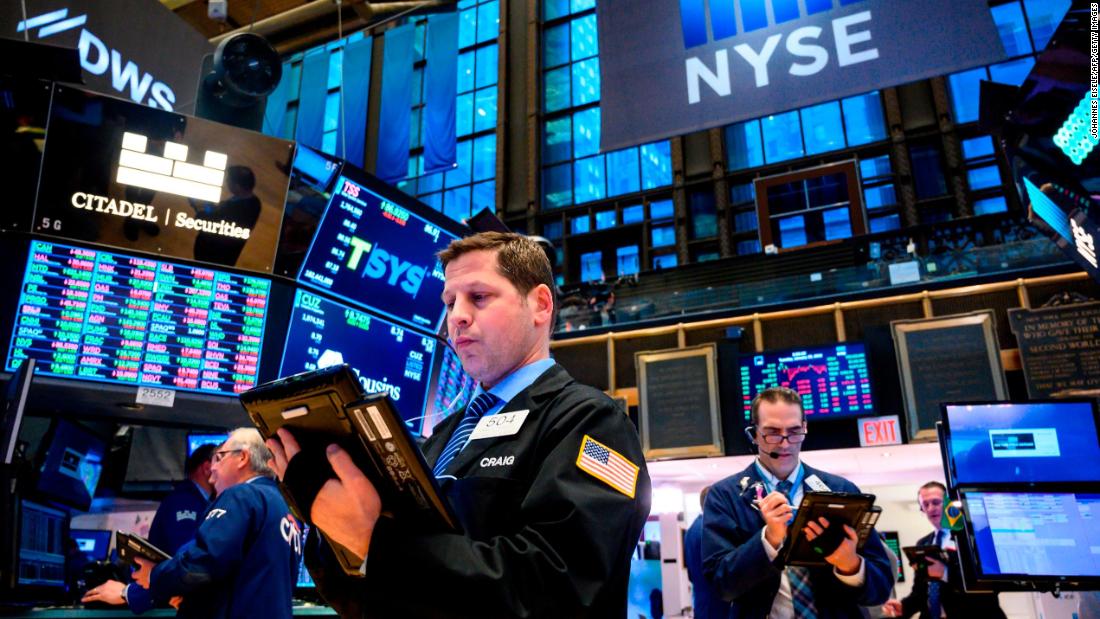 By CNN Business
Updated 1 hr 36 min ago4:50 p.m. ET, March 4, 2019
2 hr 3 min ago
US stocks slide, close lower
From CNN Business' Jill Disis
US markets closed lower Monday after a volatile day of trading that happened without any obvious indications as to why.
The Dow fell 207 points, or 0.8%, after being up by as much as 130 points at the beginning of the day.
The S&P 500 fell 0.4%, while the Nasdaq dropped 0.2%.
UnitedHealth (UNH) was the Dow's worst performer, falling 4%. McDonald's (MCD) and Walgreens (WBA) each fell more than 2%.
And Boeing (BA), the index's biggest component, decreased 2%.
4 hr 24 min ago
Dow plunges nearly 400 points at midday
From CNN Business' Jordan Valinsky
The Dow has wiped out its gains from earlier and is now down nearly 400 points.
The Nasdaq is down 80 points, or 1%
The S&P 500 is down 30 points, or 1%
It's unclear what's dragging the Dow lower, but these stocks are down significantly:
5 hr 33 min ago
Hawaiian Airlines shares fall after Southwest announces $29 flights
From CNN Business' Jordan Valinsky
Southwest Airlines (LUV) announced its flight service into Hawaii will debut in March, and that's created a decidedly gloomy outlook for one of the state's biggest carriers.
Hawaiian Airlines (HA) shares slid nearly 10% after its mainland rival announced its schedule with cheap introductory fares as low as $29 one way to three Hawaiian cities.
Southwest previously said it was going to start flights between California and Hawaii, but it also announced two inter-Hawaiian flights on Monday: Honolulu to Kahului and Honolulu to Kona.
Those routes are where Hawaiian typically dominates and has little competition.
6 hr 51 min ago
Stelter: WarnerMedia reorganizes to take on Netflix
From CNN Business' Jordan Valinsky
WarnerMedia announced major changes now that it's officially under AT&T:
Former NBC Entertainment chairman Bob Greenblatt is joining WarnerMedia as the chairman of entertainment, which includes the networks of HBO, TNT, TBS, truTV, and the company's forthcoming streaming service.
CNN Worldwide president Jeff Zucker will add oversight of Turner Sports, Bleacher Report and AT&T's regional sports networks.
"Major media companies are trying to challenge Netflix and today it's WarnerMedia moving executives around and bringing in Greenblatt to do that," Chief Media Correspondent Brian Stelter told First Move anchor Julia Chatterley.
Shares of Netflix (NFLX) are up 34% year-to-date and AT&T's (T) are up more than 6%.
8 hr 1 min ago
Newmont Mining rejects Barrick Gold's hostile takeover
From CNN Business' Jordan Valinsky
Newmont Mining's board of directors has "unanimously determined" not to accept Barrick Gold's hostile takeover attempt.
Newmont CEO Gary Goldberg said it was going to continuing pursuing a merger with rival Goldcorp instead because it "represents the best opportunity to create value for Newmont's shareholders and deliver industry-leading returns for decades to come."
7 hr 54 min ago
Dow opens 115 points higher
From CNN Business' David Goldman
The Dow rose 115 points Monday morning as Wall Street investors anticipated a trade deal between China and the United States.
The S&P 500 rose 0.4% and the Nasdaq was up 0.6%.
6 hr 46 min ago
Office Depot partners with Alibaba.com
From CNN Business' Jordan Valinsky
Office Depot (ODP) shares rose as much as 6% in early trading after it announced a "strategic collaboration" with Alibaba.com.
The retailer and the Chinese tech company have opened a new online store to help small and medium businesses in the United States sell their products online to Alibaba's global network.
Office Depot CEO Gerry Smith said the partnership will help business give them "an expanded set of products and services" to help them grow.
Alibaba (BABA) shares are up slightly.
8 hr 11 min ago
Children's Place tanks after earnings
From CNN Business' Jordan Valinsky
Shares of Children's Place (PLCE) are down nearly 10% in early trading after a dismal earnings report:
The children's retailer had a rough fourth quarter and missed analyst's estimates on sales. It also predicts a weak year ahead. Children's Place also formally announced it's buying troubled rival Gymboree.
CEO Jane Elfers said the company is "challenged by a very late Easter" and the acquisition:
Taken together, these create unprecedented near-term visibility challenges, and, as a result, the first half of 2019 is anticipated to be a highly disruptive time for The Children's Place."
11 hr 49 min ago
US and China nearing massive trade deal
From CNN Business' Rishi Iyengar
Stocks across China and Asia spiked following reports that President Donald Trump and his Chinese counterpart Xi Jinping could soon strike a deal to end a yearlong trade war.
US and China are in the final stages of negotiating a deal in which China would reduce tariffs on a range of US goods if the Trump administration removes broad trade sanctions against Beijing, according to a Wall Street Journal report.
Trump and Xi could reach a formal agreement at a potential meeting around March 27.
Here's a check of the Asian markets:
The Shanghai Composite index surged about 3% on Monday morning to reach its highest level in nine months.
Hong Kong's Hang Seng index rose 1.5%. Both indexes gave up some of their gains later in the day.
Japan's Nikkei, meanwhile, closed about 1% higher.
PepsiCo aims to 'capture growth opportunities' with leadership shuffle - Food Business News
Posted: 04 Mar 2019 09:03 AM PST
PURCHASE, N.Y. — A leadership shakeup is underway at PepsiCo, Inc., including the creation of a global chief commercial officer position and the appointment of a new chief science officer.
"As we pursue our new vision to 'be the global leader in convenient foods and beverages by winning with purpose,' we have taken some important steps to reorganize our leadership team," said Ramon Laguarta, chairman and chief executive officer of PepsiCo. "We believe these changes will enable us to better capture growth opportunities by getting closer to our consumers and deploying our global capabilities in a way that allows us to win locally in each of our markets."
Laxman Narfasimhan has been named to the newly created position of global chief commercial officer for PepsiCo. Previously c.e.o. of Latin America, Europe and Sub-Saharan Africa for the company, Mr. Narfasimhan will now be tasked with shaping PepsiCo's long-term growth strategy, leading the development of commercial and marketing capabilities and overseeing PepsiCo's global category groups, insights, commercialization, design, global R.&D., e-commerce and strategy.
Mr. Narfasimhan has held various senior leadership roles with increasing responsibility during his tenure at PepsiCo. Before being appointed c.e.o. of Latin America, Europe and Sub-Saharan Africa, he was c.e.o. of PepsiCo Latin America, and previously was senior vice-president and chief financial officer of PepsiCo Americas Foods.
Prior to joining PepsiCo, Mr. Narfasimhan spent nearly 20 years at global consulting firm McKinsey & Co., most recently as the director and Delhi location manager.
"Laxman is the ideal executive to take on this important new role with his vast operating experience, strategic acumen and successful track record unlocking growth opportunities across our businesses and sectors," Mr. Laguarta said. "He will be instrumental as we sharpen our integrated long-term growth strategy and execute our plans to deliver sustainable, attractive marketplace and financial performance."
Additionally, Rene Lammers has been appointed chief science officer of PepsiCo, a role he will assume after Dr. Mehmood Khan retires from the role this month. In his new position, Mr. Lammers will be responsible for building R.&D. capabilities as the company expands its product portfolio.
Mr. Lammers was most recently senior vice-president of category R.&D. for PepsiCo. Since joining the company in 2010, he has held leadership roles across long-term research, global functions, governance and compliance and the global beverage category. Prior to PepsiCo, he spent 15 years in various R.&.D. roles at Unilever P.L.C.
"Rene is a proven leader with a strong track record of success, and his vision and oversight of our R.&D. function will be critically important as we work to build a robust innovation pipeline to support our growth," Mr. Laguarta said.  "On behalf of our executive team and the entire PepsiCo organization, I would like to thank Mehmood for his tireless work at PepsiCo over the last decade building our global R.&D. technologies and capabilities, shaping our sustainability strategy, and recruiting top talent to our team. I appreciate his willingness to stay on as an adviser to me and the company. We wish him all of the best in his next chapter."
Along with the new appointments, PepsiCo is continuing to delayer its operating business with a goal of becoming faster and more locally focused, the company said. Following the recent moves that Frito-Lay North America and PepsiCo Beverages North America will report directly into Mr. Laguarta, all leaders of key businesses and geographies will now report to Mr. Laguarta as well, including:
Kirk Tanner, c.e.o. of PepsiCo Beverages North America
Vivek Sankaran, c.e.o. of Frito-Lay North America
Silviu Popovici, c.e.o. of Europe Sub-Saharan Africa
Mike Spanos, c.e.o. of Asia, Middle East, and North Africa
Laxman Narasimhan, interim c.e.o. of Latin America
Jim Andrew, executive vice-president of SodaStream and Beyond Bottle Ventures
These changes will have no impact on PepsiCo's external financial reporting structure, the company said.  
Beneo investing $5.5 million in vegetal protein plant | 2019-03-04 - Food Business News
Posted: 04 Mar 2019 07:02 AM PST
PARSIPPANY, N.J. — Beneo announced it is investing €4.3 million ($5.5 million) in a new production plant for vegetal protein. The new plant is part of an existing BioWanze facility in Wanze, Belgium.
BioWanze is a subsidiary of CropEnergies, a manufacturer of sustainably produced ethanol. CropEnergies is a sister company of Beneo.
"We are seeing a big shift in consumer diets as an increasing number of consumers actively try to reduce their meat intake and seek out alternatives," said Christoph Boettger, executive board member of Beneo. "Wheat protein was the most-used plant-based protein in new meat substitute launches in 2018, and we see great potential for this market in 2019 and beyond.
"We're pleased to be working with our sister company, CropEnergies, and its team at BioWanze as a trusted partner in this exciting new development for our business. Through this significant investment and new production facility, Beneo can take its first steps in exploring the market for textured plant-based proteins to allow its customers to capitalize on this rising trend."
Beneo's textured wheat protein comprises wheat flour, wheat protein and water. With a neutral taste and stable texture, the ingredient may be used to replace meat in a wide range of traditionally meat-based products, such as burgers, nuggets and bolognaise sauce.