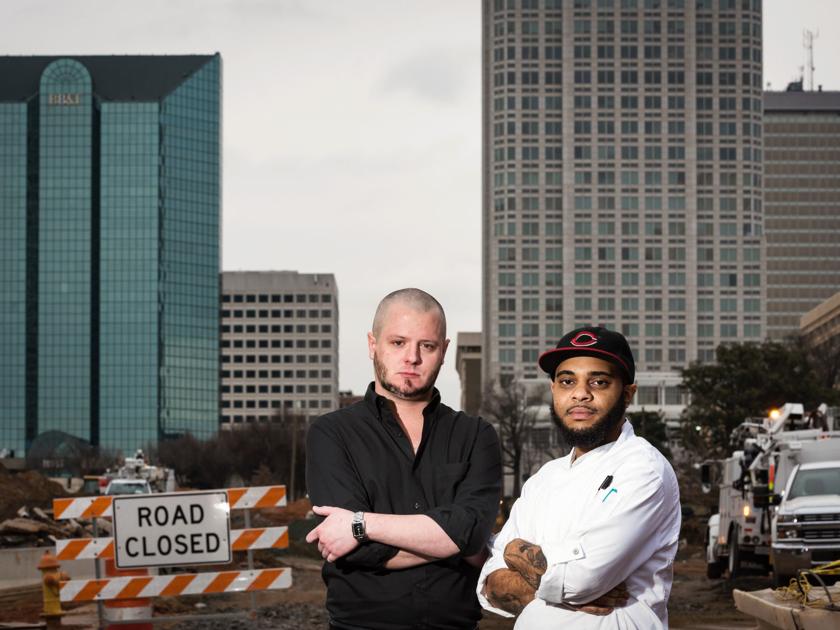 Charlie Choi lays it out pretty clearly when you ask him how business is doing at his store now that Business 40 is closed.
"This is a convenience store," Choi said. "The traffic is almost dead compared to the way it was before."
Right now, his store is pretty inconvenient. The store, a Mobil gas station, sits beside South Broad Street immediately south of where Business 40 used to pass by. To get to it, you have to drive up from the south to the verge of the construction zone on what is effectively, for now, a dead-end street.
Choi is thankful for his regulars. "I've been here for 14 years," he said. "It is a good neighborhood, and they help me out. Even though it is inconvenient, they come. If they didn't help me out, I might go bankrupt in a couple months."
A milelong section of Business 40 closed in November for a monthslong shutdown intended to give the freeway a complete renovation: Longer ramps, more distance between exits, higher bridge clearances and, when it is done, a 55 mph speed limit.
For Choi, the closure really started in September 2018, when the state announced that it would tearg down the Broad Street bridge sooner than originally planned. Although a couple of ramps were left open until November, traffic could no longer cross over Business 40 on the bridge.
Choi said no one from the state came by to tell him about the advanced timetable for the bridge — even though state officials said they have been working with business owners since 2015 to get them ready for the closure.
Current plans call for the replacement bridge to be opened in early spring, possibly by April 1, but Choi still faces a big unknown: The ramps that connected Broad Street to Business 40 are gone for good. So even when the freeway reopens in the summer of 2020, he will no longer get as many of the cars that zoom by below.
"It won't come back 100 percent," he said of business. "I hope it comes back as much as possible."
Willow's Bistro on South Liberty Street is in a restored railway freight warehouse and office that stands just south of where a long bridge used to carry Business 40 over Liberty Street.
People used to come right down Liberty and drop by for a meal, but that direct connection is gone for now.
"We have seen a significant drop in business," said Ryan Oberle, one of the restaurant's managers. "We do have our regulars. It has picked up a little since people have figured out how to get here. The holidays are normally very good for us, but this year it has not been as good. Some people just gave up trying to find a route here."
Choi and Oberle's staff are up to snuff on directions: Choi has a stack of directional sheets to give anyone asking how to get east or west from his station. Oberle said the staff members at Willow's "are knowledgeable about the right roads to send people on."
At Willow's, management started cutting staff before the closure, figuring that business was bound to suffer. Since the closure, Willow's has been using social media to get the word out that it's still there.
Jason Thiel, the president of the Downtown Winston-Salem Partnership, an economic-development and marketing group that works to improve the city center, said that even though the closure is have an effect on downtown businesses, the widening of Peters Creek Parkway and changes in traffic-signal timings have "helped create a pretty good flow of traffic."
"It is something we have known about for a long time and have had to endure," Thiel said. "Most people are taking it with a pretty good attitude."
Vivian Joiner, one of the owners of Sweet Potatoes, a restaurant on Trade Street, said that her business is probably off "25 percent or better" since the closure.
Unlike Willow's, Sweet Potatoes is away from Business 40 although still downtown and, like all places downtown, affected by the closure. Joiner said other restaurant owners nearby are talking about similar experiences.
"As I've talked to my counterparts over the last five or six weeks, we are all in the same boat," she said. "This is more than just sluggish business. There is a decided downturn in the number we see, and how often we see our guests who don't live in downtown."
Joiner is not just talking about people who live in, say, Pfafftown. She is talking about people who come from Greensboro or who stop by Winston-Salem on a road trip to Concord Mills near Charlotte.
And she is talking about older diners who find it hard to navigate through all the traffic cones and construction in and around downtown.
"We have heard from customers that it is just a mess," Joiner said. "One day this lane is open, and another day that lane is open. They say it is hard to maneuver. It is an inconvenience."
Joiner said her restaurant is now closing at 9 p.m. on Tuesdays, Wednesdays and Thursdays, instead of 10. Its employees are working fewer hours.
Joiner said some business owners are at risk of closure if the city gets "one more snowstorm."
To help get businesses ready for the Business 40 closure, Cassandra Herndon, the N.C. Department of Transportation's small-business liaison for the Business 40 project, met individually with hundreds of business owners from 2015 onward, providing them with information about the project and how to help their businesses through the ordeal.
Herndon said the feedback she has received from business owners is generally more positive than that of some of the owners who talked with the Winston-Salem Journal, but added that business owners who do have concerns need to pick up the phone.
"It has been better overall than they thought it would be," Herndon said, summing up. "I have not heard a lot of complaints."
She said she has been working with convenience stores on Martin Luther King Jr. Drive to come up with ways to help them through the construction period. While it might seem that increased traffic on MLK would give the stores more business, Wilmer Suazo, working at the Citgo station near the Business 40 exit, said the closure of the on-ramp from MLK to westbound Business 40 has caused customers to go elsewhere.
The on-ramp joins westbound Business 40 before it ends at U.S. 52, but it is so close to U.S. 52 that highway engineers closed the ramp for better traffic flow during the project.
Herndon said the state has put up signs that let people know, for instance, that businesses on Broad Street south of Business 40 — like Choi's — are open for business. Other signs along Brookstown Avenue tell people how to get to Willow's and other businesses on South Liberty Street near the point where that street is closed.
"We will listen and see if there is something we can do," she said. A variety of help exists for small businesses, and she can help business owners get connected.
Herndon said that over the coming months she will be working with new and past business contacts. She also visits businesses randomly in the zone around the construction to see how they are doing.
"If any business reaches out to me, I immediately respond to those," she said.
More cars don't necessarily translate into more business for gas stations on roads leading out from the central business district.
With heavier traffic on Peters Creek Parkway, you might think Carlos Alsada is swimming in extra business at his BP gas station at the corner of West Academy Street.
In reality, Alsada said, business is off because people don't like too much congestion. Plus there's a project to widen Academy at the intersection that causes disruption, he said.
At the corner of Northwest Boulevard and University Parkway, a lot more traffic is going past the Fairway One Stop there owned by Yanira Alvarenga. But more people aren't stopping, Alvarenga said.
"People are scared to come in because they are worried they will not be able to get out," she said. "Some people complain about traffic. That is all you hear."
But farther from downtown, at the Speedway convenience store and gas station on Silas Creek Parkway, near the Peters Creek Parkway intersection, manager Kia Vaughans could barely stop working long enough to talk about the extra business her store is getting.
"It is a lot busier, like right now you see all these cars coming in," Vaughans said between customers. "You just can't get a break." The station has always been a busy one, she said, but "now it is all the time, all day."
Back at Choi's, Jimmy Brewer took some time off from his job working on Business 40 to gas up his truck. He said a lot of other construction workers come by during the work day.
"I patronize it because it is convenient," he said. "This is probably making up the difference. I've stopped here eight to 10 times. We eat here and stuff."
As spring advances to summer, more bridges will open linking north and south Winston-Salem over Business 40. After Broad Street in the spring, new bridges will open on Liberty, Main and Church streets, and Business 40 will reopen from Main Street east to U.S. 52.
Each new bridge will help, Joiner said, adding that when the work is all done, "I'm sure it is going to be worth it."
Oberle is already thinking ahead to the "land bridge" that will be built to take the Strollway over the new Business 40. People walking over that bridge will land near his restaurant.
"I think it will be great when it is done, because there will be this nice park out here," he said. "We are already talking about expanding our kitchen."
http://bit.ly/2T9tGvb