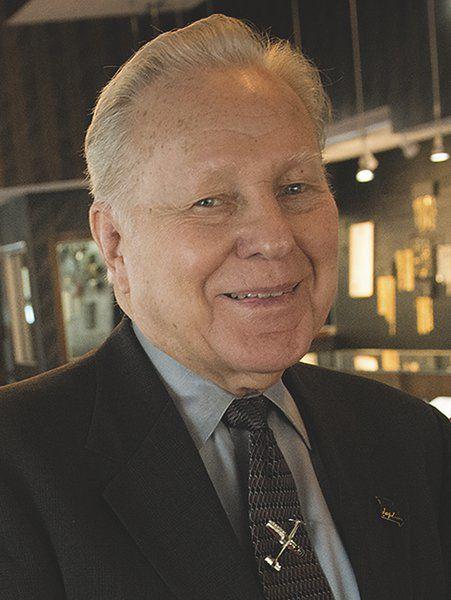 Most people would have been surprised to learn that Bunny Newton was incredibly shy.
"Back in the '50s and '60s, when you did a TV commercial, you had to do it live," said his son, Brian Newton. "He would get sick to his stomach, but you never would have known it. He was like a professional. Cool under pressure."
Leonard "Bunny" Newton, the owner of downtown fixture Newton's Jewelers, died Sunday of Alzheimer's disease. He had turned 96 earlier this month.
Because of his service, Brian Newton called him a patriot to both his country and his city. The longtime Joplin business owner was also a community leader and a veteran who fought in the Pacific theater of World War II. He was a former member of the Joplin City Council and a past president and board member of the Joplin Area Chamber of Commerce.
Newton took a store on Fifth and Main streets started by his father, George Newton, in 1939 and grew it into a fixture that has lasted for decades. He followed in the footsteps of his father and brothers, Brian said, by being part of a family jewelry business that started more than 100 years ago.
Brian Newton said his father owned and operated several jewelry stores across the city, some under different names, such as Zinn and McKee's. But the downtown store was "home base," Brian said: "This was always going to be the store that stayed open."
Two years after the Joplin store opened, Newton was attending a military school in Roswell, New Mexico. After the attack on Pearl Harbor that year, everyone at that school — and the rest of the nation — knew the U.S. would soon be going to war.
"Roosevelt had said we would not go to war. Of course, when Pearl Harbor happened, we knew that was it," Newton said in 2012 interview. "We just knew it was an act of war, and we would all be going."
Newton worked on liberty ships that had been converted into air depots, where military aircraft damaged in the Pacific theater were repaired. He was one of about 5,000 Joplin-area men and women who served in uniform during World War II, according to 1945 reports in The Joplin Globe. Brian said his father was stationed in Guam, Saipan and Tinian during his service.
When Newton returned, he developed the Joplin jewelry store into a household name. Brian said his father always liked the idea of placing a voice and face with the name in a business, and made sure advertisements included one or both.
He served on the Joplin City Council and Joplin Area Chamber of Commerce, and took a leadership role in business development. Brian said he was part of a contingency responsible for attracting FAG Bearings to establishing a manufacturing plant in Joplin. He was also known as a daredevil and world traveler, with a penchant for flying and car racing.
Through it all, Newton kept cool under pressure, Brian said. He recounted a harrowing incident in the '80s, when his father's quick thinking helped protect the store's inventory at the expense of his physical safety.
Newton found himself at gunpoint one morning when three people demanded Newton open the store and the safe for a robbery. Thinking quickly, Brian said, Newton began faking the symptoms of a heart attack.
The thieves didn't buy the act at first, Brian said. They kicked his father in the groin and jammed car keys in his gums. Thinking their target was at death's door, they loaded him in a truck and drove to a getaway car, leaving him in the truck. Through the entire ordeal, Newton maintained belabored breathing and simulating his incapacity.
"He put on an acting job that sold them," Brian said. "If he let them into the store, he would have risked not only his life but his family's well-being, and he wasn't going to let that happen."
Brian said his father's drive to create original pieces of jewelry and offer value kept generations of customers coming to the store. And before his death, Newton saw firsthand the revitalization of the business sector that was home to his business. He lived in an apartment on the top floor of the building across the street, and was able to get to work by walking across the street.
"I'm real pleased to see downtown Joplin come back alive and to see it mean something to this community again," Newton said in 2014. "To see retail, to see people taking pride in their community, and the owners to really build up an area, it reminds me of what it used to be here back when we opened."
Visitation
A memorial visitation for Leonard "Bunny" Newton will be held from 3 to 4 p.m. Saturday at College Heights Christian Church.
http://bit.ly/2Gdi5rl