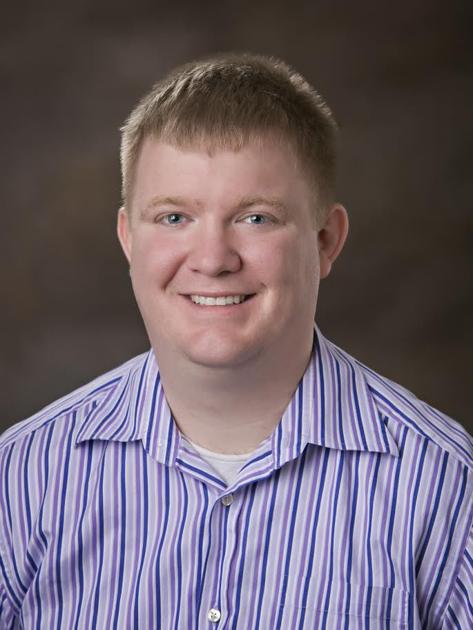 Boys & Girls Club names board
members
The Boys & Girls Club of Manhattan added Brent Dinkel, Nathan Redeker, Adrian Rodriguez, Logan Steiner & Nicholas Whitney to its board of directors.
Board terms are for three years.
Dinkel has held positions in the agribusiness industry for two years, custom apparel industry with GTM Sportswear for just over 16 years and recently started a new position with Twin Valley and ISG Technology since he began his professional career in Manhattan in 2000.
Dinkel and his wife, Stacy, have two children who were active members at the 5th Street Boys & Girls Club location.
Redeker moved to Manhattan in 2005 and currently is the office manager at BHS Construction. He obtained his degree in business administration from Emporia State University.
Currently, Redeker sits on the Community Leadership Council for Big Brothers Big Sisters of Kansas, board of directors for Leadership Manhattan and the Program Advisory Committee for MATC School of Business.
Redeker enjoys spending time with his wife, Erin, who is a Spanish teacher at MHS, and their two-year-old daughter.
Rodriguez is the current associate vice president for Student Life of Diversity and Multicultural Student Affairs at Kansas State University.
Prior to his time at KSU, Rodriguez was the vice president for student development services at Tarrant County College, Trinity River Campus in Fort Worth, Texas.
In addition to his leadership at Tarrant, Rodriguez served as dean of student life at Butler Community College in El Dorado from 2004 to 2008; and dean of students from 2002 to 2004, registrar from 2003 to 2004, dean of men from 1999 to 2002, director of student activities from 2000 to 2002 and director of residence life from 1999 to 2000, all at Lon Morris College in Jacksonville, Texas.
Rodriguez, his wife, and their two daughters are current after-school members at the Boys & Girls Club of Manhattan.
Steiner is a Manhattan native and attended high school at Riley County.
He has a master's degree in architecture from Kansas State University and is a partner at BBN Architects which has offices in both Manhattan and Kansas City.
His two children are members of the Boys and Girls Club, and his family is active in both the school and the community.
Steiner's wife, Brooke, is the commercial lines account executive at C&W Insurance.
Whitney is the director of innovation at Anderson Knight Architects.
He's married and has two children (2-and-a-half years old and 8 months). He graduated with a masters of architecture in 2010.
Whitney has a diverse background working various cultures including: six months living in Kampala, Uganda designing an African Children's Choir campus, administration center, and dormitories; one year living and managing a new production office in Kolkata, India; and one year living and working in Kansas City.
Whitney is very involved in the architecture, engineering and construction world in the Flint Hills region through his work. He is involved with Manhattan Young Professionals, attends chamber of commerce events in Manhattan and Wamego, and has recently joined the Optimist's Club here in Manhattan.
Whitney and his family are involved in foster care in the area and are active members at their church.
Sink, Gordon
promotes manager
Sink, Gordon & Associates promoted Travis Marfield to the manager level.
Marfield joined the accounting firm in January 2010. He is primarily responsible for business and individual tax, trust and estate tax, and is a certified QuickBooks ProAdvisor.
A two-time K-State graduate, he earned a Bachelor of Science in business administration in 2008 and Master of Accountancy in 2009.
Marfield is currently participating in a program for young leaders, "20 Up To 40." The program is sponsored by the Kansas Society of CPAs and helps accountants develop their leadership skills while networking with professionals from across the state.
He is also a member of the American Institute of Certified Public Accountants and serves on the Board of Directors for the Public Accountants Association of Kansas.
Local woman passes CPA exam
Christine Kirchner of Manhattan passed the certified public accountants exam during the October, November and December testing window.
The Kansas Board of Accountancy said 27 candidates passed the exam in that window. As of January 2019, 12,751 people have been issued CPA certificates and 3,927 people hold active permits to practice.
Passage of the national exam is the first step to becoming a CPA exam.
To be eligible to receive a permit to practice, an experience requirement must first be met.
Offices merge
into CenterPointe
Physicians
Matthew W. Floersch and Smith Internal Medicine have merged to form CenterPointe Physicians.
CenterPointe Physicians was founded in 2018 by Dr. Segen Chase and Dr. Matthew Floersch who have each been practicing in the area for over a decade. It is independently owned and operated.
Clinic operations will continue to function as patients have previously been accustomed to.
CenterPointe Physicians has three physicians: Segen Chase, Matthew Floersch and Chance Williams. Two nurse practitioners, Heather Sloan and Jennifer Peterson, complete the staff of providers.
Wellness coalition gets grant
The Flint Hills Wellness Coalition (FHWC), in partnership with the Flint Hills Metropolitan Planning Organization and the City of Manhattan, received a $1,500 Community Change micro grant from America Walks.
The organization selected the coalition from more than 600 applicants to get one of the 20 grants given out. America Walks is a national organization that supports local efforts to create safe, accessible and enjoyable places to walk and be physically active for all community members.
The FHWC project will utilize tactical urbanism projects to quickly, inexpensively and temporarily test new designs for streets and intersections around Manhattan. For example, painted curb extensions to visually narrow the roadway and slow vehicles, while also shortening crossing distances for pedestrians.
Toolkit supplies will be re-usable and will include traffic cones, paint for striping and crosswalks, tape, etc.
Kansas Farm Bureau wins awards
Kansas Farm Bureau received the New Horizon award at the American Farm Bureau Federation (AFBF) centennial convention in New Orleans earlier in January.
This award is given to state with the most innovative new programs.
Kansas Farm Bureau received the awards for its work on broadband coverage.
The bureau also received awards of excellence in all four program areas of advocacy; engagement and outreach; leadership and business development; and membership value.
http://bit.ly/2G7dBCx