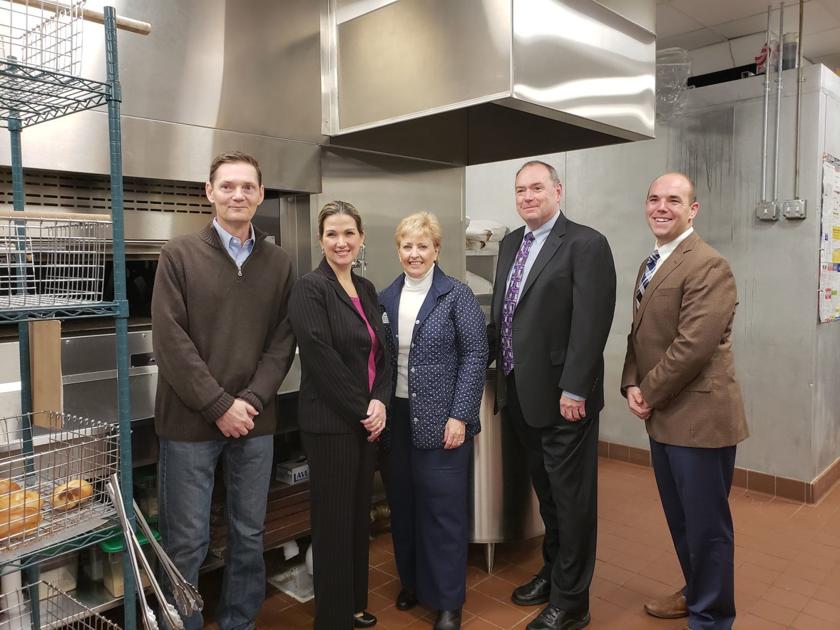 CAMBRIDGE — Members from the Small Business Administration, an organization that aids and protects the interests of small businesses nationwide, visited a select number of veteran-owned businesses in Easton and Cambridge Tuesday, Nov. 13.
The group stopped at The Bagery in Easton, owned by Steve Andrews, along with Maxes Taxes, owned by Maxine Whitelock and Hollis Cronan & Fronk, P.A., owned by Philip Cronan, William Hollis and Gordon Fronk.
Among the members were Michelle Christian, the regional administrator for the organization who oversees the Mid-Atlantic region and Stephen Umberger, the Baltimore district director.
Denise Lovelady of the Department of Agriculture also attended the tour, along with Sen. Adelaide Eckardt, Ryan Snow and Mike Arntz, representatives from both Gov. Larry Hogan's office and Congressman Andy Harris' office, respectively.
Christian, who oversees the organization's efforts in Pennsylvania, West Virginia, Virginia, Maryland, Delaware and Washington D.C., said the tour was in part a way to support veterans for Veteran's Day.
"For Veteran's Day we are saluting our veterans who have helped our country and also saluting what they're doing in the community," Christian said. "These are all veteran-owned small businesses, local, giving back to the community and giving back to our country, so it's really important that we highlight all that they do."
Umberger said part of the tour also highlights local Hub Zones, another program the organization offers to help small businesses operate and employ locals, through government contracts. Umberger said the program has helped businesses in the area with financial assistance, through government contracts.
"They're glad to have the relationship and we're glad to be able to be there and reach back out to them and offer additional assistance," Umberger said.
The group toured areas in Cambridge, including Mirror Mirror, a salon in Cambridge owned by veteran Danielle Vanriel. Christian presented a veteran-owned appreciation certificate to each business owner.
Vanriel said she started the military to help pay for college and was deployed all over, including Kuwait. For six years, Vanriel was an active duty member of the U.S. Army.
"I went in to really just make a difference and to get the money for college," Vanriel said. "I used that money, I did obtain my business degree. I actually completed that two months before I opened this salon, which is going on 13 years now."
Vanriel said she thought fondly of her time in the service and that her time helped prepare her for the career she has currently.
"So when I think of the military when I think of things like that, it's more so they really helped me be where I'm at right now and today," Vanriel said.
Mayor Victoria Jackson-Stanley, also in attendance for the Cambridge stop of the tour, said she was extremely impressed with VanRiel's integration into the community.
"We have embraced her because she is a genuine person," Jackson-Stanley said. "We've embraced her in this community because she is involved. She wants to be a part of the community and that's how you get in with folks from Cambridge."
Jackson-Stanley said Vanriel's down-to-earth demeanor is one of the many reasons the two have a close relationship.
"You hire local, you serve local and you're grounded, so that makes it all very important for us to embrace you," Jackson-Stanley said.
The group also toured the Eastern Shore Innovation Center, which opened in late February. The center gives startup businesses a chance to grow, while receiving assistance from local and state resources during its development.
Members toured the facility's multiple businesses and awarded veteran-owned appreciation certificates to multiple business owners in the building.
https://ift.tt/2BdIEJN