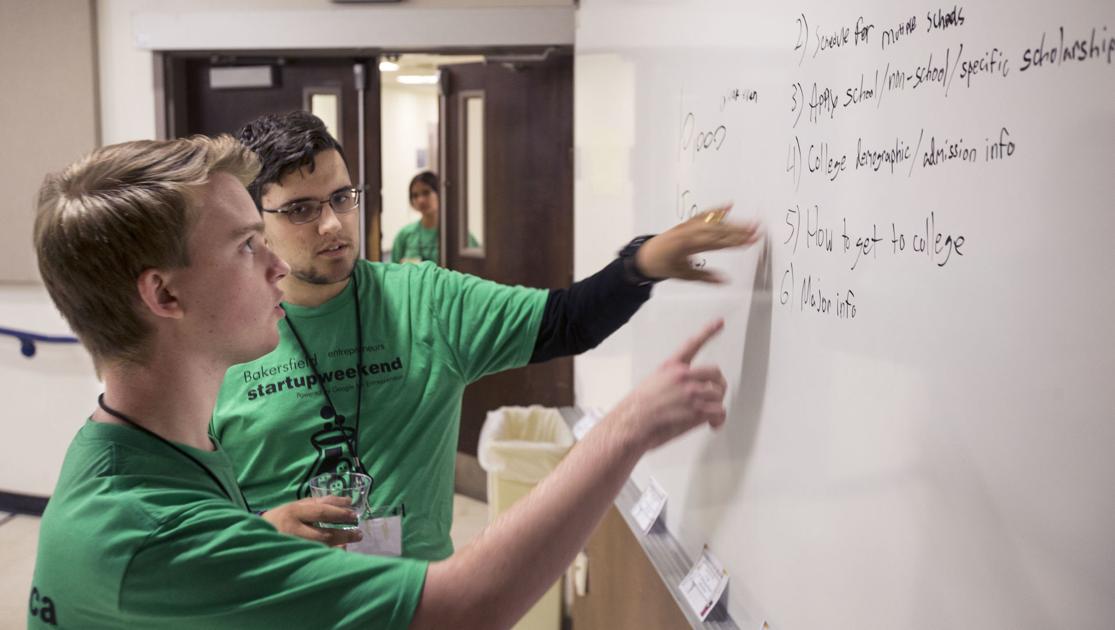 Local students and other members of the community worked together over the weekend weekend to increase their business experience and pitch their ideas.
Cal State Bakersfield is hosting an Entrepreneurs Startup Weekend, which started Friday and ran through Sunday. Through the event, participants team up and come up with projects — such as a new business or product — and presented on Sunday to a team of judges for evaluation.
Coaches with experience in starting a business have come in to help the participants with their projects.
"The biggest goal is to really jump-start the startup community — entrepreneurs, the mentors, the judges, investors — and bring them all together for a pure entrepreneurial activity to create more businesses, to create more partnerships and to further stimulate the local economy," said Navjot Brar, one of the organizers of the event.
The three-day event is sponsored by Bank of America and held in partnership with Techstars, a company that provides guidance and resources to help people successfully start their own business.
The company organizes startup events across the country. This is the first such event held in Bakersfield.
Highland High School student Melissa Duenas said she and her team are working on a project that involves gun safety.
Under this proposed project, schools, hospitals, restaurants and other businesses would be able to purchase a device that would let them know immediately if shots are fired in the vicinity.
"I like (the event) so far. It's a little nerve-wracking, but it's something new that I've enjoyed," she said. "I like all my team members, all the networking that's going on. My main goal is to get to know who's in the business community."
For Nolan Byers, who takes classes at the Kern High School District's Regional Occupational Center, the reason he wanted to participate in the event was to gain some business experience.
"If my project fails, it fails. If it succeeds, it succeeds," he said. "At this point, I'm willing to see what I can gain from this through experience. I'm just hoping I can get a lot of business background that could be useful for me in the future."
Byers's project is a proposal for a new business called Gravity Tattoo Studios. On Saturday, Byers and other members of his team were working on creating a website and doing some market research and analysis.
"I wanted to do a tattoo shop because I have always grown up around people with tattoos, so to me, it feels like home. It's comfortable for me," he said.
While Byers said he's considering a career as an English teacher, he's keeping his options open for possibly opening his own business in the future.
Fellow ROC student Nate Waldron was working on a proposal for a new mobile application that would allow people to track colleges they're looking into, scholarships, financial aid and more all through one place.
"It organizes everything so that it's not so much of a hassle, not so messy," he said.
Waldron said he wanted to participate in the Entrepreneur Startup Weekend because he's interested in working for a graphic design company — or even starting his own company — in the future and wants to have a good understanding of how business works.
"I'm looking for more skills toward prototyping, marketing and management," he said. "I want to be a manager and know how to market and how to design very well."
Waldron said he enjoys participating in events like this because they give him the opportunity to test his skills.
"I get to express my creativity here and develop my skills. I like using my mind to design stuff," he said. "I like coming up with ideas with other people and working on them. It's been a fun experience."
https://ift.tt/2B8CxGy